DIY Upcycled T-Shirt Backpack
Learn how to upcycle a t-shirt into a backpack. This is a great beginner sewing project to make a simple backpack!
Little kids love backpacks. They love carrying around their special items and feeling so grown up. My son loves feeling like daddy with a backpack or like he's going off to school like a big kid.
It's so fun to see them carrying around their toys and books. And here's a sewing tutorial to make the simplest, easiest backpack ever from an adult tee! Just imagine the logos you could have on your backpack!
This is a great back to school sewing project!
what is upcycling?
Upcycling is to reuse material to create something better than the original. I usually use this to describe when I'm sewing adult clothing into clothing for children or I'm sewing clothing into an accessory or house item.
Upcycling saves time, saves money, saves the environment, and saves memories.
Save time by reusing details from the original shirt. Save money by using something you already have.
Save the environment by keeping t-shirts out of the landfill. Save memories by reusing a favorite adult t-shirt for your toddler or child.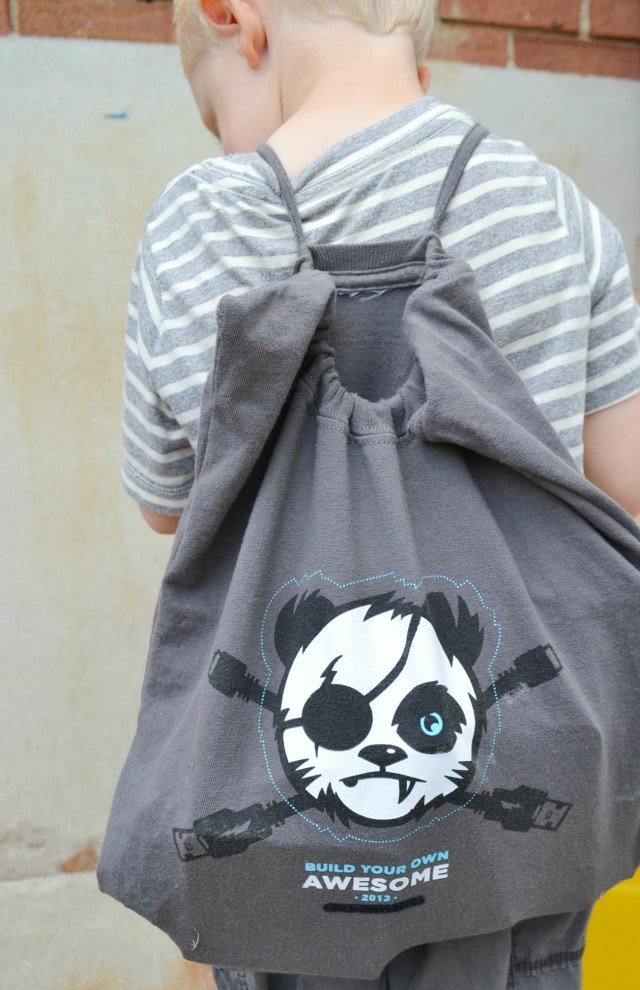 How to Upcycle a T-shirt into a Backpack
Supplies
Instructions
1. Cut off the tag.
2. Cut a rectangle around the neckband and shoulders. I cut my rectangle 14″ x 14″ leaving the shoulder seams and neckband intact.
3. Cut the hem off of the bottom of the shirt.
4. On the back of the neckband, cut two small slits. Use a safety pin to thread the hem "string" through the slits and through the neckband. Pull it through so it's equal on both sides. Tack it in the center front to keep it even.
5. Lay out the hem "strings" down to the bottom of the rectangle. You might need to cut them a little bit shorter if making the backpack for a small child.
6. Tack the hem "strings" near the corners.
7. With wrong sides together sew around the edges with 1/4″ seam allowance. Curve the edges and connect to the shoulder seams. Trim to 1/8″.
8. Turn the backpack inside out and sew at 3/8″. That's it; you're done!
Now you can make lots of simple backpacks for your kids! Wouldn't it be a fun birthday party gift?! You could use some really fun t-shirts with fun logos. I could see a bunch of superhero shirt backpacks all in a row.
Find the big list of all the upcycling tutorials I've created!
Share any upcycle inspired projects for your children with the hashtag #upcycledkid!