How to Fix a Hole in a Sweater
Instead of throwing away a sweater that has a hole in it, you can easily mend it! It's an easy fix to give a new life to any sweater!
I love wearing warm, snuggly sweaters in crisp, cold weather. But what do you do if your sweater gets a snag or a hole? I love knowing how to fix a hole in a sweater, so I can keep wearing all my favorite sweaters!
This is one of the sewing and alterations you can do yourself!
Mending a hole in a sweater is a simple sewing project. It takes less than half an hour, but it's like getting a whole new sweater. I've mended a open knit sweater and a tightly knit sweater, and it works on both.
If you are looking for a free and easy gift, this would be a good one. Secretly mend the sweater of a family member and then give it to them again. They would love having a fixed sweater!
I thrifted this sweater recently with the hole and all. I loved the subtle stripes and colors, and the lace applique on the sleeves and shoulders are so pretty. It reminds me of this refashioned sweater I made a couple of years ago. If you find a sweater that's too long, here's how to shorten a sweater.
Supplies
Sweater with a hole
Matching thread
Hand needle
Scissors
How to Fix a Hole in a Sweater
1. When picking a thread you need to get a color that matches the closest. I like to pull multiple strings in different colors over the item I'm working on. Then I squint my eyes to see which one blends the best.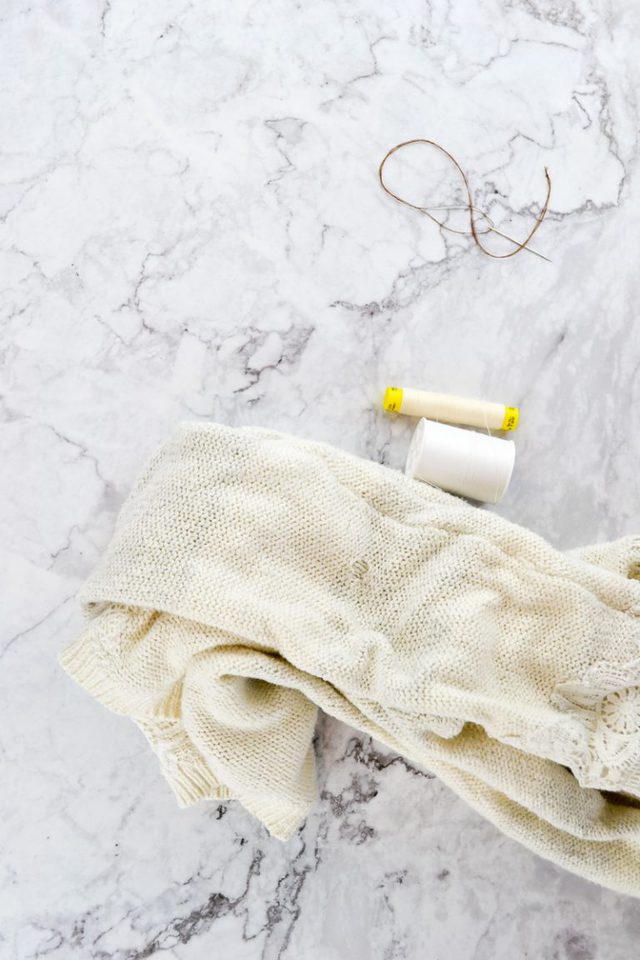 2. I chose the off-white thread because it blended in the best with the sweater yarn.
2. Watch the video to see how to mend with thread and a hand needle.
3. The knitting looks slightly different where it's mended, but you have to look really close to see it. The mending blends in really well.
If you mend a sweater using this tutorial, I'd love to see! Please share it on social media with the hashtag #heatherhandmade and tag me!