DIY Princess Peach Motorcycle Costume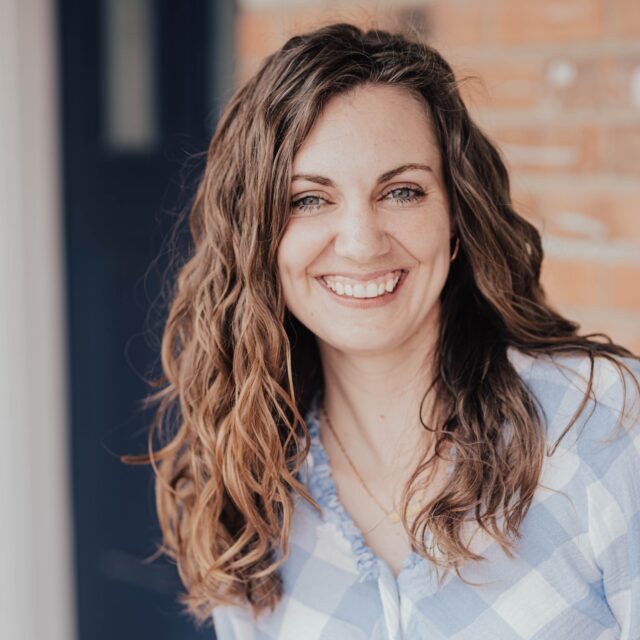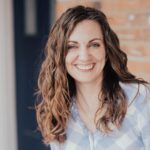 This post may contain affiliate links.
Learn how to make a DIY Princess Peach motorcycle costume. Start with a white outfit and make a pink belt, scarf, and boots for a fun look.
Whenever I play Mario Kart with my kids, I always pick Princess Peach as my character. We watched the Super Mario Bros. movie earlier this year, and I loved seeing Princess Peach and all her different outfits.
When it came to picking a costume I chose the Princess Peach motorcyle outfit because I love playing Mario Kart and I knew that this outfit would be the easiest outfit to make from all the looks she has in the movie.
I chose to make a costume that is recognizable and inspired by the movie, but is not 100% accurate at all. This made it much easier to make and easier to wear.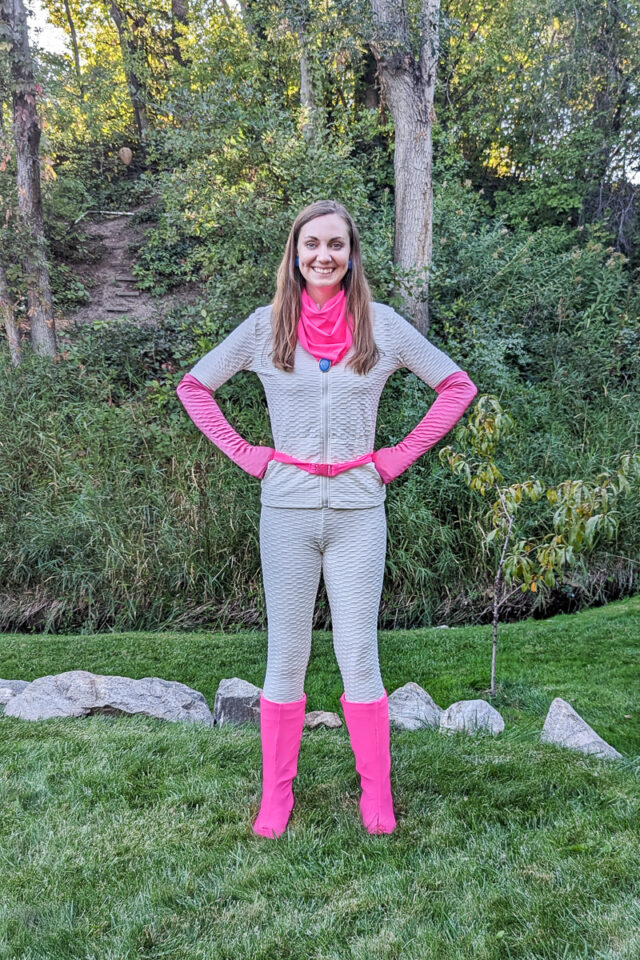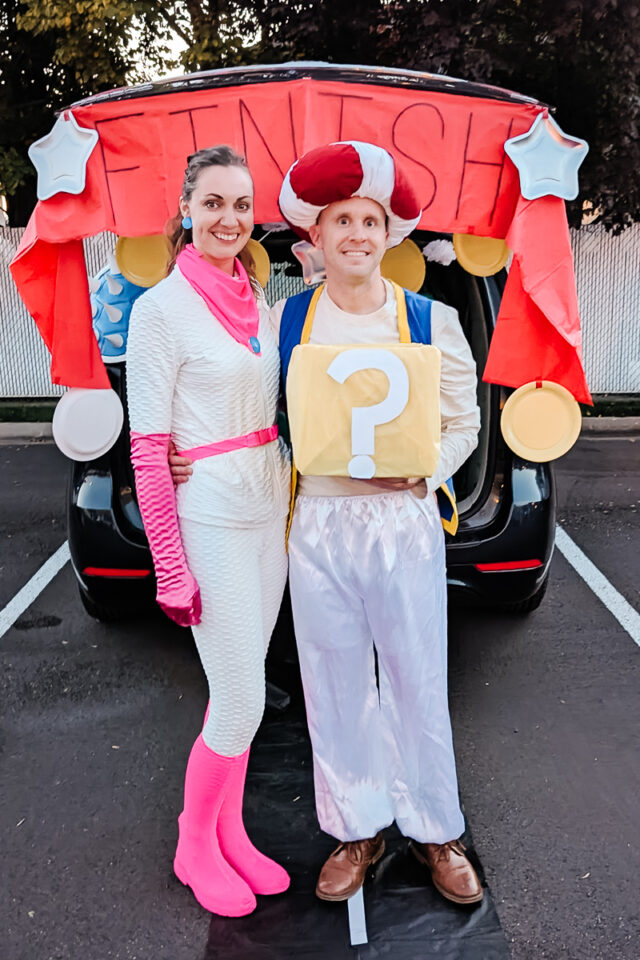 I wore white clothing, made a bunch of pink accessories, and bought a couple of accessories to finish the outfit.
Need more costume ideas? Check out these lists: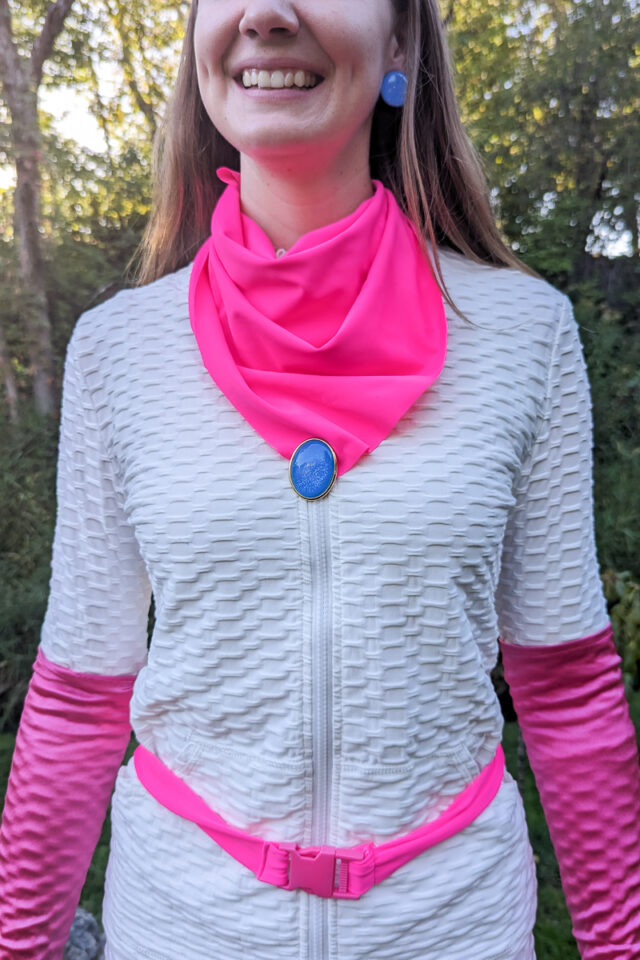 How to Make a Princess Peach Motorcyle Costume
Supplies
White jumpsuit* or white outfit set (I bought this white textured set*)
Knee high boots – I bought some at a thrift store, but the method I used to cover them with fabric does not damage the boots. You can use boots you already own.
Sewing tools
Sewing machine
What clothing should I start with?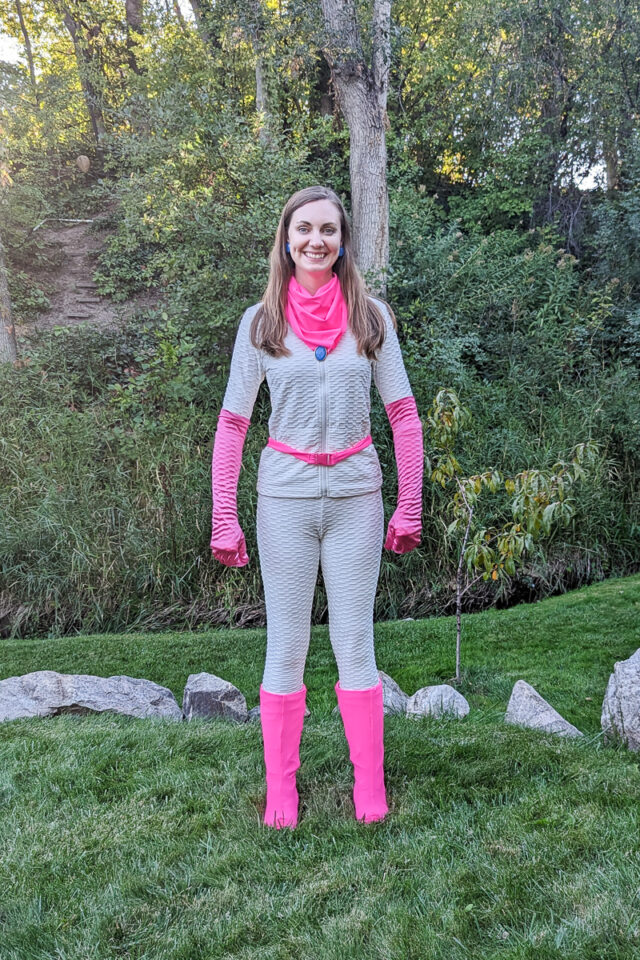 I wanted to start with a white base of a long sleeve top and leggings so that I wouldn't have to make it. I looked through a bunch of stuff and found this white jumpsuit* that would have worked great, but I wouldn't have worn it after the costume.
Instead I bought this white textured set* so that I could use the set for working out after Halloween. I'm all about finding things that work for a costume and work for after a costume.
What do I need to make?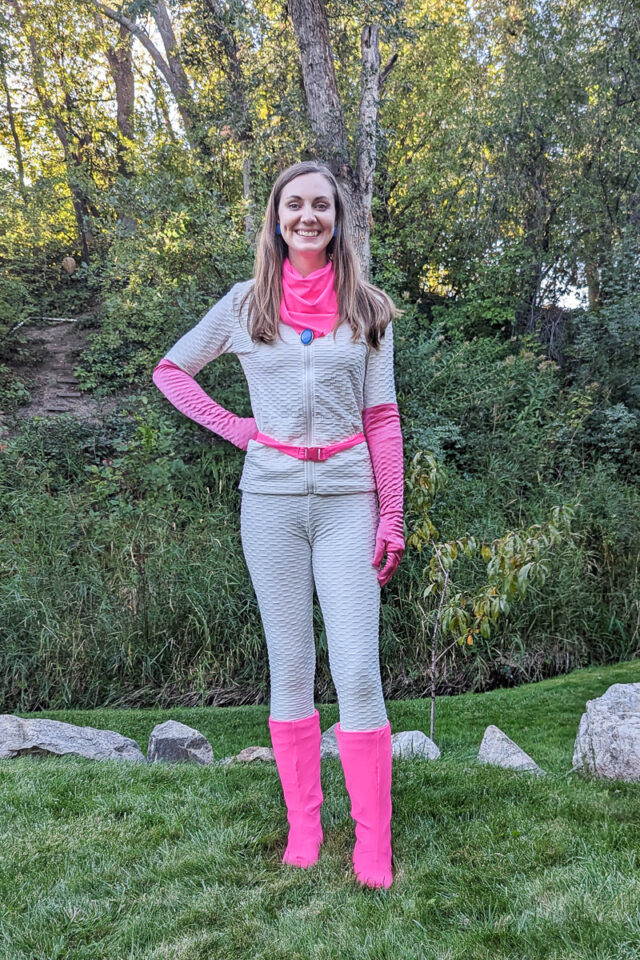 I made the neck scarf, the belt, and the boot covers. I bought the white set, the gloves, and the earrings and brooch set.
What fabric should I buy?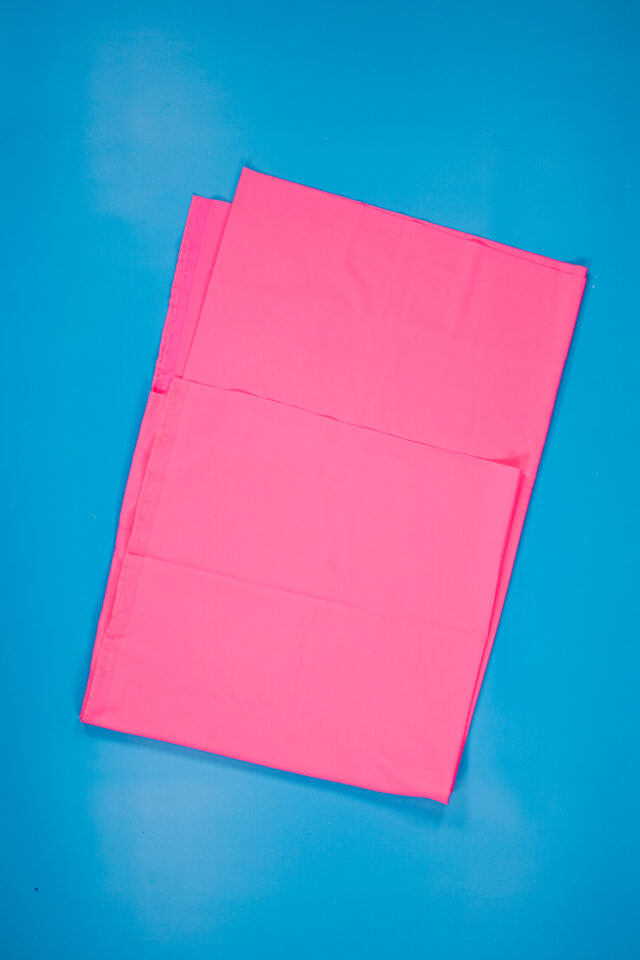 I needed fabric that would work for the boot covers, the belt, and the scarf. I chose to get 1 yard of pink stretch fabric*. It's a 4-way stretch swim/athletic fabric that worked great for each piece I made.
Belt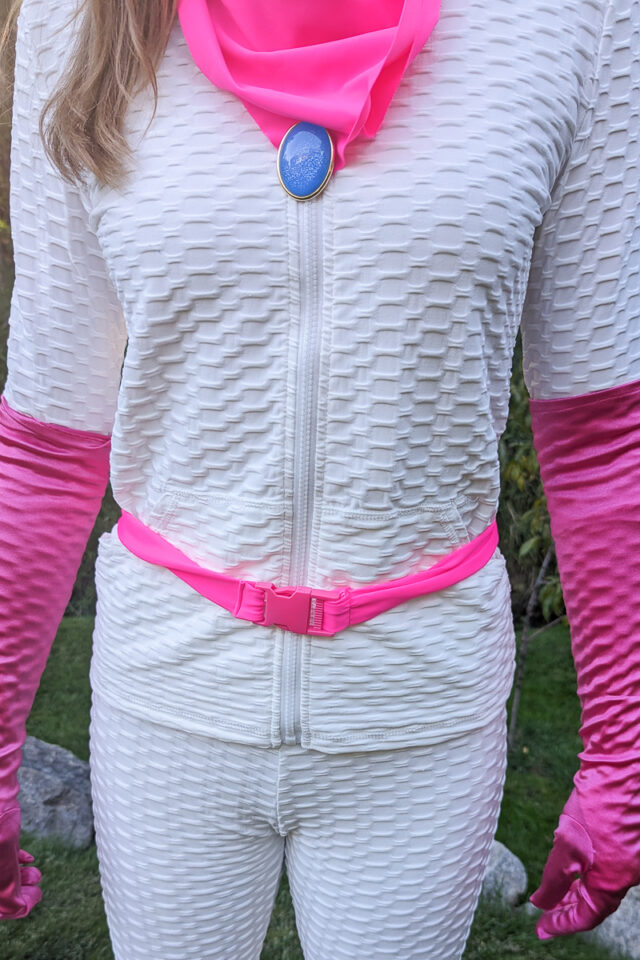 I made a really basic stretchy belt, and here's how I made it.
I measured my waist and subtracted 2 inches. I cut out a rectangle that was my found waist measurement by 3 inches tall.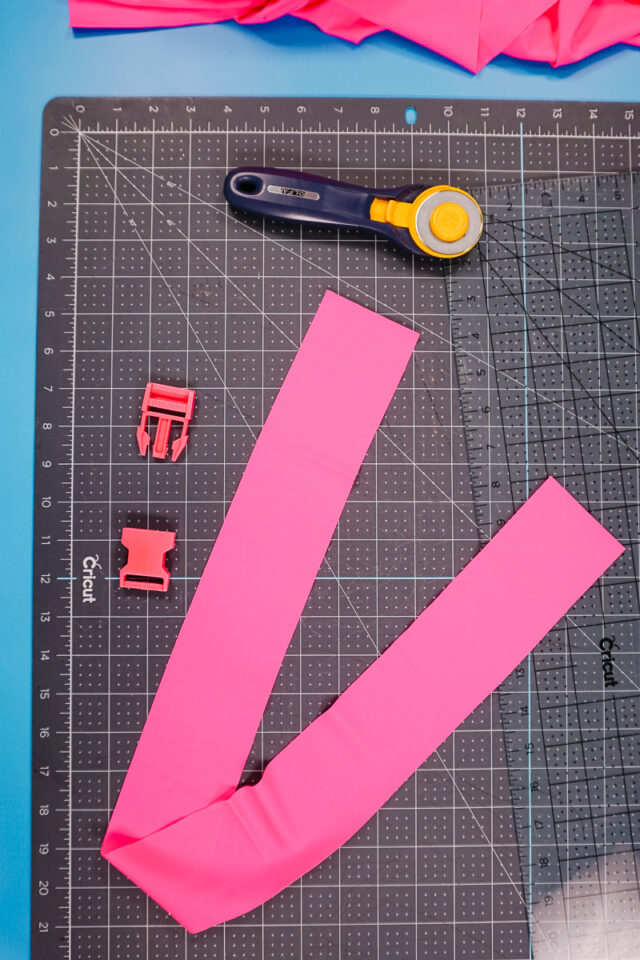 Fold the fabric with right sides together and match the long edge. Sew the long edge together with a zigzag or a serger at 1/4 inch seam allowance.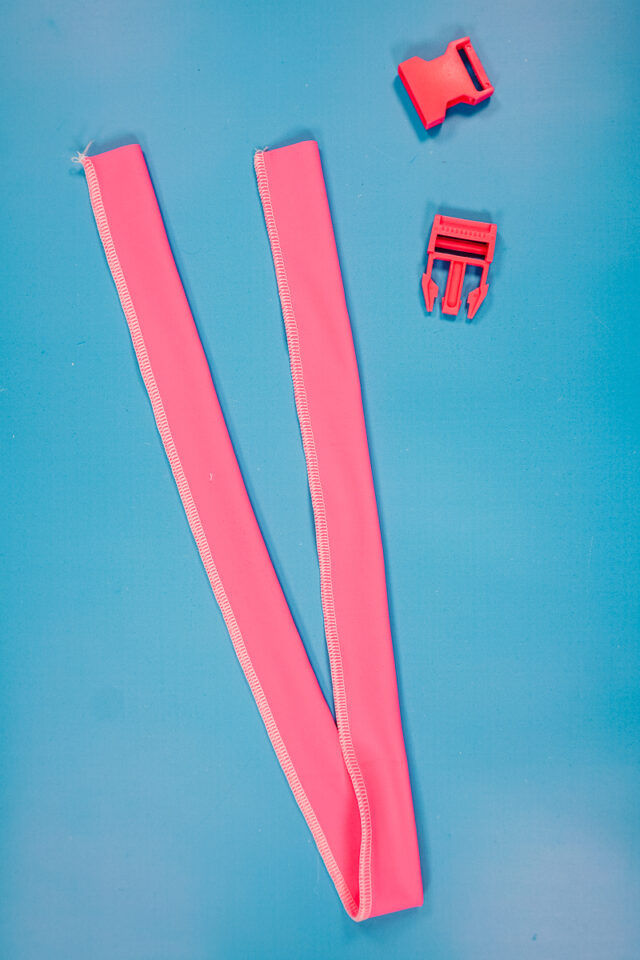 Turn the long tube right side out through one of the sides.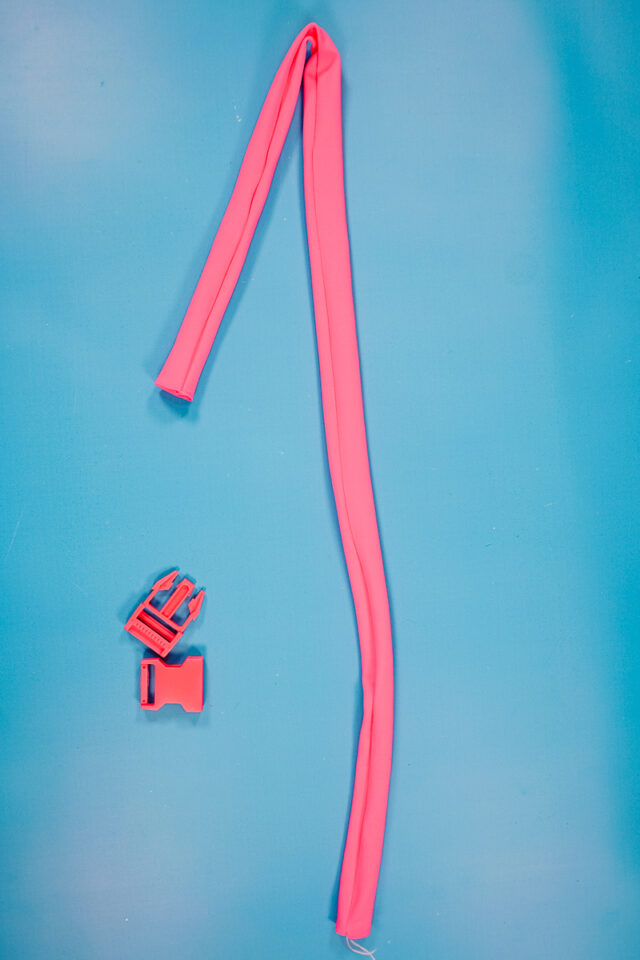 Thread one end through one side of the buckle. Fold the short end under 1/2 inch so that the raw edge is enclosed against the belt. Sew across the fold to secure the ends and the buckle.
Do the same to the other side of the belt and buckle. Make sure the fabric isn't twisted so that it can buckle properly.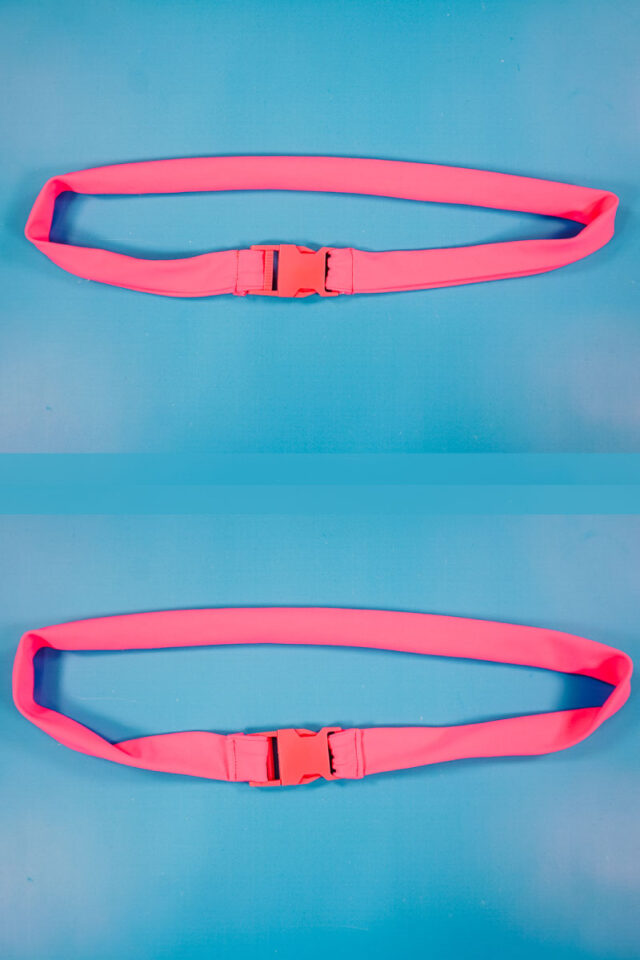 Scarf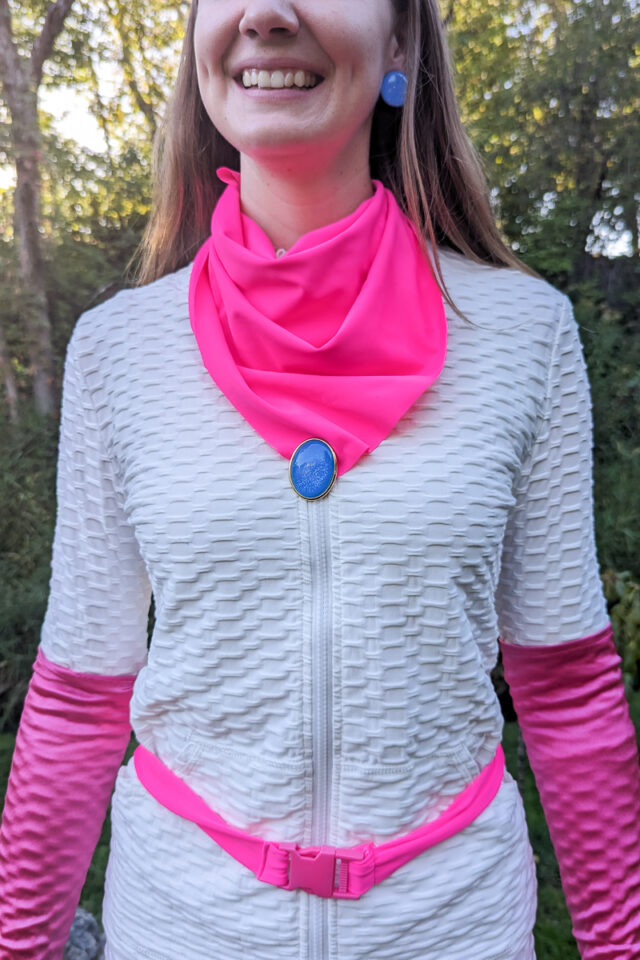 The scarf is the easiest piece to make. Cut a square from you fabric that is 22 inches by 22 inches. Since it's knit fabric you don't need to finish any edges. The scarf is done!
Boots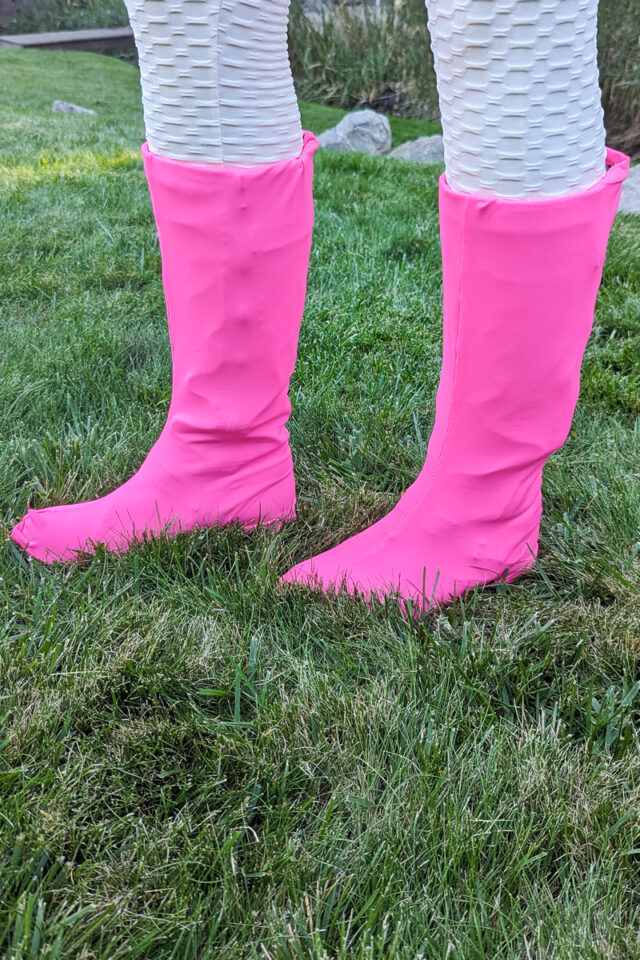 I did not know how to make pink boots without painting them, so I did some searching online. I found a video: how to make fabric boot covers. It's a great tutorial for walking you through the process.
The only difference for me was that I used knee high boots underneath instead of pumps. I didn't want my boots to go up to my thigh so I thought having knee high boots would help hold up the top edge of the fabric.
My boots are not as smooth and perfect looking, but they do the job for the costume.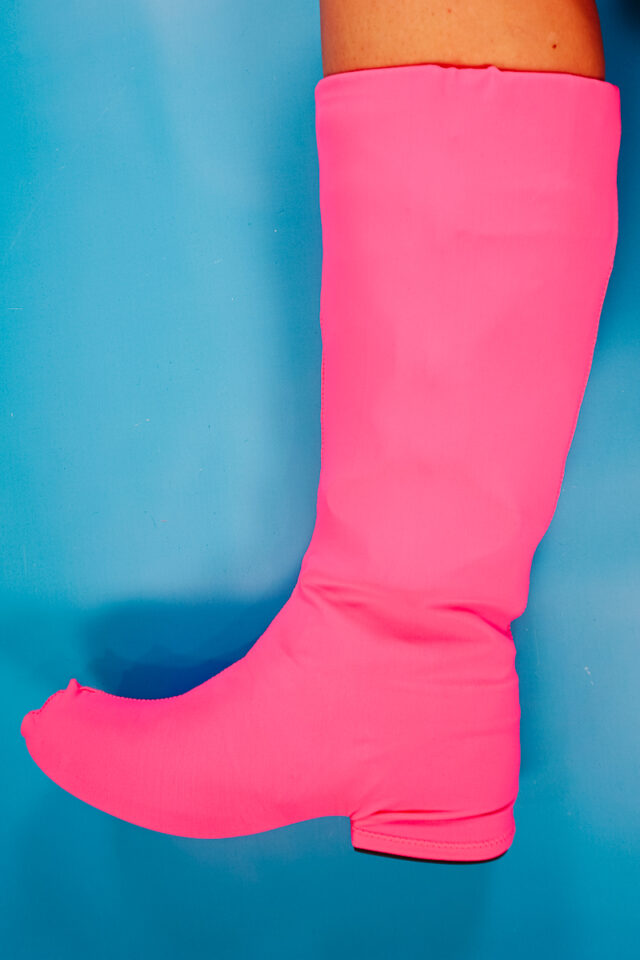 I kept the heel open for walking. Then I added non-slip pad shoe grips* to the ball of the boot fabric so help me not slip as I walk around in the boots.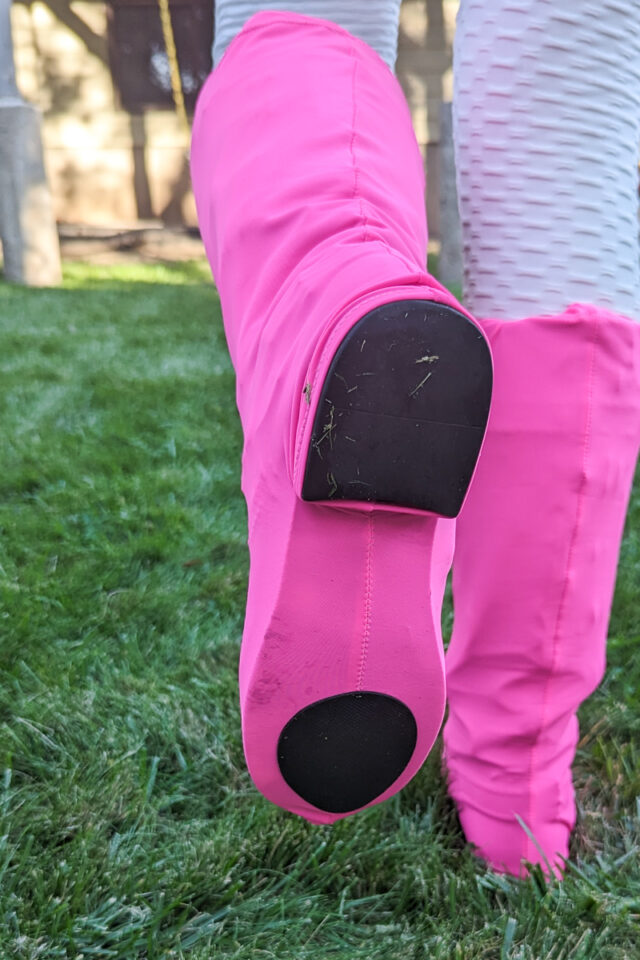 If you make something using this sewing project, I'd love to see! Please share it on social media with the hashtag #heatherhandmade and tag me!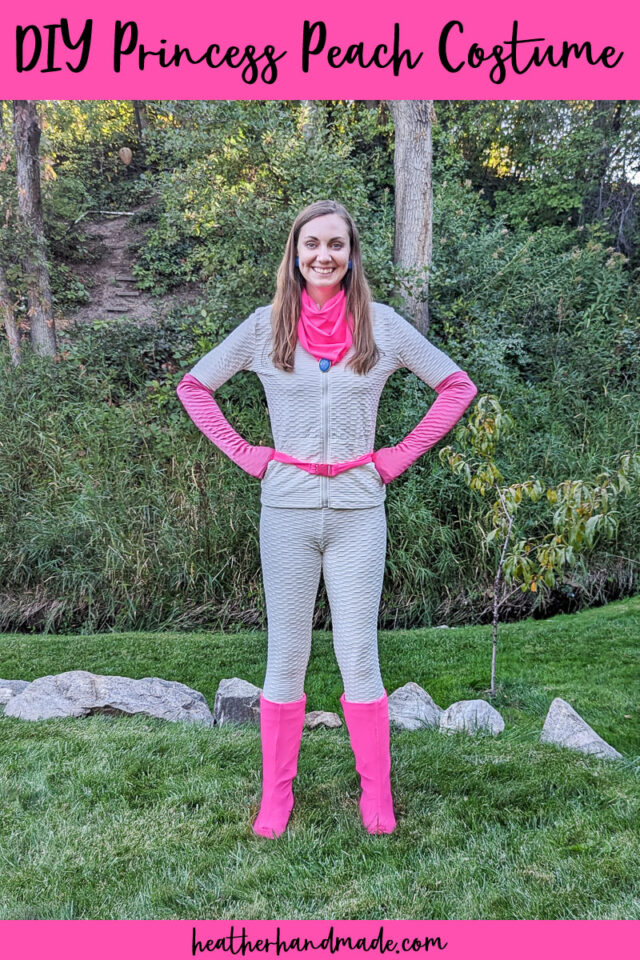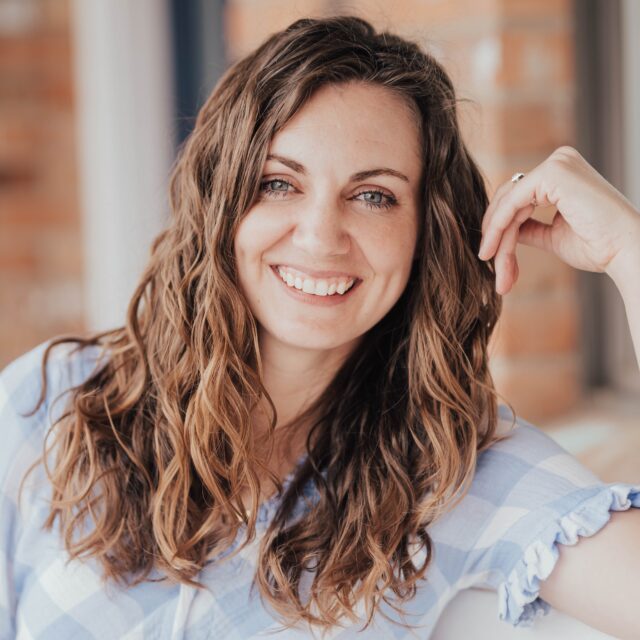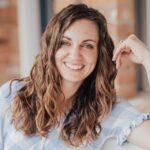 I believe small sewing moments can create great joy. Find your own "right" way to sew. -Heather