DIY Mother Earth Costume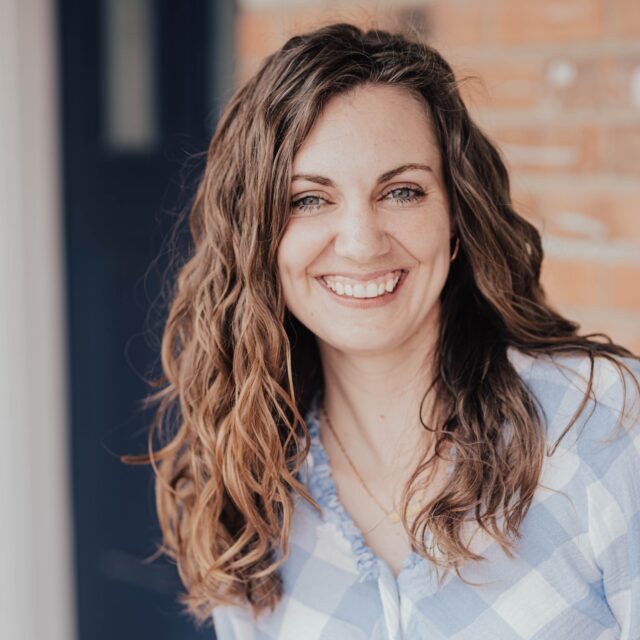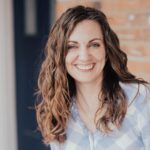 This post may contain affiliate links.
Learn how to make a DIY mother earth costume with floral fabrics and DIY accessories. This is a stunning statement costume!
My daughter went through lots of costume ideas, but was really set on some sort of nature costume. I asked her if she wanted to be Mother Earth, and her face lit up. She was so excited about being Mother Earth.
This was more work than I usually put into a costume, but I really enjoyed making it and she got so excited to see the progress and try it on multiple times. It's probably one of my favorite costumes I've ever made!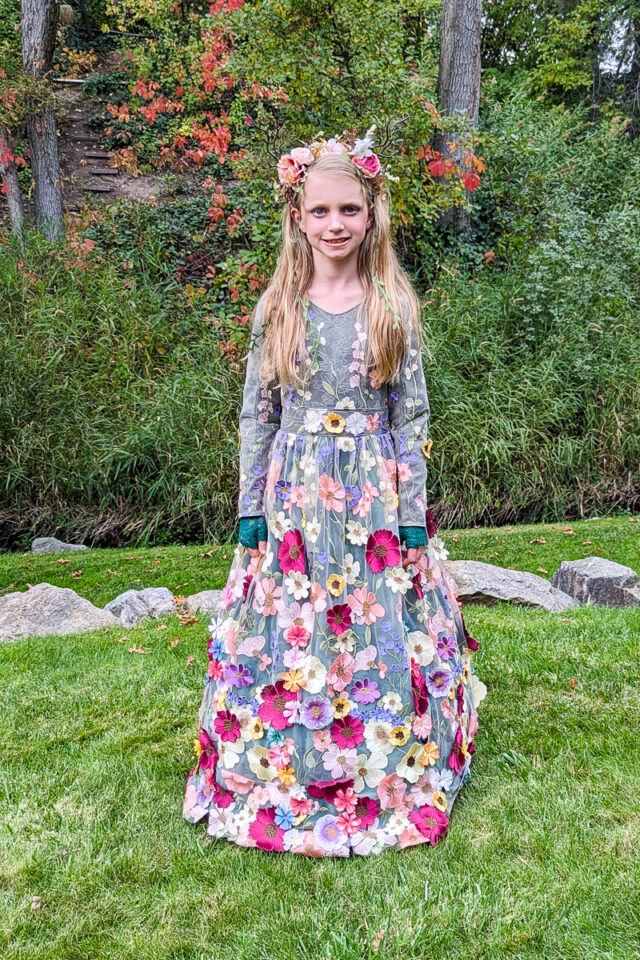 Need more costume ideas? Check out these lists:
What dress should I use for a Mother Earth costume?
I made my daughter's dress for this costume, and I talk all about the details in the instructions below. I made this dress with 3D floral fabric*, and I added more fake flowers to the hem and climbing up if you look closely.
If you don't want to make a dress, you can buy a green or floral dress and add more fake flowers. This green floral lace dress* or this embroidered floral white dress* would be a great base to create the costume.
What accessories work with a Mother Earth costume?
The accessories I added was a Floral headband* to kind of look like a crown, Green fingerless gloves*, a hoop skirt, and a green cloak with my free cloak sewing pattern. We live somewhere where Halloween can be cold so a green cloak was needed to keep her warm.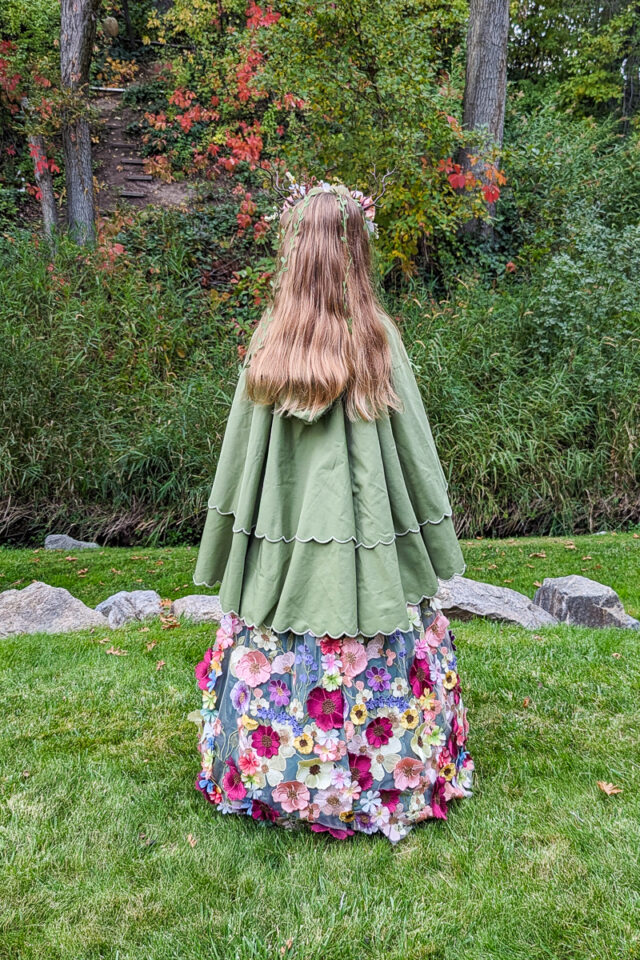 DIY Mother Earth Costume
Supplies
Foral Headband
I bought this Floral headband* to start with. There are lots of options so I chose colors that looked similar to the floral fabric, but I liked the branches sticking up. I wanted a crown look without having an actual crown.
I added some Fake flowers* to the headband with hot glue to help tie it in. I also added some Vine trim* to the headband that would fall down with her hair. On the day she wears her costume I might braid the vines into little braids in her hair to make it feel like it's part of her.
Green Cloak
We live somewhere where Halloween is cold, and I didn't want her wearing a puffer jacket and ruin the beautiful look of the dress. Instead I made her this great cloak that looks great with the dress and will keep her warm.
I have always seen tableclothes at thrift stores, so I knew that would be a great way to find fabric for cheap. When I looked, I found this beautiful almost sage green round tablecloth with a scalloped edge. I decided to use it for the cloak, so that I could show off the stunning hem.
I used my free cloak sewing pattern and it worked perfectly for this costume. I just added another layer of the cloak about halfway down with the extra fabric.
I wanted to use the extra fabric, it makes it warmer with two layers, and creates this hand "opening" in the front so make trick-or-treating easier.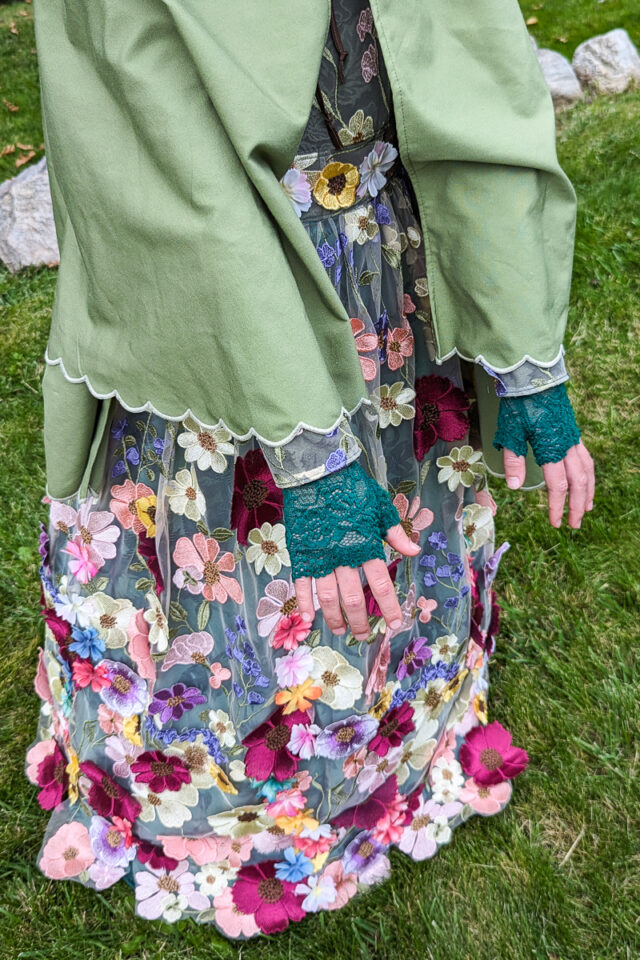 Flower Dress
Start with either a green or floral dress you purchase (like this green lace dress* or this floral white dress*) or make your own. My dress was wide enough that we have a hoop petticoat underneath to give it shape, but a purchased dress might not need it.
I thrifted two green round tableclothes with a nature theme woven in: one I used for the skirt and one I used for the bodice. For the overlay I used this 3D floral fabric* which is the most expensive fabric I've ever purchased but it's so beautiful and perfect for this project. It's the same fabric sold at Joann Fabrics which might be a quicker way of getting it.
I used the Seraphina dress sewing pattern by Violette Field Threads with an altered rounded neckline and long sleeves. I added a waist section to drop the bodice, and then I added a circle skirt with a gathered floral tulle on top. I treated the overlay and green fabric of the bodice, waist, and sleeves as one piece to make it easier to sew together.
I added some of these Fake flowers* to different parts of the dress to make it extra flowery.
Green Fingerless Gloves
To add more warmth and to add a cool accessory, I bought these Green fingerless gloves*. They add the perfect touch even though you can't see them well with the long sleeves.
If you make something using this sewing project, I'd love to see! Please share it on social media with the hashtag #heatherhandmade and tag me!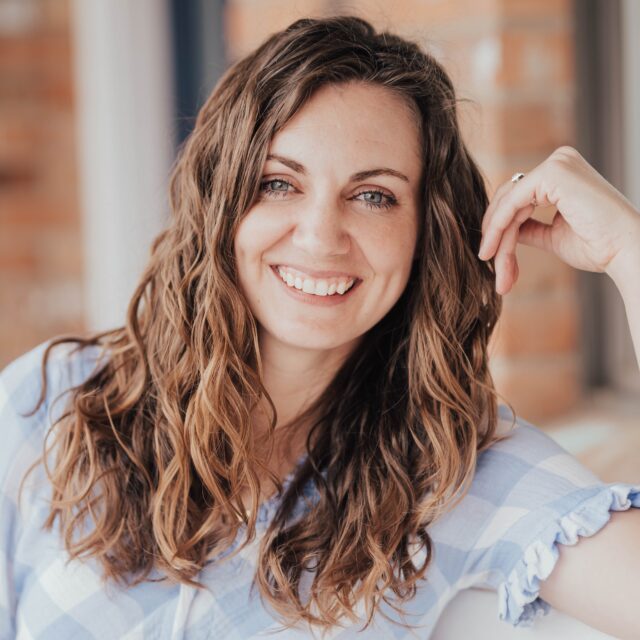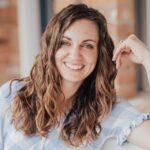 I believe small sewing moments can create great joy. Find your own "right" way to sew. -Heather