Cricut Bright 360 in a Sewing Room
This post may contain affiliate links
See how I use the new Cricut Bright 360 table lamp in my sewing room to fix all my light problems. The lamp rotates to illuminate all my work areas.
I was paid and given the Cricut Bright 360 to review. All opinions are my own.
I've always struggled with lighting in every sewing area I've had. Overhead lighting only does so much. If I'm sewing during the day, then the light coming in through the window has always been enough. If it's early morning, evening, stormy, or winter, I usually don't sew or craft because the lighting strains my eyes.
Cricut has just released new lamps, Cricut Bright 360*, and they are amazing. There is a table version and a floor version so you can find the one that works best for your space.
In my sewing area I use the Dreambox and Sewing Station. I have some overhead recessed lighting that goes down the center of the room, but it only does so much. I do have a giant window so during the day lighting isn't an issue.
I needed a way to light up my sewing machine and desk next to it and my serger and my coverstitch machine. I didn't want to buy a bunch of different lamps or remodel my whole room.
The Cricut Bright 360* has solved my problems. It sits on my desk right behind my sewing machine and lights my sewing machine area and desk.
Then it swivels to light up my serger and coverstitch machine. It's so easy to move and point the light where I need it.
I took these pictures will all the lights off and just the lamp on so you could see how well the lamp lights up my area. I honestly could use just the lamp, and it would be enough light to sew. It will be so much easier taking pictures for social media since I can always use this lamp!
Watch the video to see my first reaction to using the Cricut Bright 360 and how well it works in my space.
What is the Cricut Bright 360 lamp?
The Cricut Bright 360* is a floor lamp or a table lamp that helps you see more so that you can do more. It's even light for your space that can be as large as 4 square feet when raised up all the way, or it can be directed into small areas for close ups.
This lamp helps you see colors in their true form, it can be rotated or swiveled to get the light exactly where you need it. It moves so smoothly and easily, and it stays where you put it. It has a nice, sturdy base which makes it hard to tip over.
What can the Cricut Bright 360 do?
The Cricut Bright 360 can pivot, rotate, and swivel so smoothly and easily. I love grabbing the head, which never gets hot, and moving it to the exact place I want it. It's so easy to get the light positioned in the right place.
It can illuminate your entire workspace, and the head can be moved to illuminate multiple workspaces without moving the base of the lamp. The light can be changed to warmer or cooler so that you always get the most accurate colors.
Can the Cricut Bright 360 light be warm or cool? Brightened or dimmed?
There are two sliders to control the Cricut Bright 360*. There's one that controls the light so that it can be warmer or cooler. There's even a spot in the middle to get the perfect sunlight color.
The other slider controls how bright the light is. It can be all the way up at the brightest, or it can be all the way down and off.
How much does the Cricut Bright 360 cost?
The table version costs $199.99*. The floor version costs $249.99*. I feel it's a bit of a higher cost, but the lamp really impressed me, and I'm considering buying the floor version for another place in my home!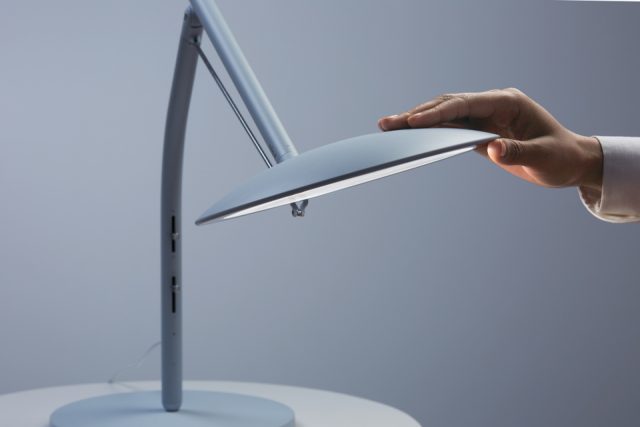 If you make get the Cricut Bright 360, I'd love to see it in your space! Please share it on social media with the hashtag #heatherhandmade and tag me!