How To Sew a Button on Pants
This post may contain affiliate links
Learn how to sew a button on pants after it's fallen off or when you are sewing a pair of pants. This is an easy, quick, and strong way to sew on a button.
There might be lots of tutorials on the internet for sewing on buttons, but I thought I'd share how I do it. I've been taught multiple ways to sew on a button, and this one is the best. It's great when a button falls off a shirt or a pair of pants.
This is the method I learned while working in a tailor shop, and it's very strong and very quick. It's also really easy, and you only need a hand needle, thread, and a button.
If you want a more in depth tutorial you can check out how to sew a button by hand which has a picture tutorial and a video. Also, learn how to open a buttonhole.
If you want to sew the buttons on quicker and you have a sewing machine, you can learn how to sew a button with a sewing machine.
how to sew a button on pants
supplies
Thread
Scissors
Hand Needle
Button (the right size)
Thread the needle with two strands of thread and tie a slip knot at the other end. This means each time you go in or out of the fabric, you will have four threads.
Decide how you're going to sew your button on.
The most common are an "X" design or an "=" design. It's not set in stone, but it's common for an "X" design to be seen as masculine and an "=" design to be seen as feminine. There are lots of other designs you can do.
Start from the top so that the knot will be hidden under the button.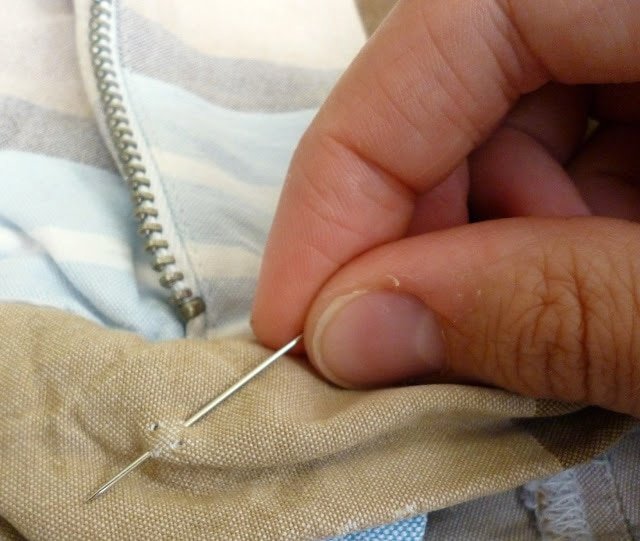 Go up through and hole, down through another hole, and down into the fabric. Come up through the fabric, up through the first hole, down through the second hole, and down into the fabric.
Repeat with the third and fourth hole. You'll go through each hole twice.
Don't pull too tight so that you will have a thread shank.
Wrap your thread around the threads about 3-4 times to create a thread shank.
Tie a square knot to finish off by going up and through the loop and then down and through the loop. The main thing is to start on one side to tie a knot and then go to the other side to tie another knot.
Put needle into fabric near the knot and under the button, and then come up out of the fabric about an inch away.
Cut the thread close to the fabric. Now there aren't any stray threads to show and the long end will help prevent the knots from coming undone.
You finished the strong and quick button sewing!
If you make something using this sewing project, I'd love to see! Please share it on social media with the hashtag #heatherhandmade and tag me!