Learn how to match stripes when cutting out striped fabric with a sewing pattern. There are simple tricks to make your stripes look amazing!
Stripes are classic and fun to wear. Sewing stripes is a great sewing technique to learn, but it's important to learn how to match stripes so that your sewing project can be successful.
Stripes look best when they match perfectly, and when they look seamless. The trick comes when cutting out your sewing project to get your stripes to look good.
I used some beautiful striped sleek cotton spandex jersey from Art Gallery Fabrics for a stripes blog tour going on. We each got to choose some striped fabric to create something beautiful. I decided to create a tutorial so you can use stripes successfully too!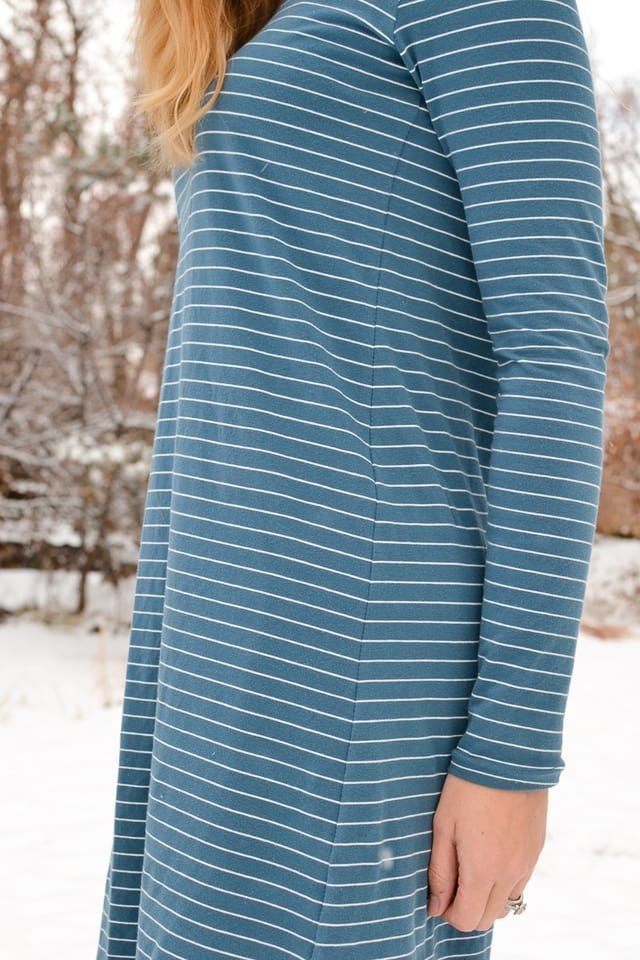 When I got this striped cotton spandex I decided to make a project that would let it be the star of the show. I love wearing simple basics with just a little bit of interest. That's why this a-line tee dress is the perfect winter basic for me.
I used the Union St tee sewing pattern* and lengthened it 18 inches to make the perfect easy dress. I made it long sleeves for winter. The fabric was so easy to work with and the pattern is a favorite so it was the perfect combination.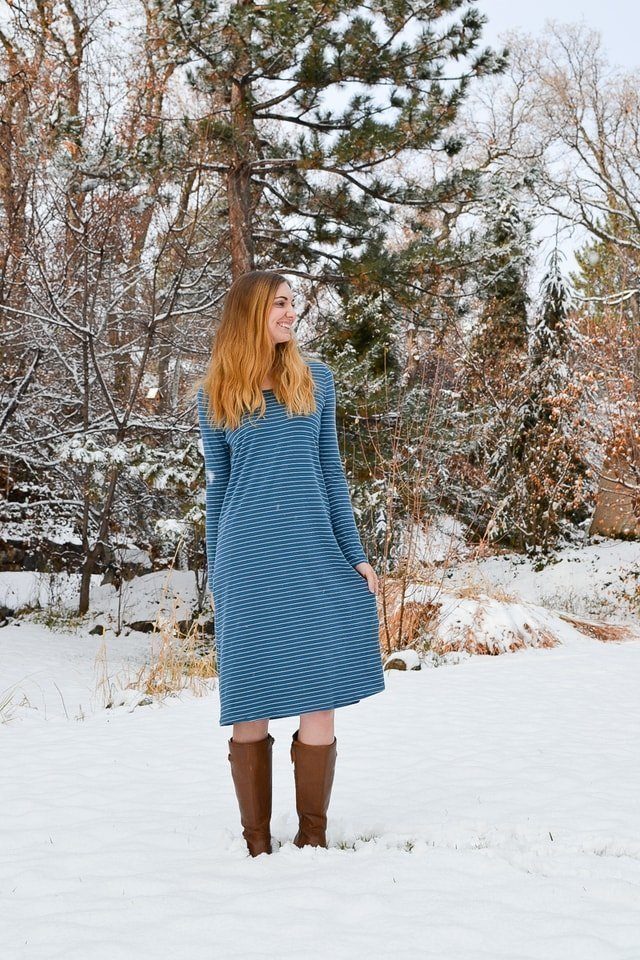 How to Match Stripes
Step 1 – When you lay your pattern pieces on the fabric you need to be very thoughtful about stripes placement. Place the bottom of the armhole on the front, back, and sleeves on the same stripe.
They don't have to be on the exact same stripe, but they do need to be on the same stripe of the repeat.
Step 2 – When you lay out your pattern do it on one layer of fabric so you can get the stripes perfectly on grain.
If you have a pattern piece cut on the fold, pin it to the fabric and cut out one side. Then flip the fabric and pattern piece over where it's supposed to fold. Line up the stripes with the uncut fabric and cut the other side of the pattern.
Step 3 – Once I folded this pattern piece over I again checked all the stripes to make sure they lined up. The under arm stripe matched just like the first side.
Step 4 – Once you cut out one sleeve, use it to cut out the other sleeve. Flip it over so you get an opposite sleeve and lay it down so all the stripes match. You might need to smooth and push the sleeve in place to make all the stripes match up.
Step 5 – When you are sewing the side seams together pin or clip the stripes together every couple of inches. I like to start at the sleeve seam and then move down to the hems.
Step 6 – When I sew stripes I always zigzag the side seams together first and then I serge them. I find that if I only serge the fabric shifts and my stripes get off.
It does take longer to do it this way, but I have the most success when I use a sewing machine first and a serger next. The zigzag stitch is almost more of a basting stitch.
If you don't want to zigzag first, then you can use a gluestick to glue the sides together which then washes out in the washer. You can also use fusible hem tape to fuse the seams together and then sew it together. If you are using a knit fabric then you'll need to use a stretchy fusible hem tape like Soft Stretch Lite hem tape*.
If you make something using this pattern, I'd love to see! Please share it on social media with the hashtag #heatherhandmade and tag me!