How to Make Denim Joggers Using the Hudson Pants Pattern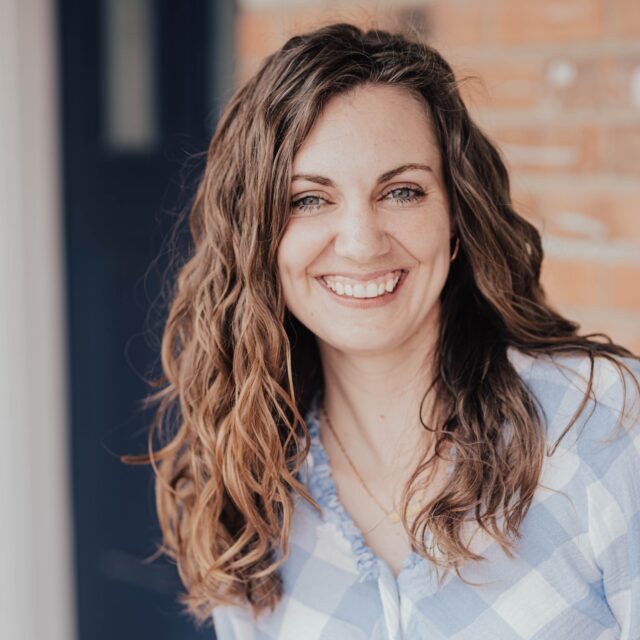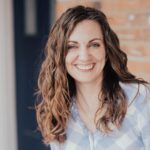 This post may contain affiliate links.
Learn how to make denim joggers using the hudson pants pattern. Figure out the best fabric and size to make for the perfect summer pant!
I got such a great response on my first denim jogger hudson pants that I decided to make another pair and make a mini tutorial so you all can make some too if you'd like.
I love my new pair, and I still love my old pair. I will wear both of them until they are threads. I know this style of pants isn't for everyone; a lot of people dislike it, but this just feels like me.
This post is going to be full of LOTS of information and pictures so good luck getting through it all!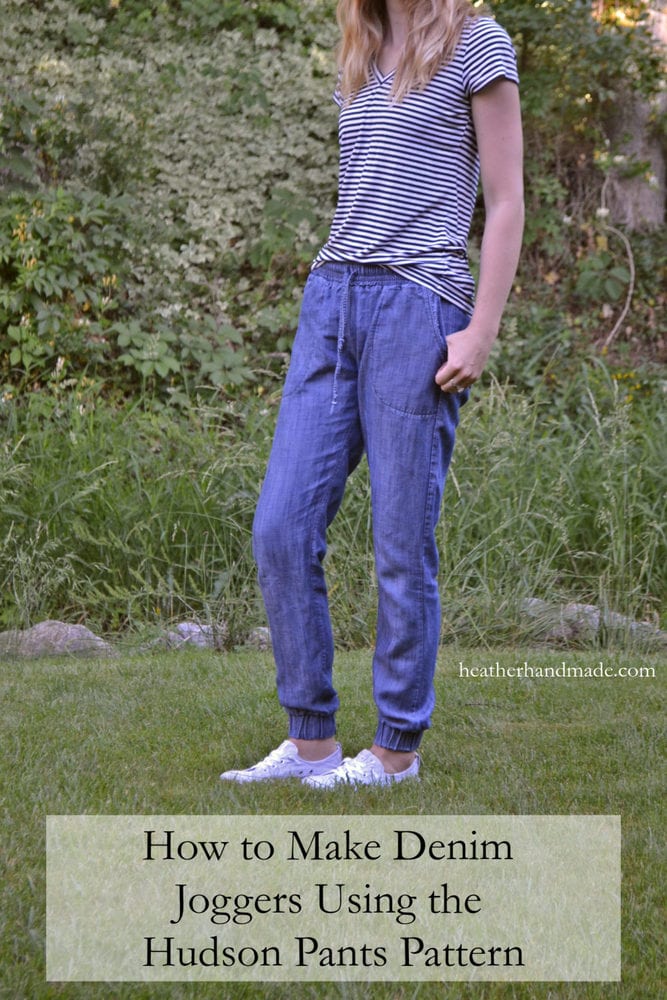 Let's talk about fabric for a little bit. The first ones I made, the lighter pair, are made out of a mystery fabric. I'd say the fabric is either a lightweight denim with no stretch or a heavier chambray fabric.
Those pants had to be more fitted and look a little more structured. I added back pockets and distressing. These pants look pretty casual, and the fabric will wear out quicker than the next pair I made.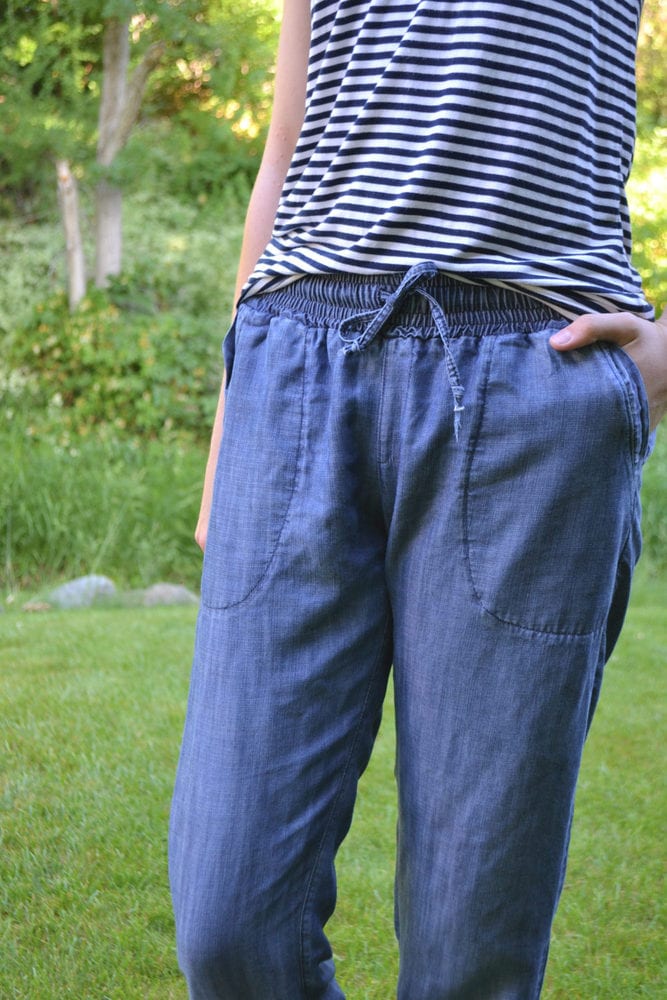 The darker pair are made out of Tencel which is like a lightweight chambray that is extremely strong and durable because it's made out of Tencel. That pair is less fitted and has more drape.
It has no back pockets and no distressing. These pants look a little dressier because the fabric is nice and the color is dark. I would wear these on a date night because I feel they look nice enough.
How to Make Denim Joggers Using the Hudson Pants Pattern
supplies
Cord, string, rope, etc for the waistband drawstring* (I used white cording for one pair, and the other pair I used the pants
fabric sewn into a thin band.)
2 yards or more of fabric – here are three Tencel fabrics and links. I only picked blue Tencel fabrics, there are lots of other colors and options all three sites I linked too.
Telio Cross Hatch Tencel Denim Blue*, Cross Hatch Tencel Denim – Blue, 5 oz Dark Blue Cotton Tencel*
Basic Instructions
Wash and dry your fabric first to eliminate any shrinking. Also, Tencel seems to release lots of color in the wash so be very careful what you wash it with.
I am right in between a size 2 and 4 in the Hudson Pants pattern. I usually make a size 2 when I'm sewing with knit. When I first cut out this pattern for wovens I was immediate post-partem and more like a size 4.
I printed out a size 8 for a woven pair: two sizes larger. I added .5″ in width to both the front and back inseam. I lengthened the legs 4″ because I'm 5'10".
I also noticed with my first pair that without stretch the center back gets pulled down when I bend over so I added 3/4″ to the center back. I am taller than the pattern calls for though so it might not be an issue for someone else.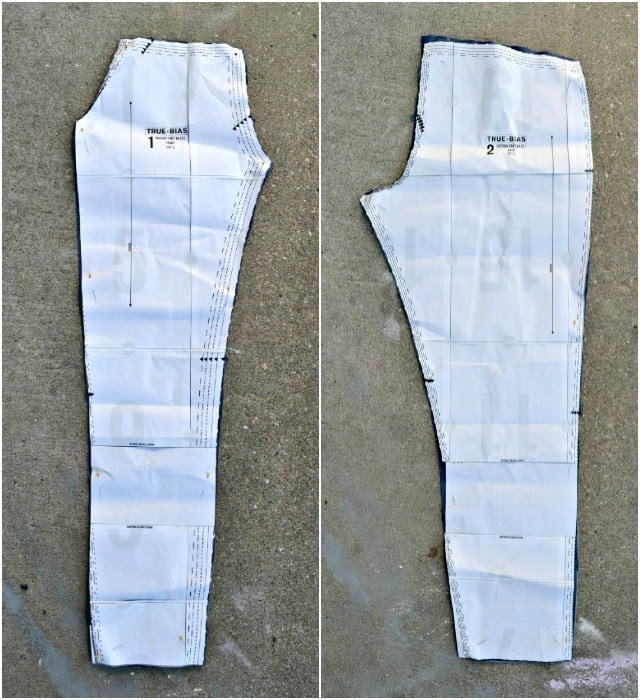 I cut out the waistband without any alterations.
I added 1.5″ to the pocket and pocket facing so they would be a good size.
Instead of using the pocket details I just cut some rectangles to play with while I was sewing. Basically if you want the pocket details, cut the fabric at least 1″ longer than the pattern.
I don't have a picture of the cuffs (don't know how I missed that), but I added at least an 1″ to each side of the cuff. You need the cuffs circumference to be the same circumference as the bottom of the pants.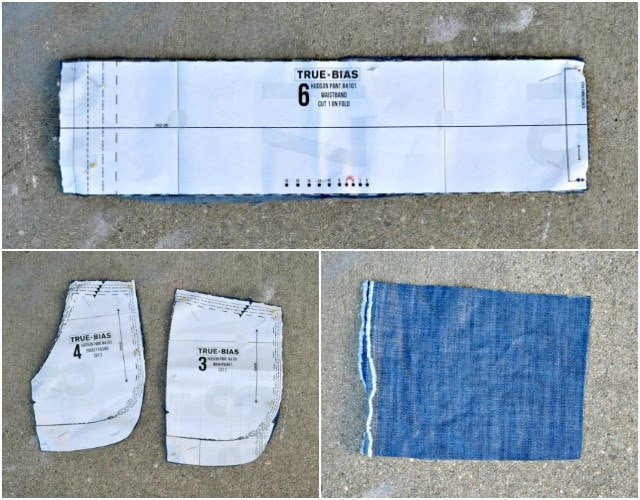 I made the pants with the same construction as the pattern instructs, so I won't tell you how to put the pants together.
I used woven fabric for the pocket details but it needs to be long enough to go across that seam. I was worried this piece would make the pocket opening too small to use but mine is 1″ tall and doesn't hinder my use of the pocket. I also added edgestitching right along the pocket detail.
Be REALLY careful to make sure your pocket opening and pocket detail lay flat when you sew it together. Mine bowed out slightly when I did mine, and I had to redo them.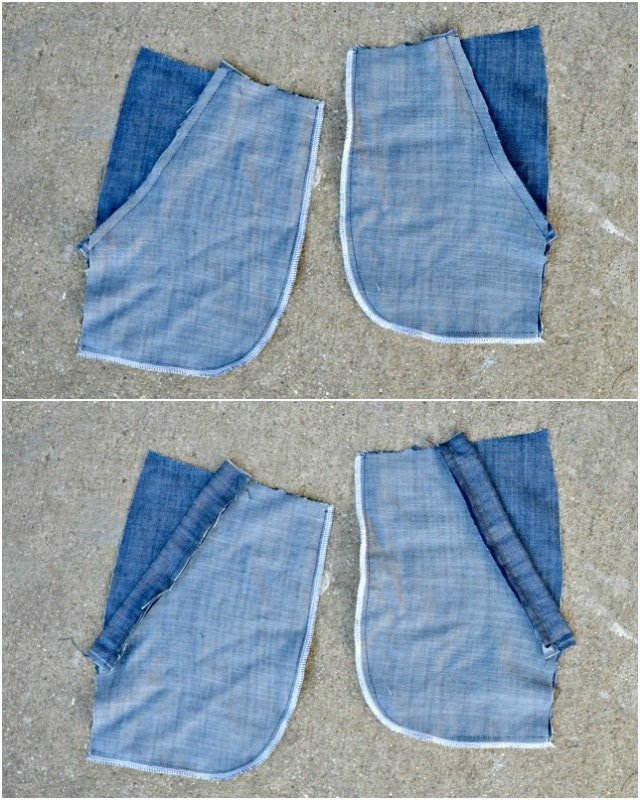 Sew the pockets to the pants. I added topstitching along the edge of the pocket detail (do this before you baste the pieces together) and I sewed the pockets right to the pants. I like the subtle stitching details.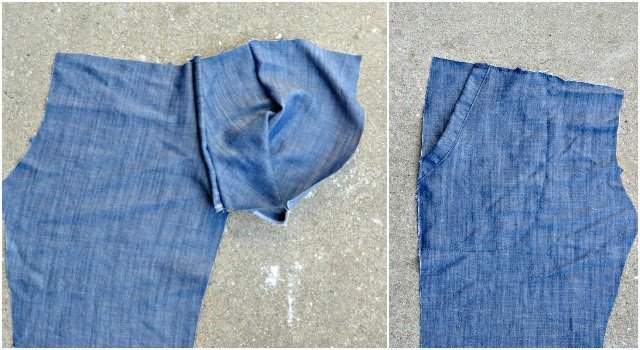 Then I sewed the front pieces together and added some stitching details like a faux zipper fly. I sewed the back pieces together and added edgestitching on the center back seam. I sewed the front and back together and added edgestitching to the inseam.
Then I tried them on to see how the fit was. For these pants I straightened out the hip curve because I have pretty straight hips. I mostly need a lot of room for my bum which this pattern gives.
*On my first pair I straightened the hip curve and took in 1″ total out of each side seam. This was when I weighed more but the stiffer fabric needed to be fitted to be flattering.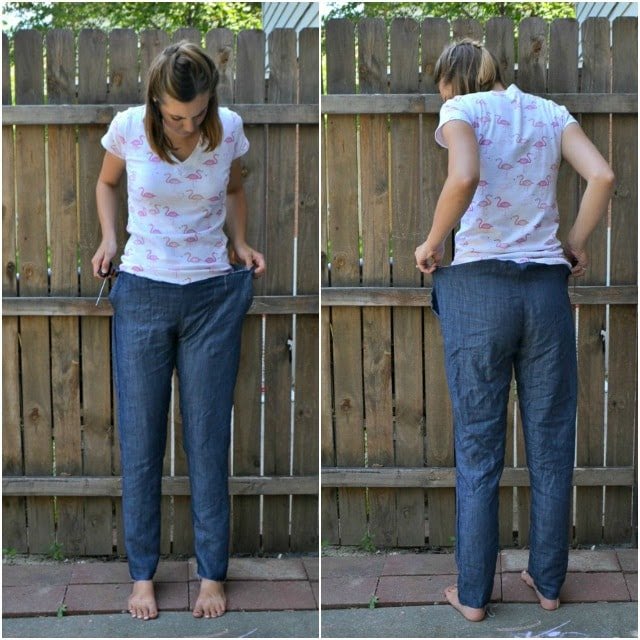 Then I added the waistband, elastic, and drawstring. I constructed it just like the pattern instructs. (These are phone pictures because I was sewing when the kids were awake and didn't trust my camera and tripod to be safe while my 2 yr old was loose.)
I tried them on again to check the length and fit again. I decided to take 1.5″ off of the bottom before I put on the cuffs.
I wanted some pooling right above the cuffs so I would have room for bending my knees, but not too much. So I didn't need 4″ like I originally planned, but I'd rather have too much then too little.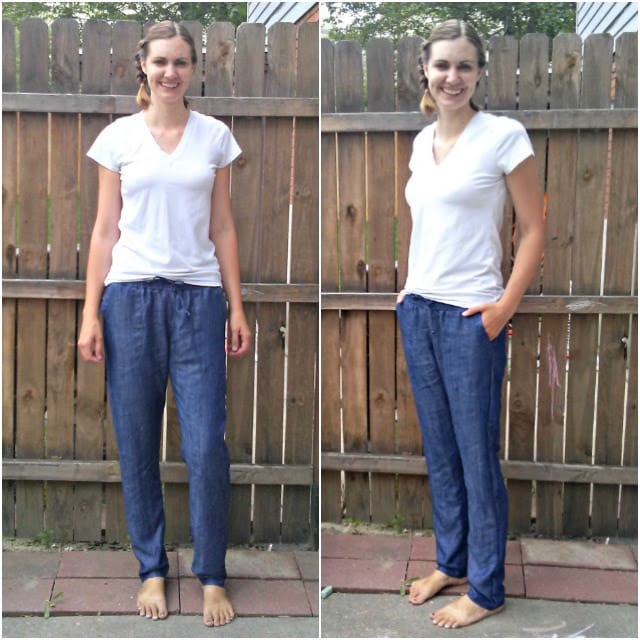 I sized the cuffs slightly differently than the pattern. I used 2″ elastic so my cuffs were 5″ tall (2 + 2 + seam allowance) and my cuffs circumference were the circumference of the pants ankles.
I sewed the cuffs on leaving a 3″ gap and inserted my elastic. I sized my elastic to be slightly bigger than my ankles. I made them slightly smaller than my ankles on my first pair and it was a little too tight.
I did not add any topstitching to my cuffs because I thought it would be too hard to sew with my machine.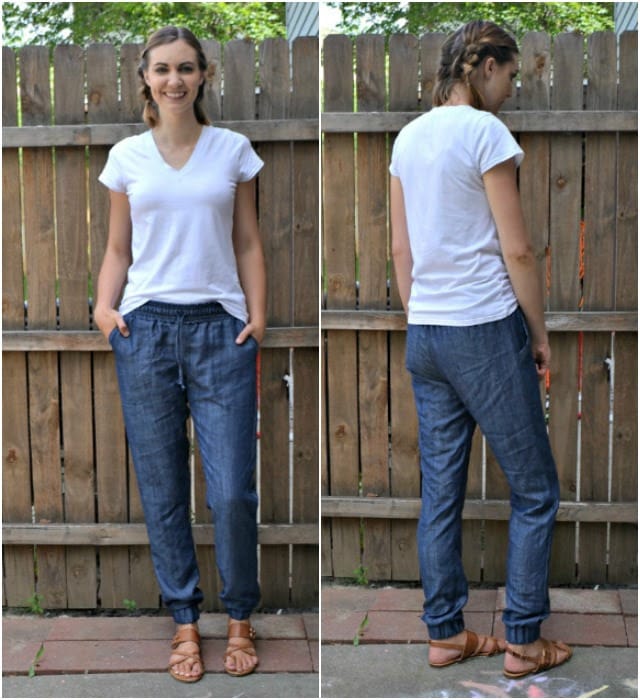 Tips to remember:
I found the Tencel to leak color through the first couple of washes. It didn't change the color of the pants, but it did dye a couple of things that washed with it. Wash them separately for awhile or with rags, so you don't ruin anything else.
If you use lightweight, drapey fabric, then you don't have to make them as tight. If you use a light to medium weight fabric, then you need a more fitted look to make them sit right.
The fit is pretty forgiving, so it's a great way to start sewing pants.
You need a little more length added since the pattern calls for stretch fabric. You need room to bend your knees and bend over.
Sew on either patch pockets or sew the faced pockets to the front of the pants.
You can add back pockets and distressing if you'd like.
These are pretty quick pants and only have a minimal amount of topstitching.
Fitted at the ankle looks best, in my opinion. Or maybe that's what looks best on me. You might have to try it out for your body shape.
Instead of doing elastic in the cuffs, you could eliminate the cuffs and do cropped pants. There are lots of variations here.
Here is a round up of a bunch of woven Hudson Pants so you can read what others did:
Purple Ikat Woven Hudson Pants – Sew DIY
Why Buy It When You Can Sew It- Straight Stitch Designs
Denim Joggers – Heather Handmade
Please ask if you have any more questions, and I'll do my best to answer!
If you make something using this sewing project, I'd love to see! Please share it on social media with the hashtag #heatherhandmade and tag me!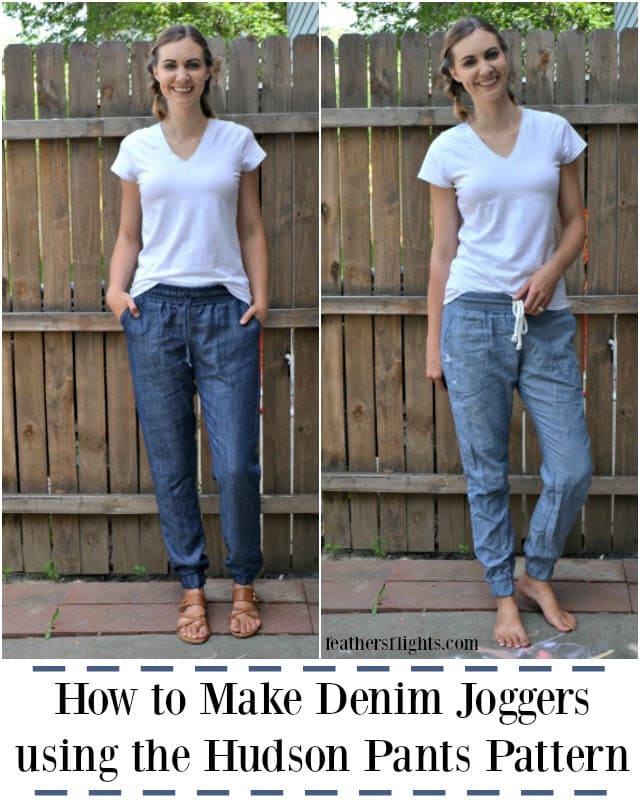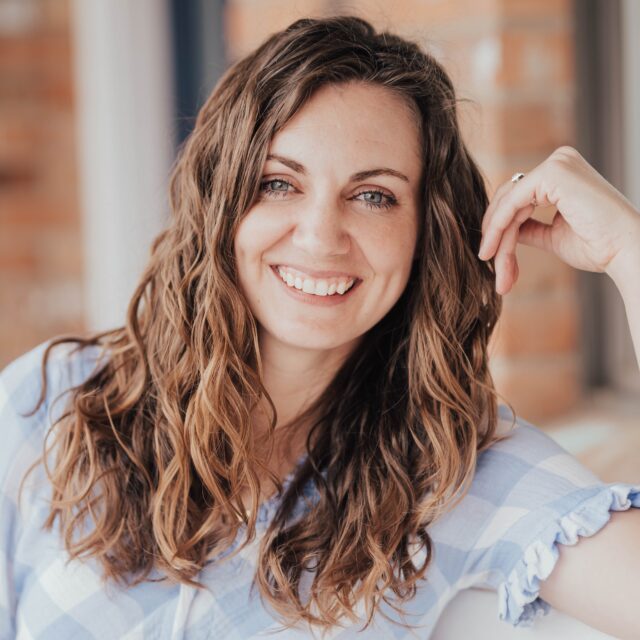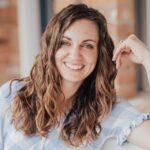 I believe small sewing moments can create great joy. Find your own "right" way to sew. -Heather