DIY Toad Costume (From Mario)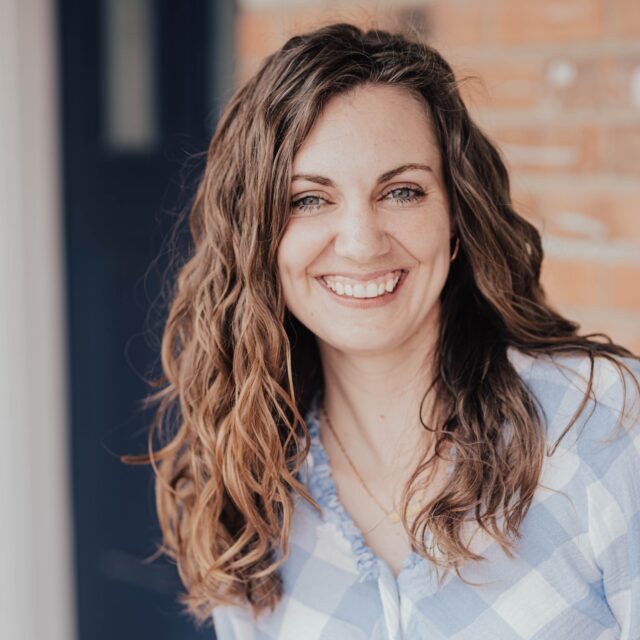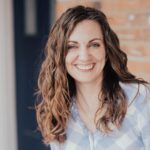 This post may contain affiliate links.
Learn how to make a DIY Toad costume inspired by the Mario Nintendo character. Add DIY accessories to clothing you have for a quick project!
Since I am going to be Princess Peach for Halloween this year, I wanted my husband to dress up as a Mario inspired character. We decided on Toad because it's quick, easy, and quirky. It also works great for our personalities!
It was so fun to make this costume since I just made two accessories, and everything else was in our closet. Toad is easily recognizable, and I can't wait to walk around as Princess Peach and Toad.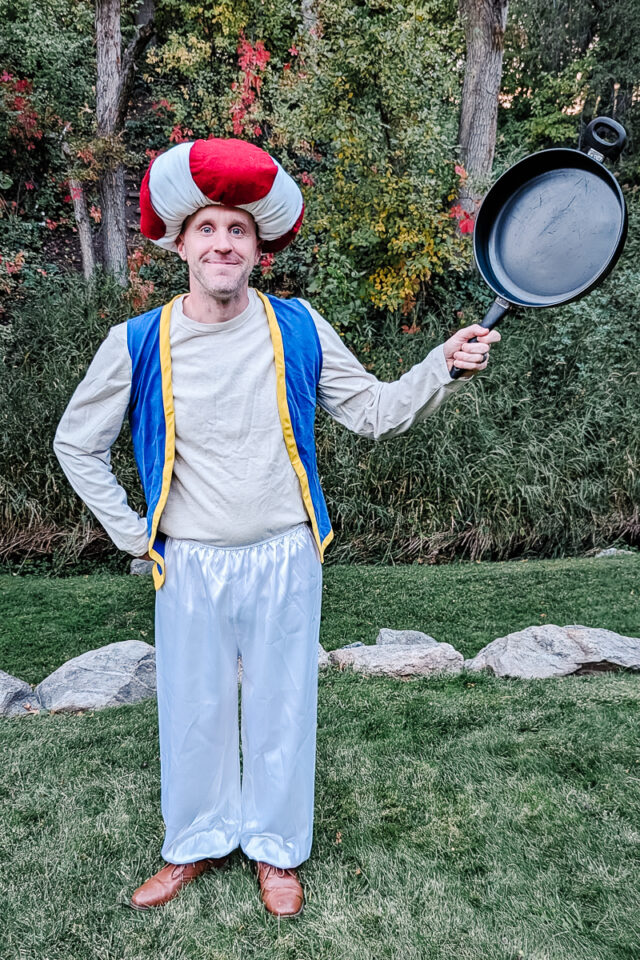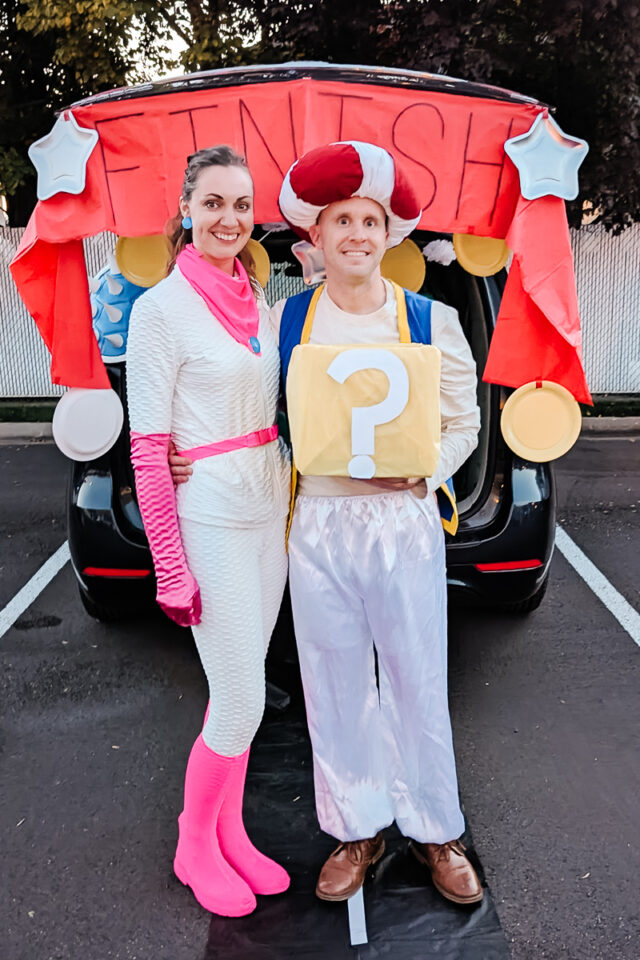 What clothing should I wear for a toad costume?
Since we live somewhere cold, my husband is wearing a tan long sleeve shirt* instead of no shirt. Then he's wearing some white pants that we had but you can get these white cotton pants* or these white baggie pants*.
He's also wearing brown shoes that he owns.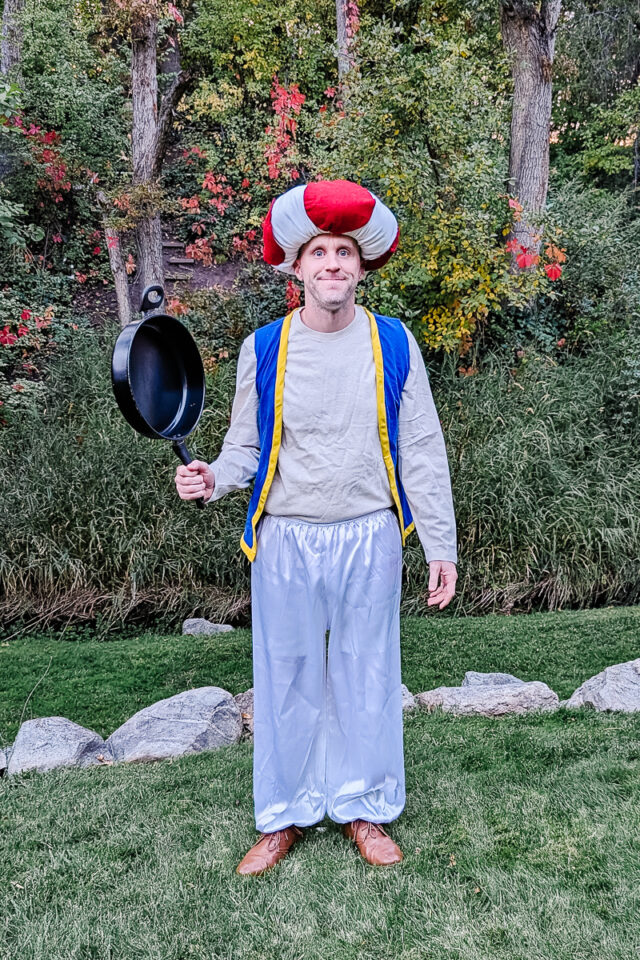 What accessories do I need for a toad costume?
I made a DIY Toad hat out of white fabric, red felt, polyfil, and cardboard. Check below to see how I made it.
I also made a DIY vest with a blue t-shirt we had and some 1 inch yellow bias binding*. Add a large frying pan to complete the look!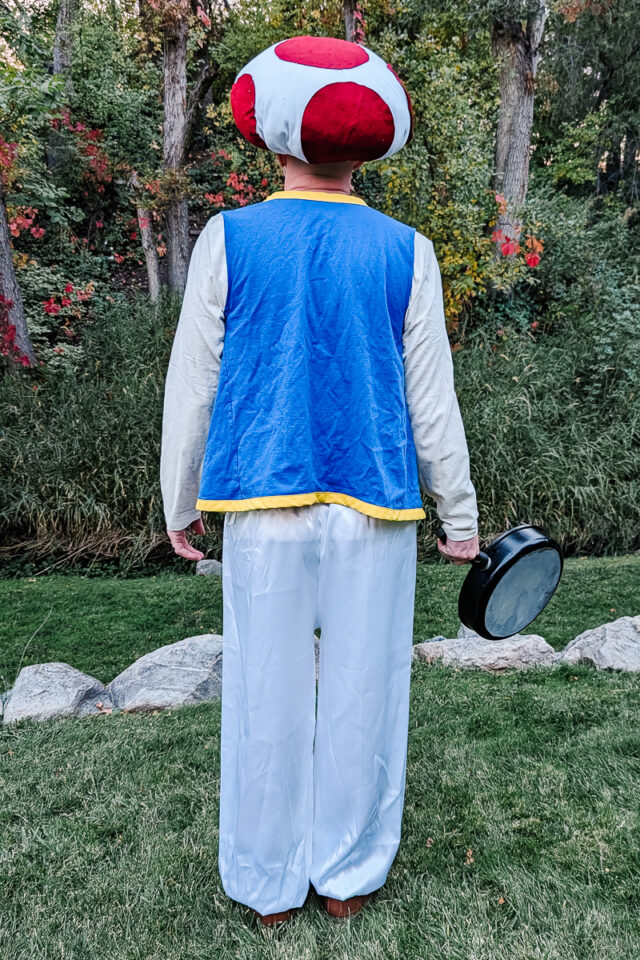 DIY Toad Costume
Supplies
Hat
I thought about sewing a DIY Toad hat with my free ball sewing pattern, but I could not figure out how to combine the hat and ball without making it way too hard.
Instead I did some research and found this DIY toad hat video which used fabric, polyfill, cardboard, and hot glue. It's a perfect hat tutorial and I was quickly able to make this hat. I think I did the spots a little bit too big and I think the top of the hat is supposed to have more polyfil, but it works great for this costume.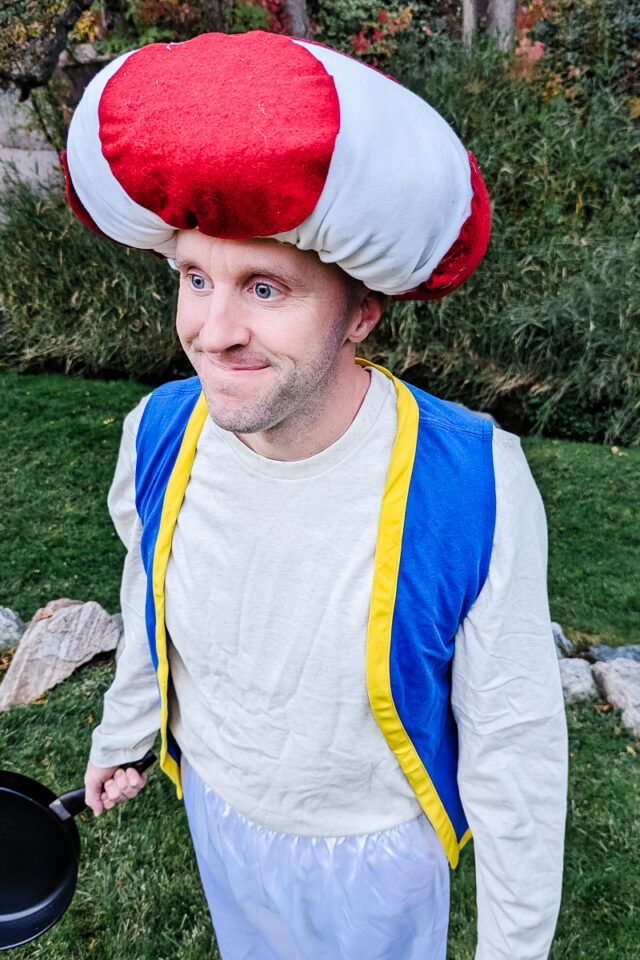 I love that it all came together with hot glue! I know my kids will play with the costume after so I didn't want to spend too much time with it.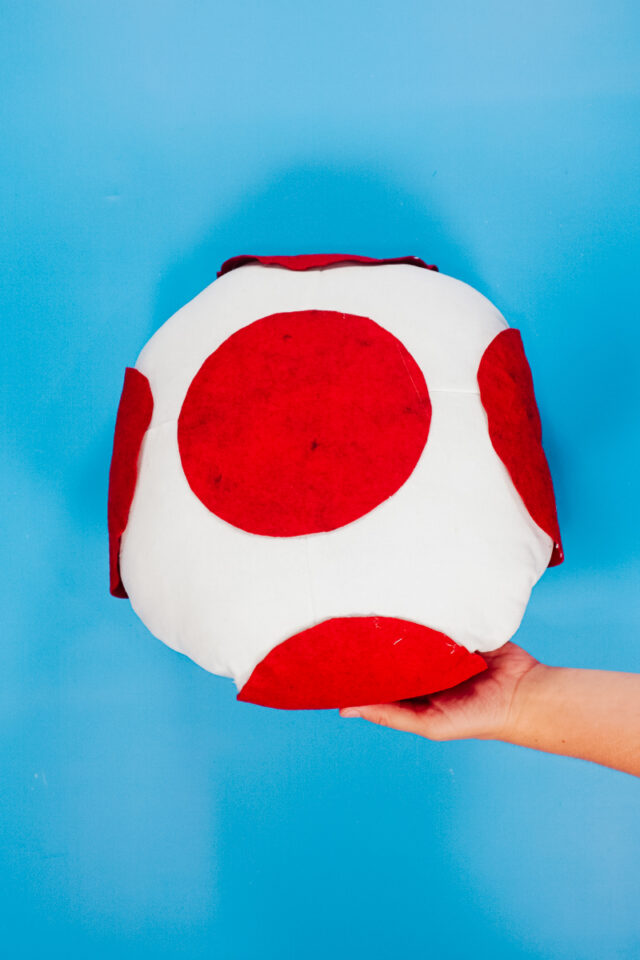 Vest
I made the vest out of a blue t-shirt and some yellow bias binding*. I'll walk you through what I did.
Get a blue t-shirt that fits or is one size smaller because toad's vest is pretty small.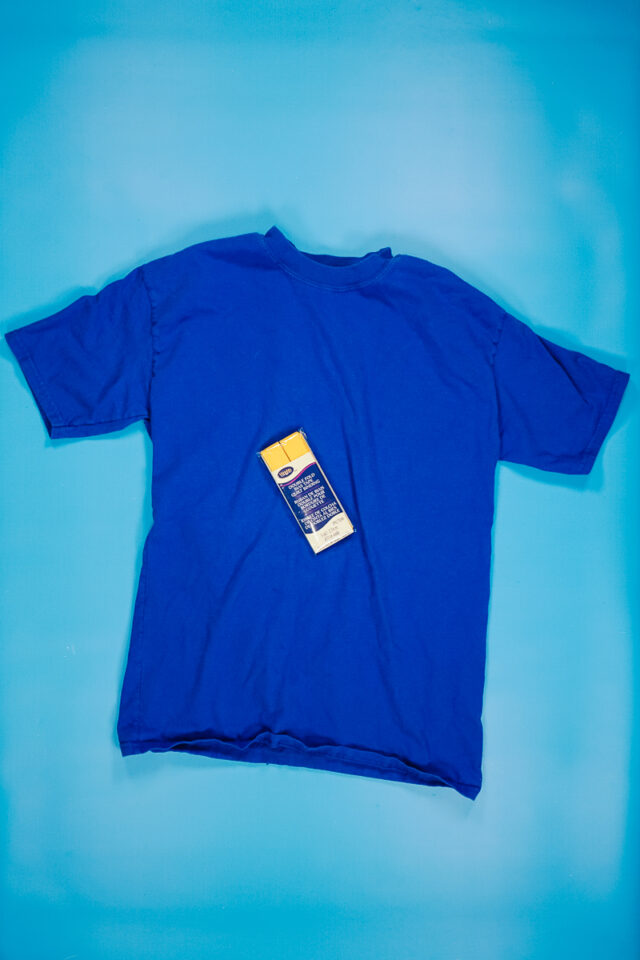 Cut the sleeves off. Cut 1 or 2 more inches off of each armhole. Cut off the neckband. Cut off the bottom hem.
Cut a straight line up the center front. Curve the neckline into the center front opening so that it's a smooth curve instead of a corner or angle.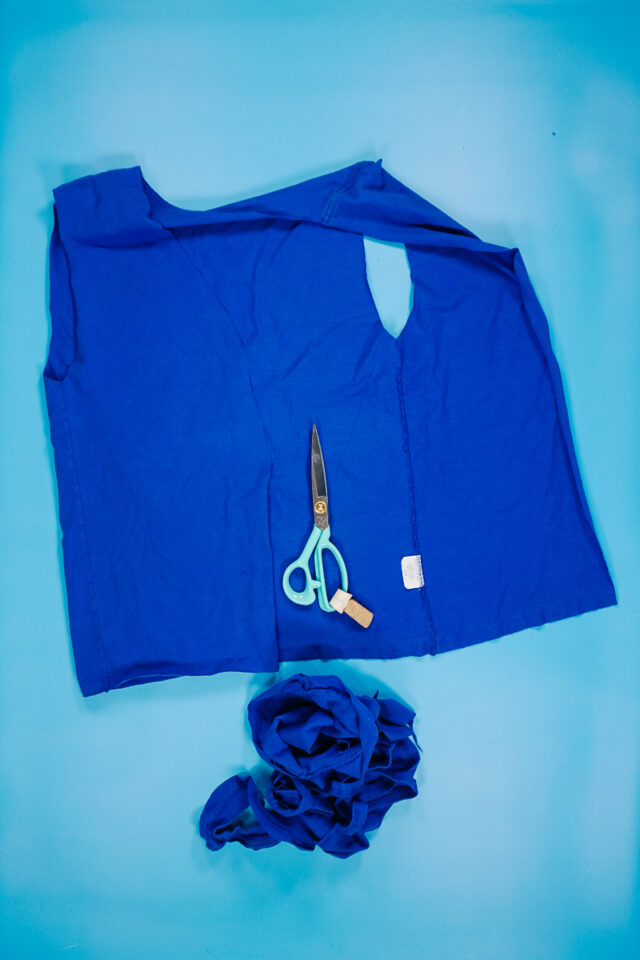 Use the 1 inch bias binding to finish the center front and neckline. Then use it to finish the hem.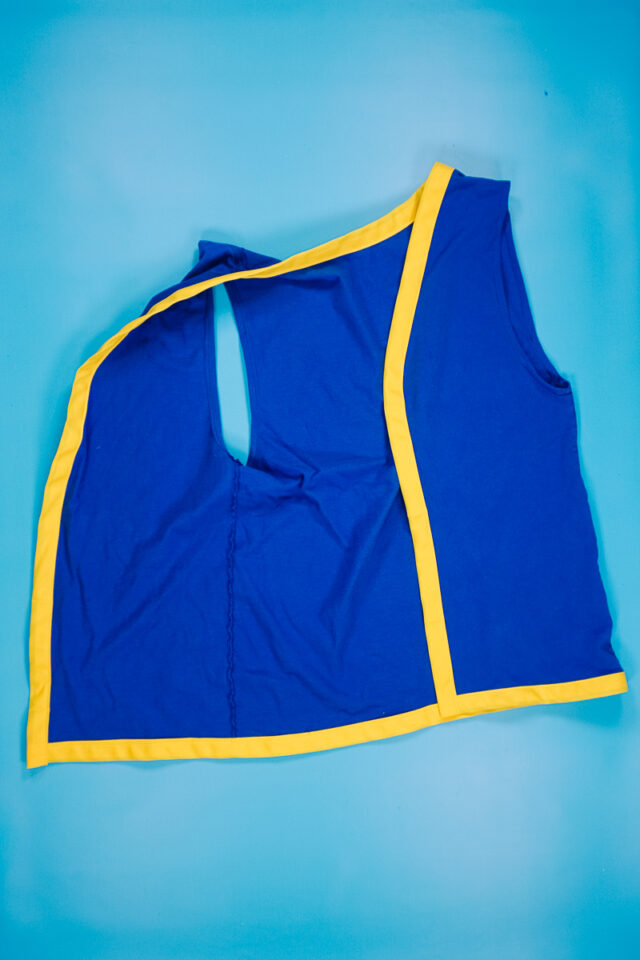 Fold the armhole over 3/8 inch and sew 1/4 inch away from the edge to create a hem. This creates a nice looking edge and keeps the vest looking nicer longer.
Pants
You can buy pants with an elastic ankle, but if you have loose white pants like we did you can add elastic to the ankle. This is how the pants started.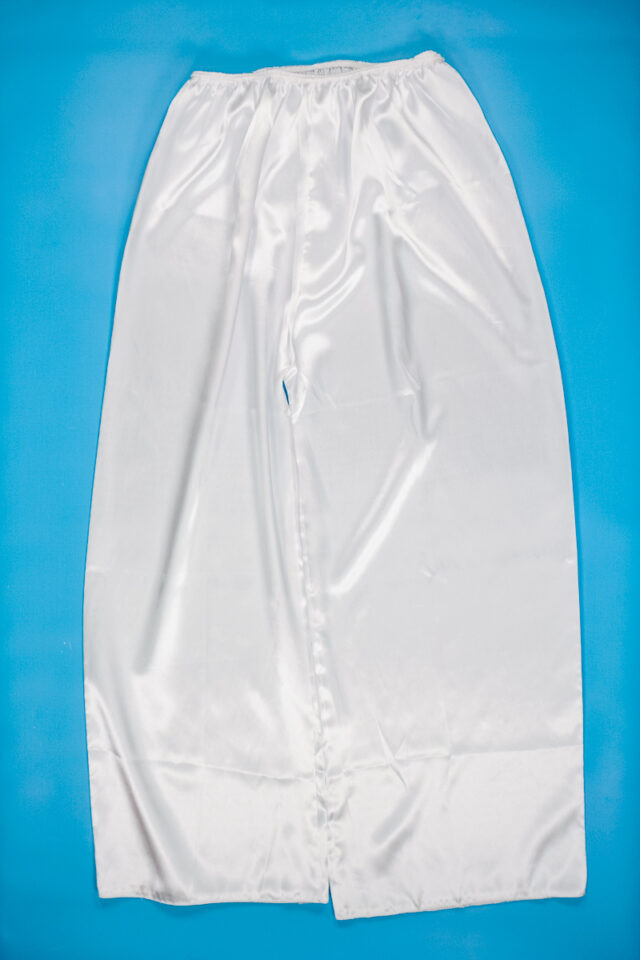 I opened the ankle hem and inserted elastic like a casing, and then I sewed it closed. You can also add a row of shirring to pull the ankles in if that's easier. You finished!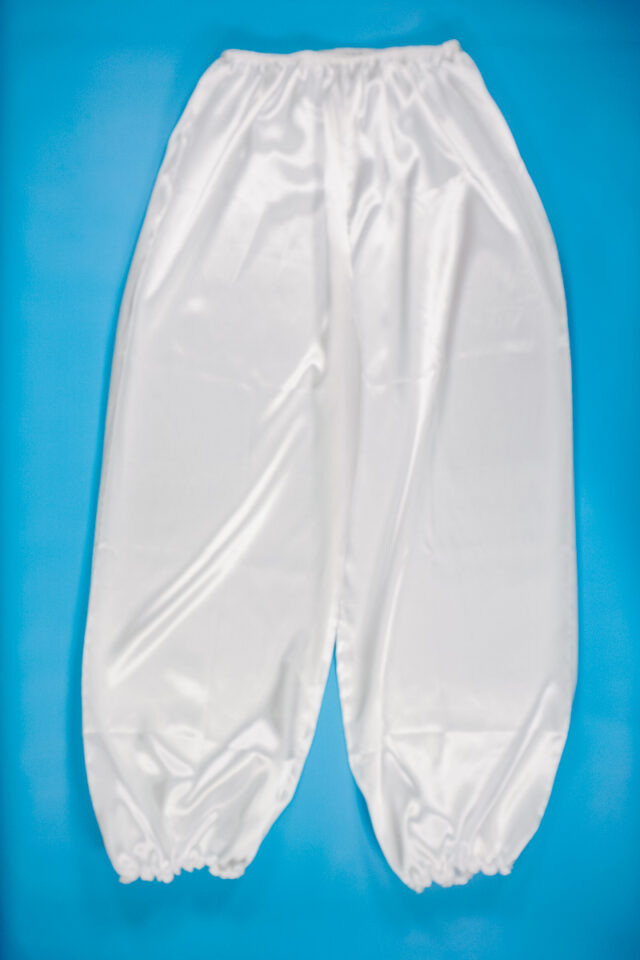 Need more costume ideas? Check out these lists:
If you make something using this sewing project, I'd love to see! Please share it on social media with the hashtag #heatherhandmade and tag me!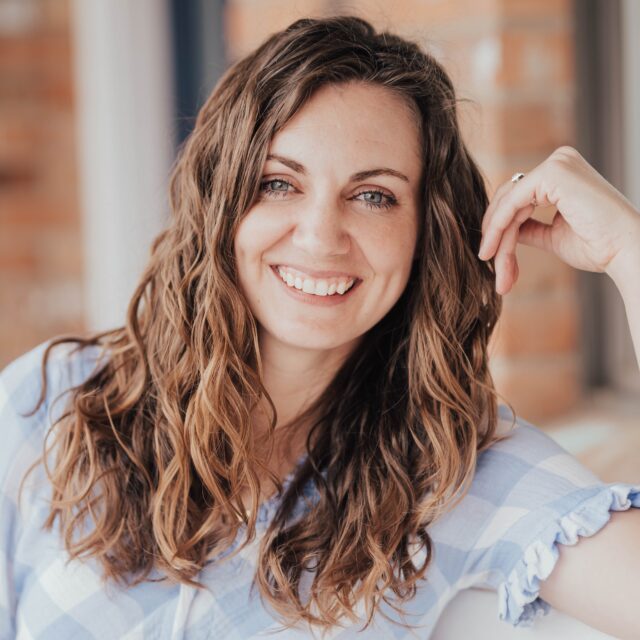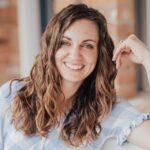 I believe small sewing moments can create great joy. Find your own "right" way to sew. -Heather