DIY Sirius Black Dog Costume
This post may contain affiliate links
Learn how to make a DIY sirius costume for your black or gray dog. This easy costume of the Azkaban prison number hangs off a dog collar.
We love to include our dog in our costumes, but I like to keep it as simple as possible for me to make and for him to wear. Me, my husband, and my daughter all decided to be Harry Potter inspired characters, so we used that as a guide for our pup.
Our large dog is gray with hints of black and white, and we thought it was close enough to how Sirius Black looks as a dog animagus to make it work. I love that it just hangs off of his collar, and you have to know the Harry Potter stories pretty good to understand the costume.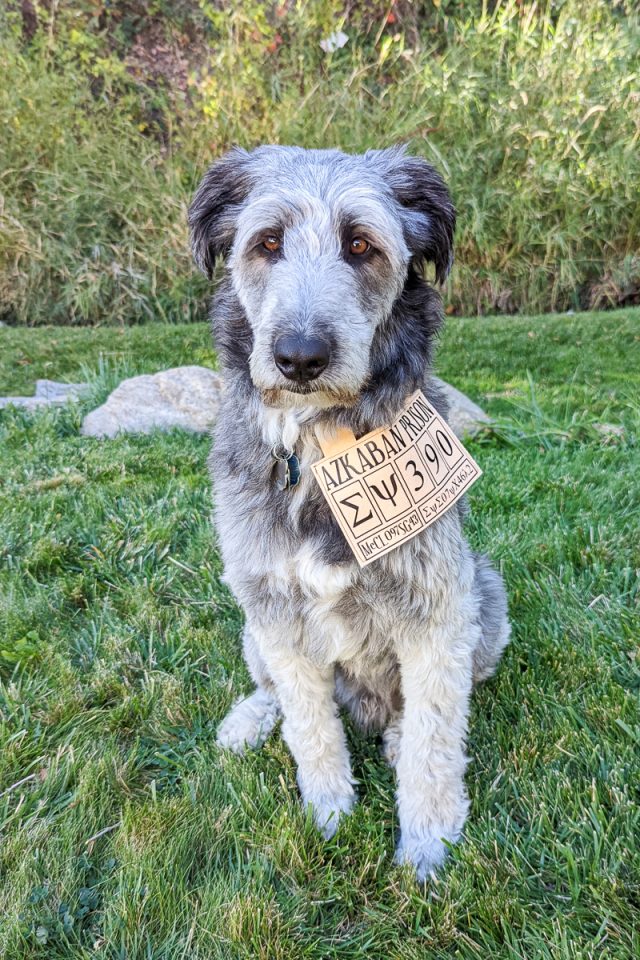 My dog didn't even notice it and wasn't bothered at all. It was so fast and easy to create, but it's such a fun little costume. We'll save it for any time we have Harry Potter parties.
What is Iron-On Vinyl or HTV?
Iron-on vinyl or heat transfer vinyl is vinyl that has glue or adhesive on the back that is activated when heated.
When the iron-on vinyl is heated the glue causes the iron-on vinyl to be fused to the t-shirt. The iron-on vinyl sits on top of the fabric.
The color of the iron-on vinyl is the color it will be after being heated. The color does not change.
Do you love dog sewing projects and costumes? Try one of these:
DIY Sirius Black Dog Costume
Supplies
Scraps of felt in a paper or parchment color
Cutting machine like the Cricut Maker 3* and tools
Cut out two pieces of felt about 6 inches wide and 4 inches tall. Decide on the size compared to the size of your dog. Cut out two pieces of felt 1 inch wide and 3 inches tall.
Fold the small pieces in half to create loops. Place the ends in between the two larger pieces on either side of the top edge.
Sew around the edge to combine the two pieces of felt and to secure the loops in place.
Use the Cricut Maker to cut out the Azkaban prison number. I created my own by using a serif font and combining letters, numbers, and greek letters.
Weed the design.
Apply the design to the felt with an Easypress.
Let the design cool and then peel off the plastic backing.
Slide the loops onto a collar. You finished!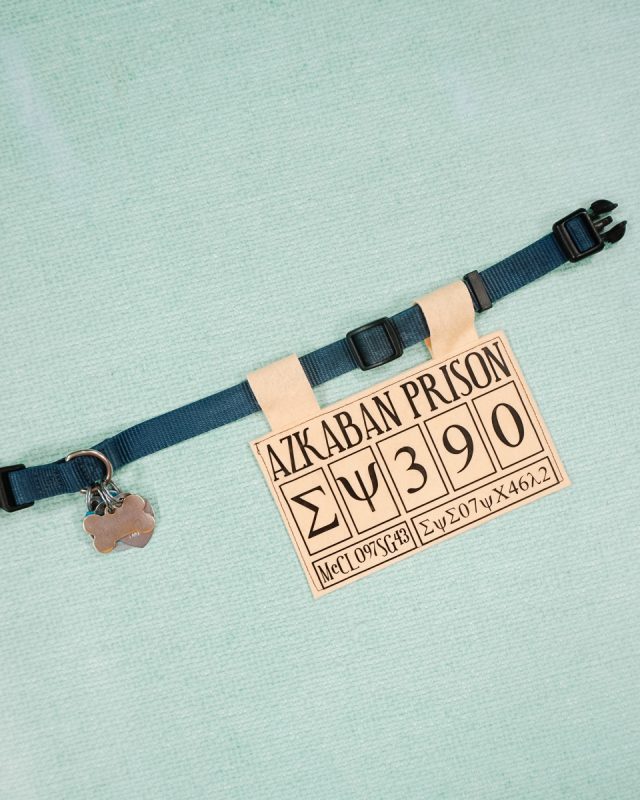 If you make something using this DIY costume project, I'd love to see! Please share it on social media with the hashtag #heatherhandmade and tag me!