DIY Reusable Sweeper Pads
Learn how to make DIY reusable sweeper pads for a sweeper or dust mop. Polyester fabric will pick up all the dust and debris on hard floors.
The cleaning chore I hate is sweeping. It's an important chore, but I just don't get any satisfaction from it.
Since I have kids and a dog, I sweep multiple times a day and my floors would still be dirty. To encourage myself and my kids to do our sweeping chore, I got a sweeper/dry mop to make it feel fun.
The first time I used it, I realized that all the pads were disposable. I knew we would go through those sweeper pads way too fast and decided to make DIY reusable sweeper pads to save money and save things from being thrown away. Using a fun fabric was an extra bonus!
What fabric should I use to make a reusable sweeper pad?
The best fabric to use for a reusable sweeper pad is polyester based fabric. The dust just clings to polyester and polyester is washable. Most sweeper pads that you can buy at the store are a microfiber which is a polyester based fabric.
Microfiber does have some texture which has a little more surface area for picking up and holding dust which I don't get with my polyester fabric, but I don't mind. I used double brushed poly fabric for these pads I made, and I was very impressed with how much dust it picked up and held.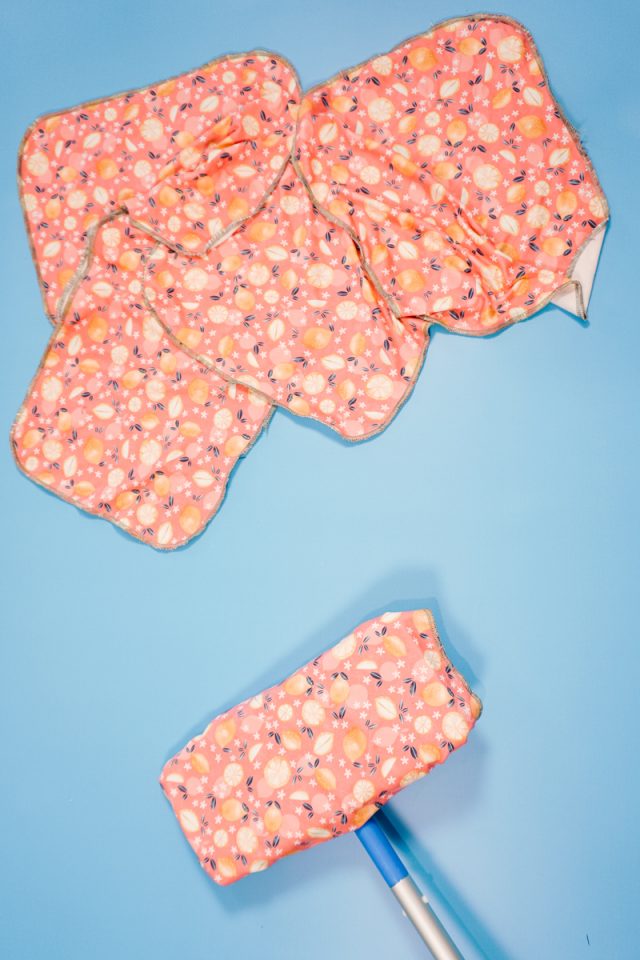 Do you love to sew? Try one of these sewing projects: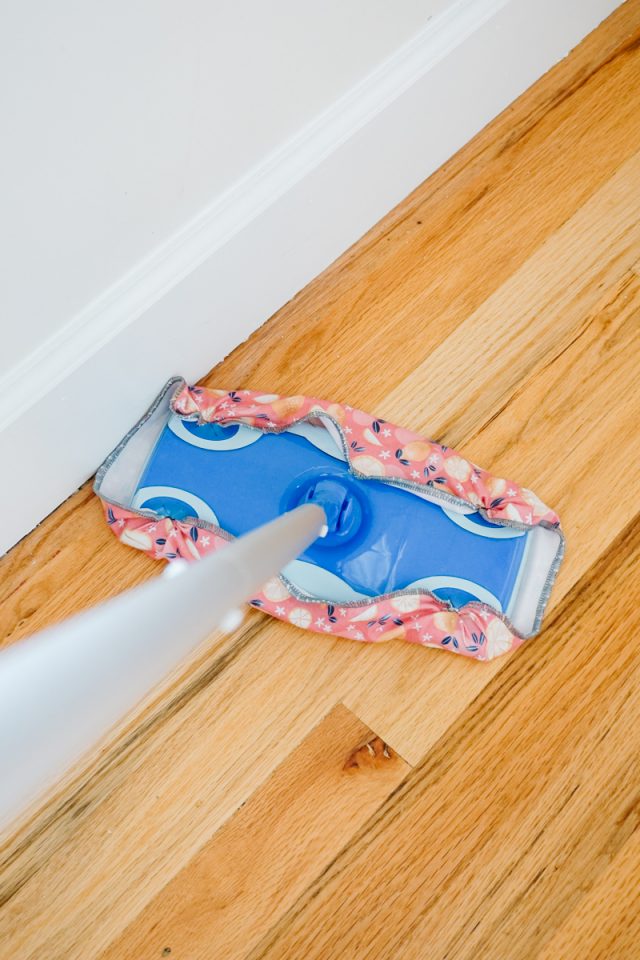 DIY Reusable Sweeper Pads
Supplies
1/2 yard Polyester fabric like double brushed poly
Fabric scissors or rotary blade and cutting mat
Sewing machine or serger
Use one of the original disposable sweeper pads as a guide to cut out new reusable sweeper pads. I cut mine 1/2 inch bigger on side knowing it would still work with my sweeper. I also did rounded corners to make finishing the edge quicker and easier.
Cut out as many as you think you'll need or use your half yard of fabric. I cut out 5 for now.
Finish the edges of each rectangle with either a sewing machine and a zigzag stitch or a serger. The zigzag stitch will tunnel the fabric slightly and create almost like a rolled edge, but it will help the reusable pad last longer than leaving a raw edge.
Check to see if your reusable pad fits and stays with the design of your sweeper. My sweeper has four places where you push the corner of the fabric into and holds it there. Having a slightly larger pad worked just fine.
If your sweeper has a different design that needs a more exact shape and measurement to work, you can trim your reusable pads down to the right size.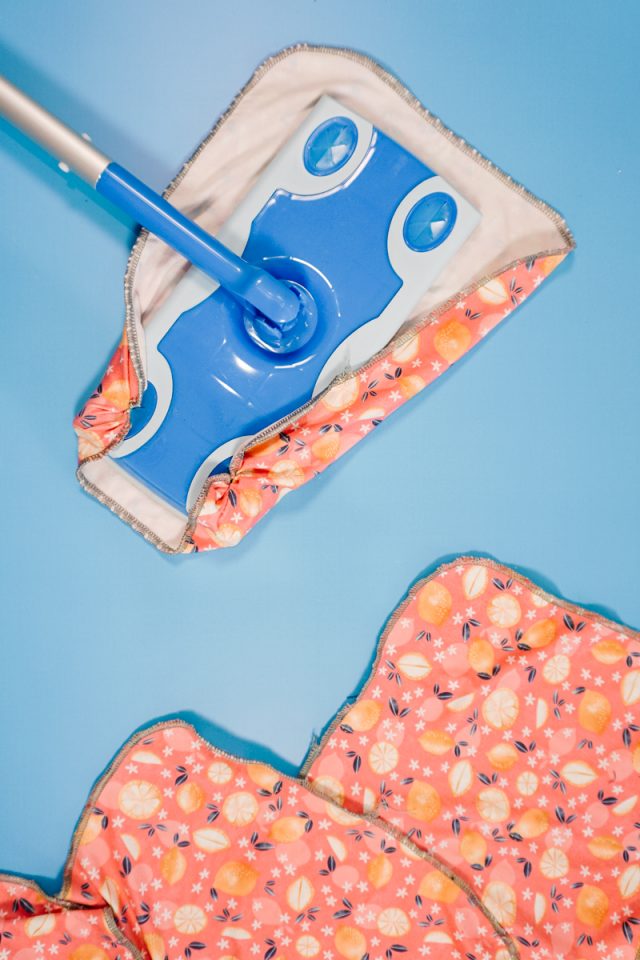 Have a place to store your reusable pads like a bin, basket, or box like this free fabric box sewing pattern. I keep all my resuable pads in this fabric basket that is stored near my sweeper.
Whenever the clean reusable pads come through the washer and dryer, I just throw them into this fabric basket so I always know where they are and how many clean ones I have.
You finished! Now you can easily and quickly sweep and dust mop whenever you need!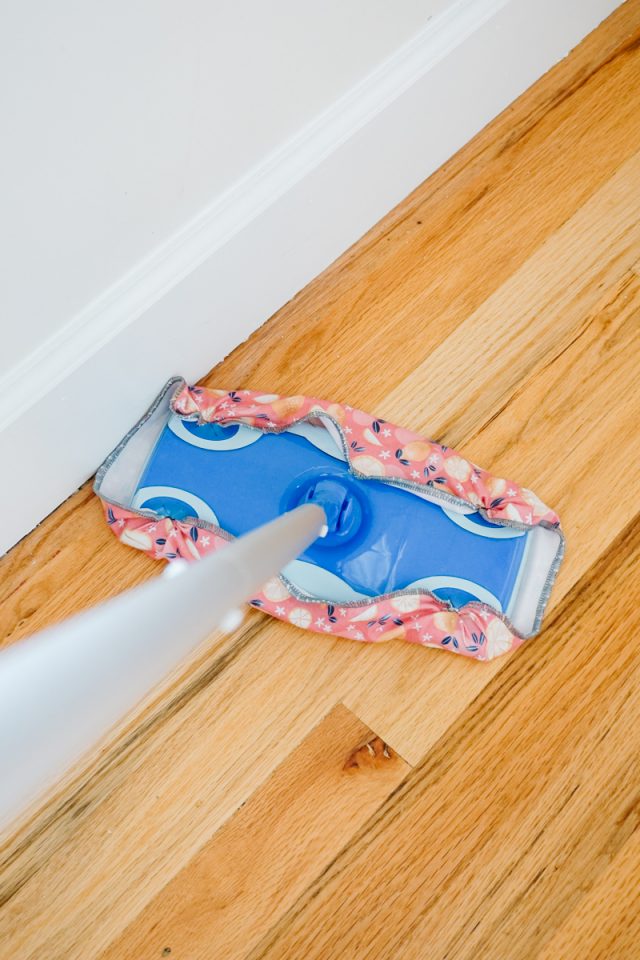 If you make something using this sewing project, I'd love to see! Please share it on social media with the hashtag #heatherhandmade and tag me!