My son has gotten into the stage of doing what mommy does. He loves pretending to cook, fix things, or be a doctor. One of his favorite shirts is a pirate boat shirt so I thought I would make him a pirate dressup that he can play with. It has definitely sparked some adventures so far and will keep his imagination going.
These pieces are great together or individually because each can be used for their own story.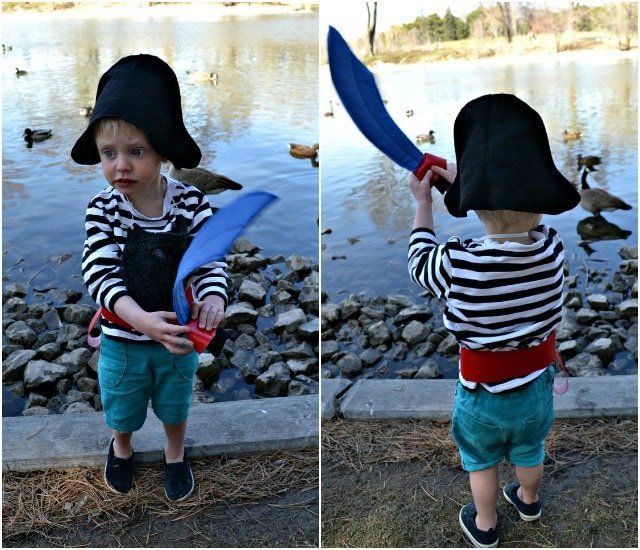 Supplies
DIY Pirate Costume Tutorial
Cutting out: Cut a strip of vinyl for the belt. Cut a thin strip for the sword's sheath. Using the hat pattern piece, cut two pieces of black felt on the fold. Using the beard pattern piece, cut two pieces of gray felt. Using the sword pattern piece, cut two pieces of blue felt and one piece of interfacing. Interface one piece. Cut two handles from black felt and a hand protector from the vinyl.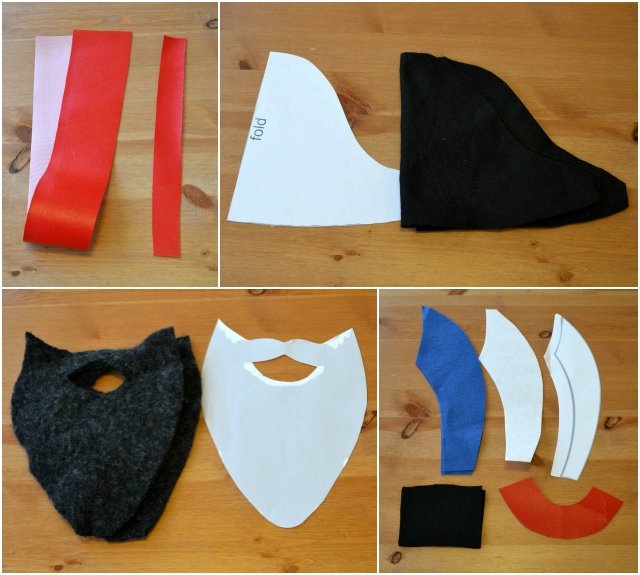 1. Sew the sides and top of the hat.
2. Pin the two beard pieces together and sew around the perimeter. Add decorative beard lines in the middle.
3. Make two small buttonholes on the corners and add elastic measured to fit your child.
4. Sew on Velcro to the ends of the belt. Sew the sheath to the middle of the belt.
5. Sew around the perimeter of the sword and the sword handle. Add decorative stitching to both.
6. Sew around two sides of the handle, trim, and turn right side out.
7. Sew the edges of the hand protector to make a cone.
8. Stuff some polyfil into the handle.
9. Insert the sword into the handle and slide the hand protector in place. Sew across to combine all three pieces.
Put the pieces on your child and let their imagination of adventure and pirates come alive.
The hat makes me think of Napoleon Bonaparte surveying the water.
I realized that my daughter has a striped boat shirt just like my son, so I made them match for a day. Aren't they adorable? They are my wonderful, exciting, difficult adventure that I'm grateful for every day.

Their hair is so different, but their faces are so similar! My daughter already adores her brother; she has all sorts of smiles for him and only him.
This pirate adventure was inspired by the Disney's The Pirate Fairy. It's an all-new Tinker Bell movie from the world of Peter Pan. Own It On Blu-ray™ and Digital HD April 1.
If you make something using this tutorial, I'd love to see! Please share it on social media with the hashtag
#heatherhandmade
and tag me!