Easy DIY Pirate Costume
This post may contain affiliate links
Make this DIY pirate costume for an easy Halloween costume. It's perfect for a child with a big imagination and uses stuff from their closet.
I have updated this post since I originally made it so you can see both a toddler boy and an elementary school boy wearing a DIY pirate costume. This version is simple and will work for boys and girls, children and adults.
Pirates are one of my favorite imaginative characters. Make this easy costume using stuff from your child's closet with a couple of DIY pieces. These things are great for a Halloween costume, but they are also great for playing dress up and imagination.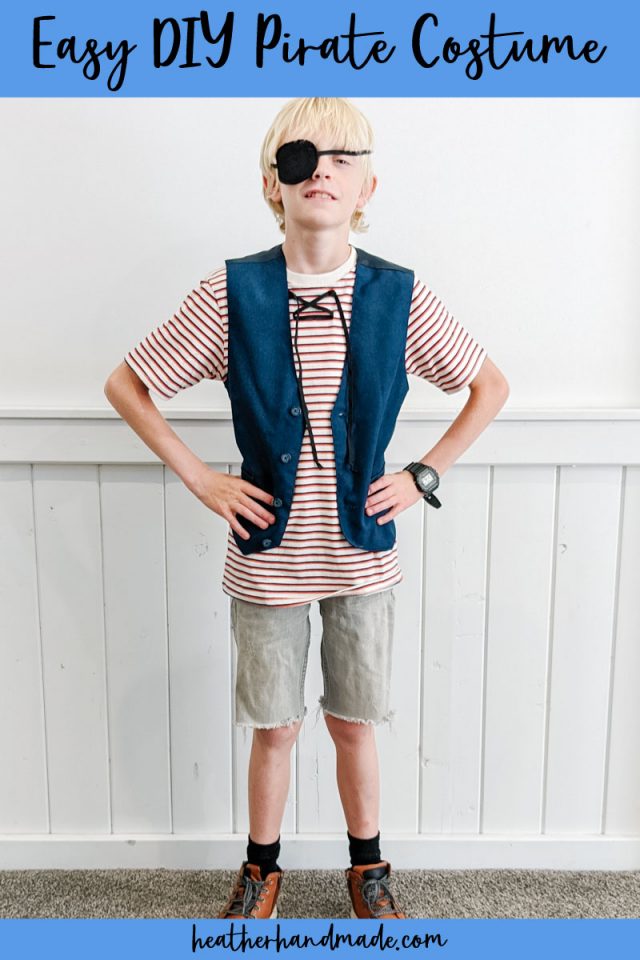 Why Make DIY Costumes?
I love to make DIY costumes for my kids for lots of different reasons. I love that I can make something unique that they want and that they'll love. We live in a cold area so I always have to plan costumes to be warm so that they don't have to wear a jacket or coat over it.
I almost always save money by reusing fabric and clothing from my stash and around our home, and I have found that reusing clothing saves me time.
Homemade DIY costumes use stronger and more durable fabric that will last through months and years of dress up and play time. I love that the costumes will last longer than one night of trick-or-treating.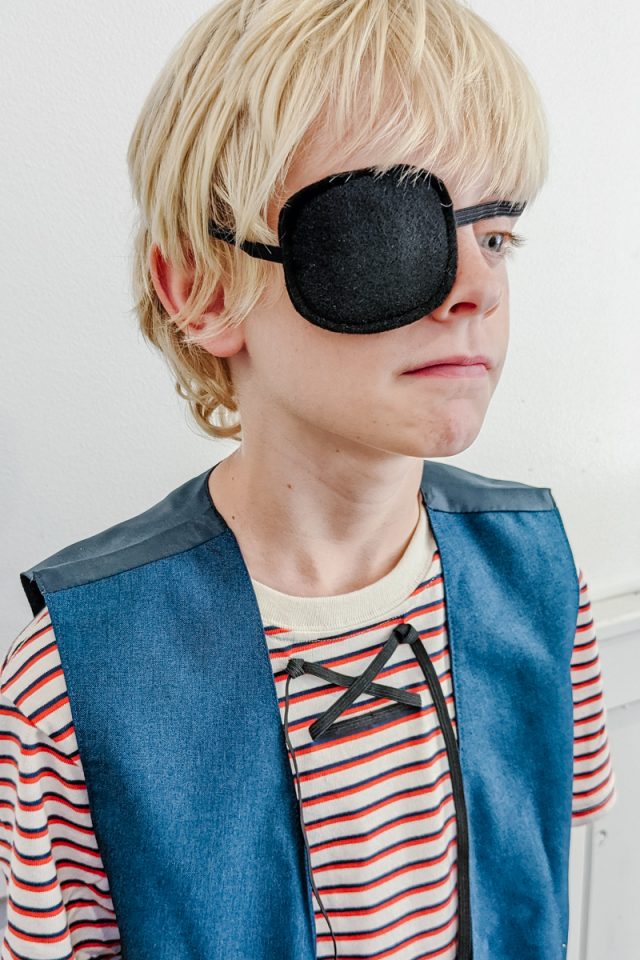 Where to get solid clothes?
I have a couple of different places where I look for solid clothing for children. It all depends on what I'm looking for and what I need.
When I need a solid matching set (like a t-shirt and leggings or a sweatshirt and sweatpants), I first look at Jiffy Shirts. There are so many colors in different t-shirt blends.
When I need something fast and I'm not picky about the color, I look at Walmart* either for my pickup or shopping in person.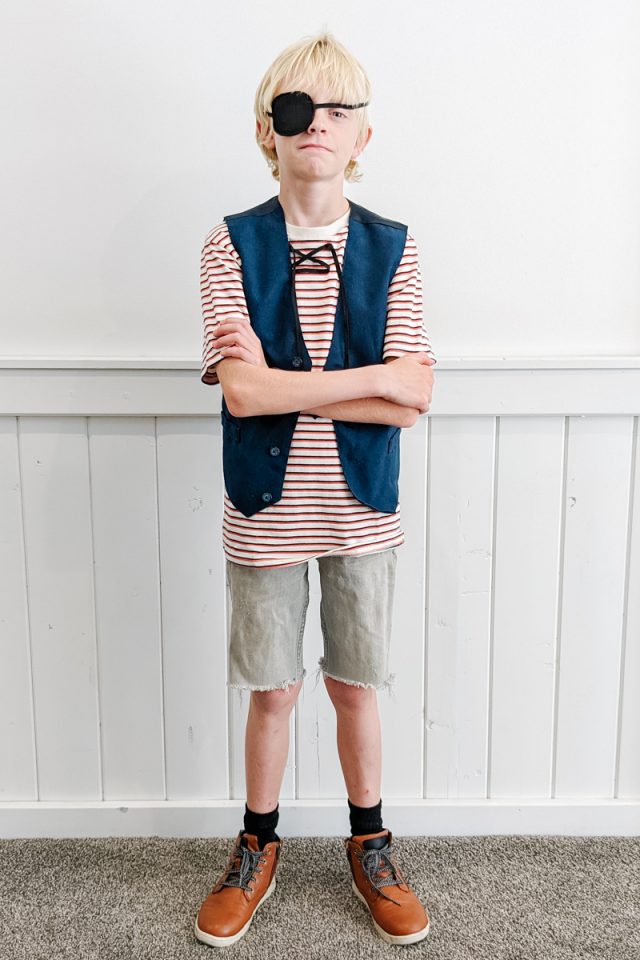 Do you love to sew? Try one of these fun sewing projects: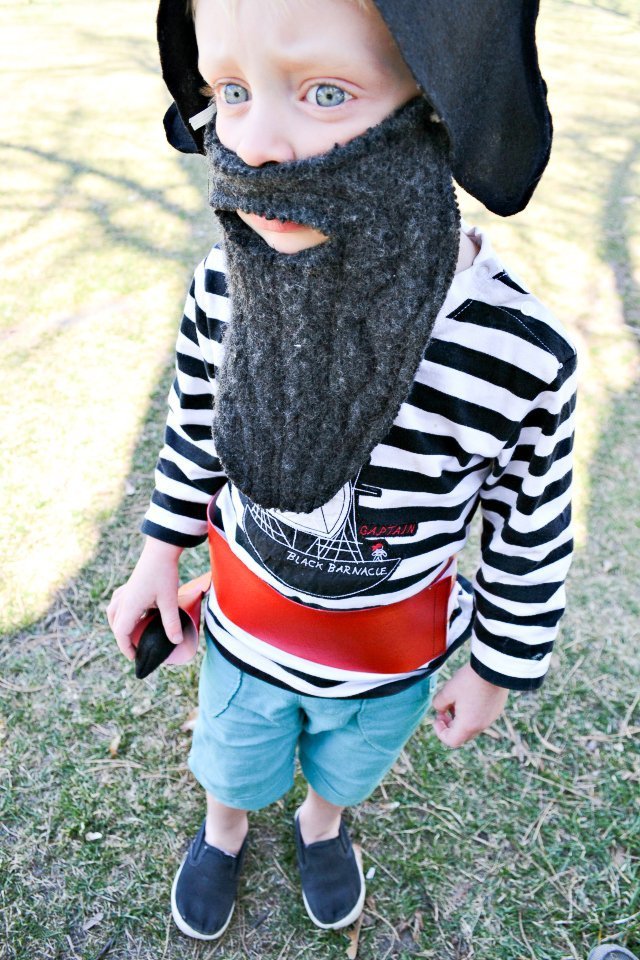 The hat makes me think of Napoleon Bonaparte surveying the water. He ended up not liking the beard so he ended up wearing it around his neck like a necklace. I think it makes the costume even cuter.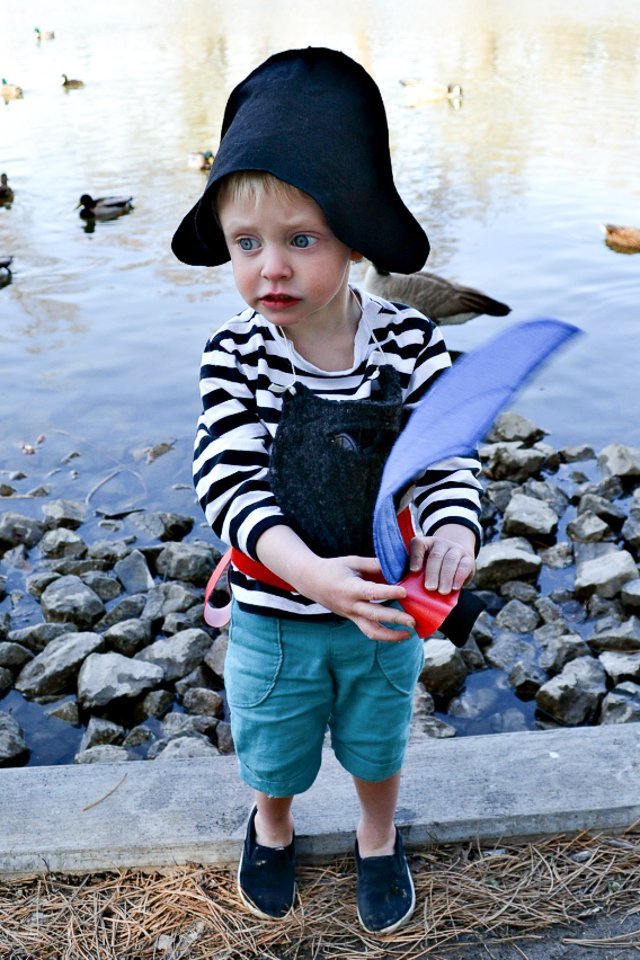 His sword is soft which means he can swing it around all he wants. I love letting him play without having to monitor everything he does.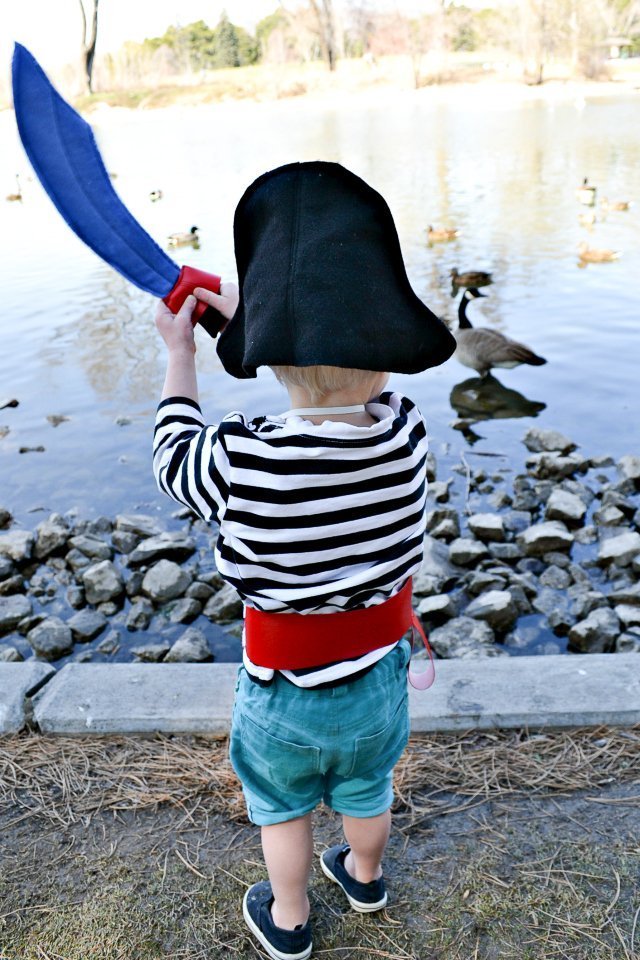 DIY Pirate Costume
Supplies
There are kind of two tutorials here depending on what you are looking for. The great thing about a pirate is that you can choose the different pieces that will work for you costume.
Striped t-shirt
Vest
Cut off shorts
Boot like shoes (or barefeet)
Black elastic
Black and gray felt
Stiff Interfacing
Blue and red faux leather
Polyfil
Pirate Pattern Pieces – You may need to size them larger or smaller to fit your child
Sewing tools
Sewing machine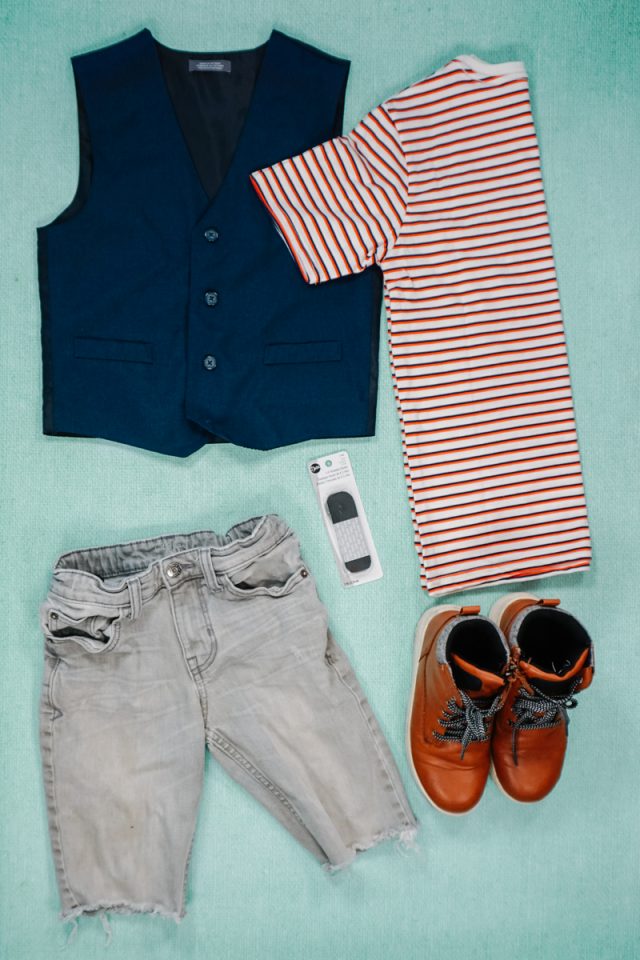 To create a lace up shirt without cutting holes in a shirt and ruining it, cut a piece of black elastic 24 inches long.
Just below the neckline you are going to create an hourglass shape with an open top using the elastic. 3 inches below the neckline lay the elastic horizontal and tack each side 3 inches apart.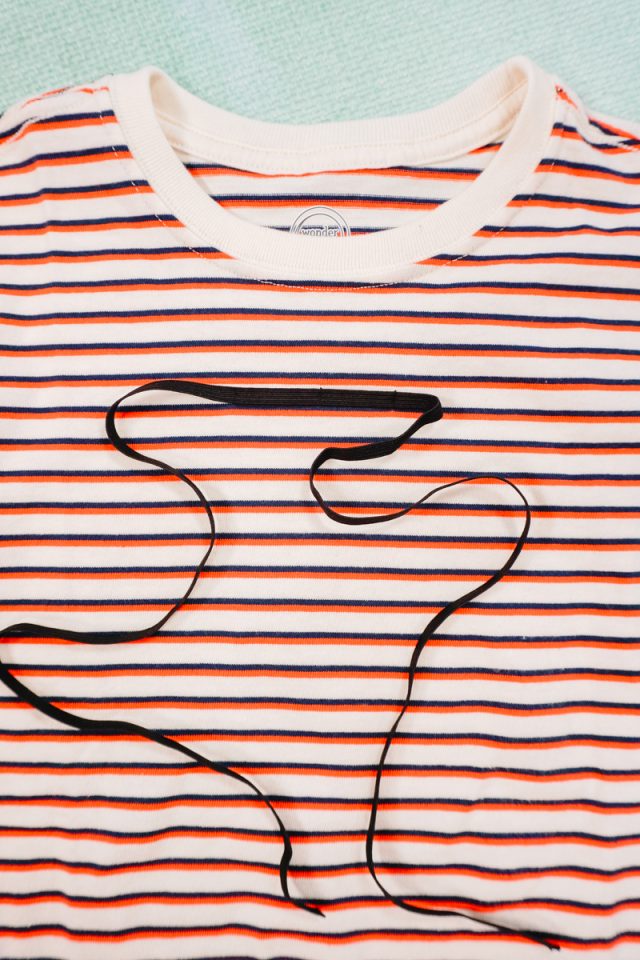 Bring the elastic up and across so that it crosses in an "X". Tack the top of the "X" just below the neckline. Let the ends hang down as the threads of the lacing. Tie a knot in the ends of the elastic to finish the edges.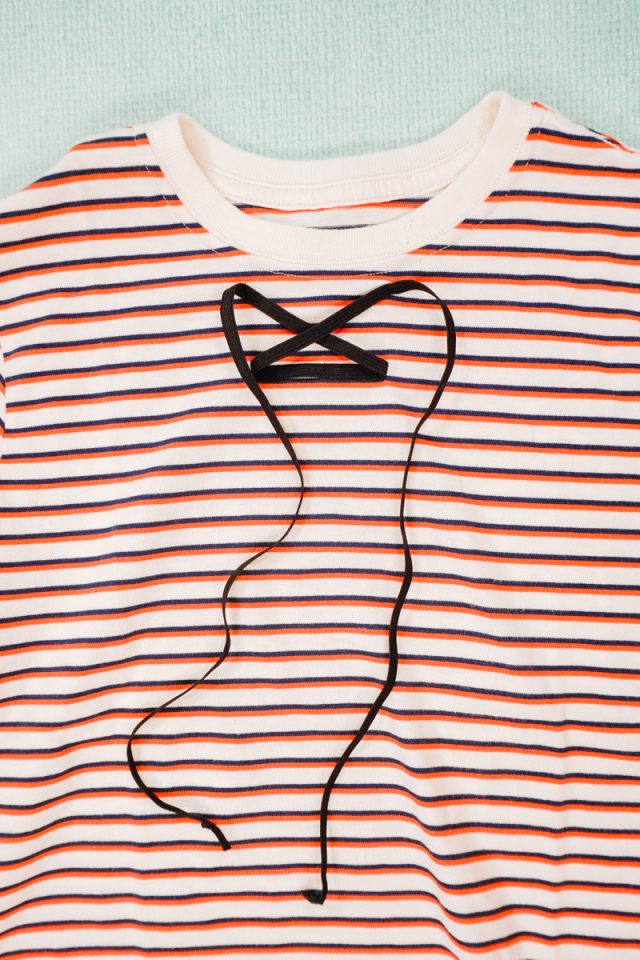 Cut a piece of elastic the starts at one side of an eye, goes around the back of the head snugly, and meets on the other side of the eye. Cut two black felt ovals for the eye patch.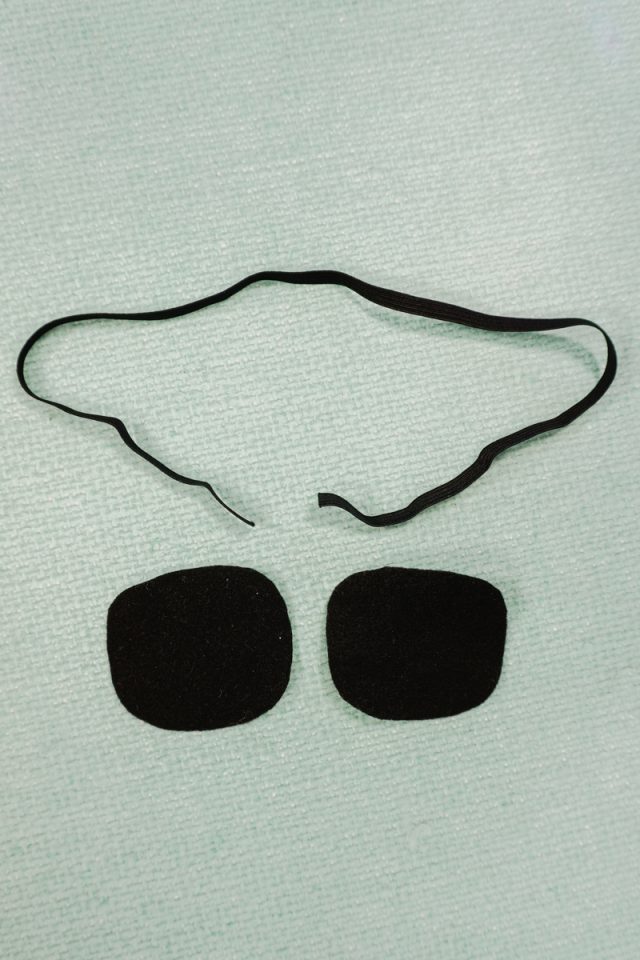 Sandwich the ends of the elastic between the layers of the felt ovals. Sew around the ovals 1/8 inch from the edge securing the elastic ends inside.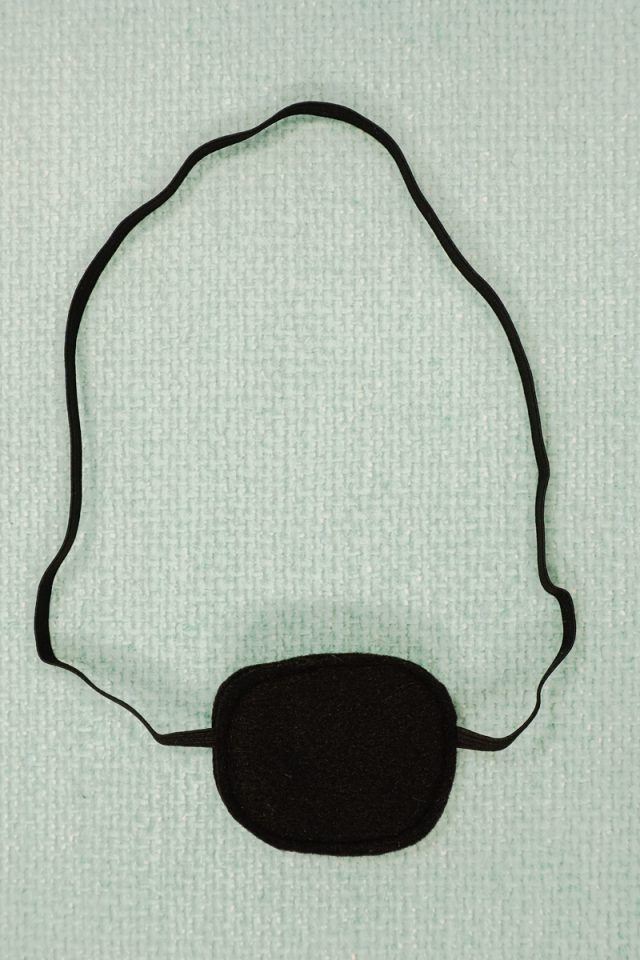 Pair the eye patch and "lace up" shirt with a vest, cut off jeans, and boots for a simple and quick DIY pirate costume.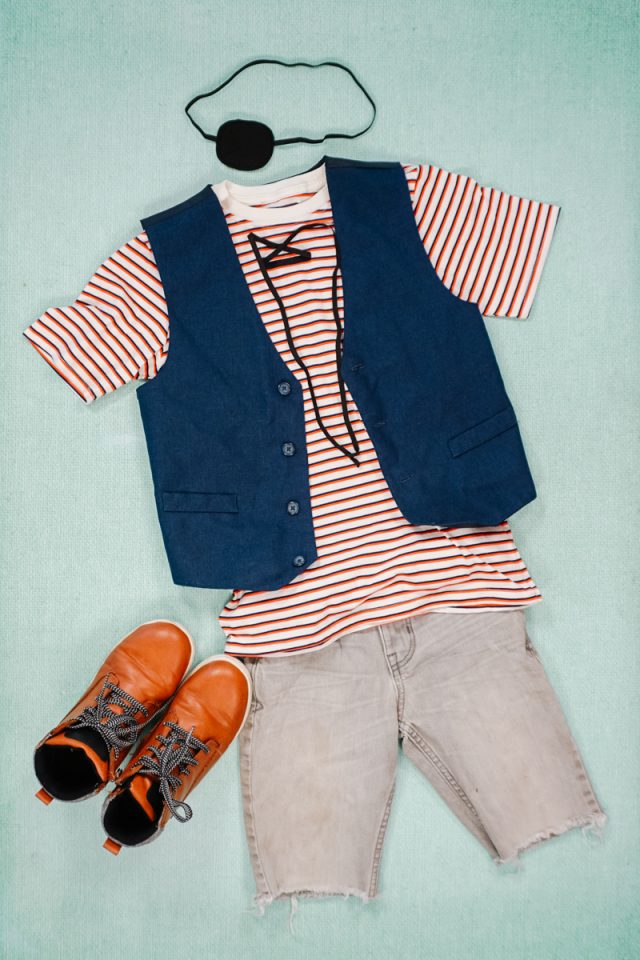 Adding a hat and a felt sword
Cut a strip of vinyl for the belt that fits around your child's waist. Cut a thin strip for the sword's sheath.
Using the hat pattern piece, cut two pieces of black felt on the fold.
Using the beard pattern piece, cut two pieces of gray felt. Cut a piece of elastic that will fit around the head.
Using the sword pattern piece, cut two pieces of blue faux leather and one piece of stiff interfacing. Interface one piece. Cut two handles from black felt and a hand protector from the vinyl.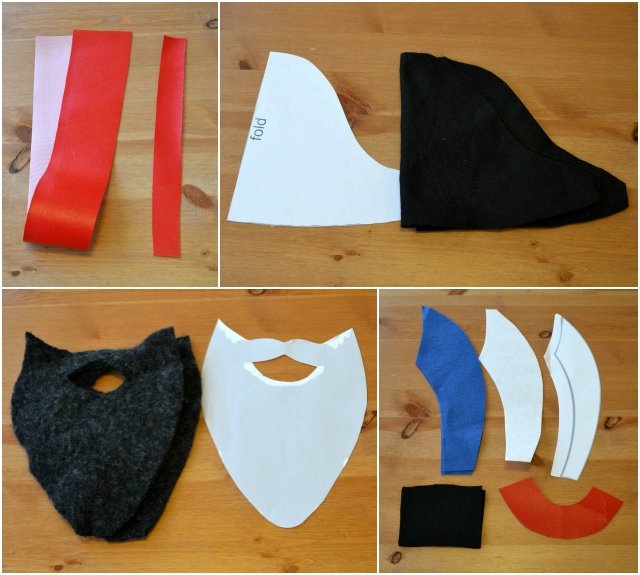 Sew the sides and top of the hat.
Pin the two beard pieces together with the ends of the elastic inserted between the layers. Sew around the perimeter. Add decorative beard lines in the middle.
Sew on Velcro to the ends of the belt. Sew the sheath to the middle of the belt.
Sew around the perimeter of the sword and the sword handle. Add decorative stitching to both.
Sew around two sides of the handle, trim, and turn right side out. Sew the edges of the hand protector to make a cone. Stuff some polyfil into the handle.
Insert the sword into the handle and slide the hand protector in place. Sew across to combine all three pieces.
Put the pieces on your child and let their imagination of adventure and pirates come alive.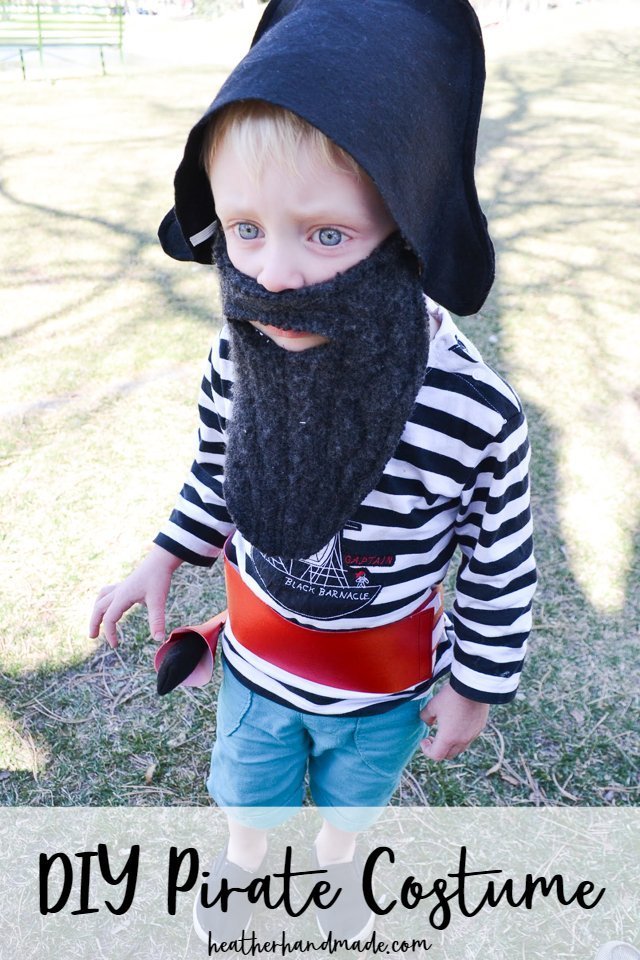 If you make something using this sewing project, I'd love to see! Please share it on social media with the hashtag #heatherhandmade and tag me!