DIY Olympic Gymnast Costume
This post may contain affiliate links
See the DIY Olympic gymnast costume I made for my daughter for Halloween. There are several different pieces that complete the outfit.
My daughter has been doing gymnastics for about a year and has fallen in love with it. She loves going to class, and she loves practicing at home. She loved watching the gymnasts in the Olympics last year, and has been learning about each one.
She decided she wanted to be an Olympic gymnast for Halloween this year. I made each of the pieces except for the gold medal, and now she gets to use each of the pieces every time she goes to gymnastics.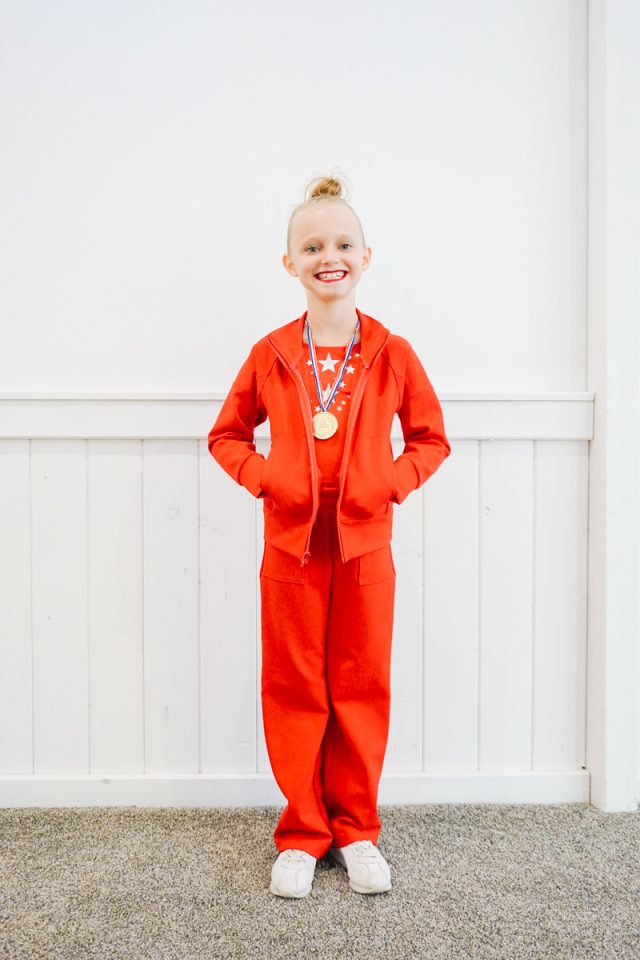 We looked up the USA gymnastics team from the 2021 Olympics and used that to design the leotard and warm ups. It's not an exact replica because I couldn't find matching fabric, but it's very, very close.
I bought the Olympic medal replica* instead of making it. It really completes the outfit.
Do you love to sew? Try one of these fun sewing projects:
DIY Olympic Gymnast Costume
Leotard Pattern and Fabric
I looked through a bunch of leotard and swimsuit patterns, and I decided on the Fiona Raglan sleeve leotard by Jalie. It has a couple of different sleeve lengths and necklines. We did the scoop neck and 3/4 sleeves.
I love how the sizes were set up so that I could easily blend between sizes for my daughter. She crossed three different sizes, and I didn't muslin but the leotard fits her almost perfectly. I wouldn't change anything about it
I'm really, really happy with how it turned out. I didn't like the waist seam at first, but it made fitting a lot easier.
I used a red mesh with silver glitter for the sleeves. It's a very nice mesh knit fabric. Then I used a shiny red milliskin knit fabric for the body. It's a nice weight and stretch for an athletic fabric. Both fabrics are really great, and my only regret is not lining the body. It's not a big deal, but it will wear out faster.
I added iron-on details to the leotard to get the look we wanted. I used Cricut Sportflex iron-on* in silver and white.
The silver is for the stars scattered across the chest. I found a scattered star design on Design Space and cut it out with my Cricut Maker. After I weeded I a cut a couple of the stars separate by hand and moved them around to fit the look.
The white is for the USA on the bottom edge of the leotard. I found a "USA" design on Design Space that I liked.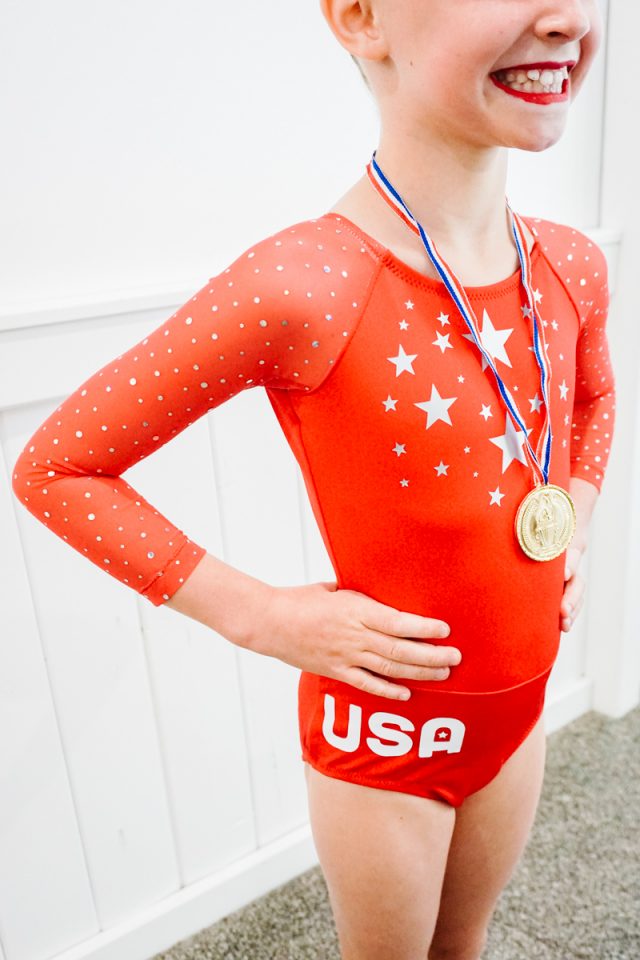 Jacket Pattern and Fabric
When I was looking at jackets, I wanted to find a zip up track jacket that didn't have a hood. After searching I decided on the Zip-Front Jacket and Hoodie sewing pattern by Jalie. It had lots of seams so it looked a lot like the Olympic jackets that the USA team wore.
I could've have added some of the embroidery or white sections, but I decided to just make a red jacket so that it would get worn more after Halloween. The jacket was not hard to make, but there were lots of seams and steps.
I did a straight size for my daughter's measurements, and it fits her perfectly. She really loves it.
For the fabric I used a red Ponte de Roma from Spandex World. I have never been that impressed with Ponte de Roma in the past, but I think I was always using a lower quality.
This Ponte is so nice and plush. It holds it's shape beautifully, it stretches, and it has a nice smooth look. It'll wear so nicely.
Pants Pattern and Fabric
I decided on a simple elastic waist warm up or track pants look with wide legs. I used the Pull-On Pants and Shorts sewing pattern by Jalie.
I blended between a couple of different sizes for my daughter, and they fit her perfectly. I really love the way Jalie does their sizing and measurements because it makes it easy to get such a nice fit. I did make them a little extra long so she would have some growing room.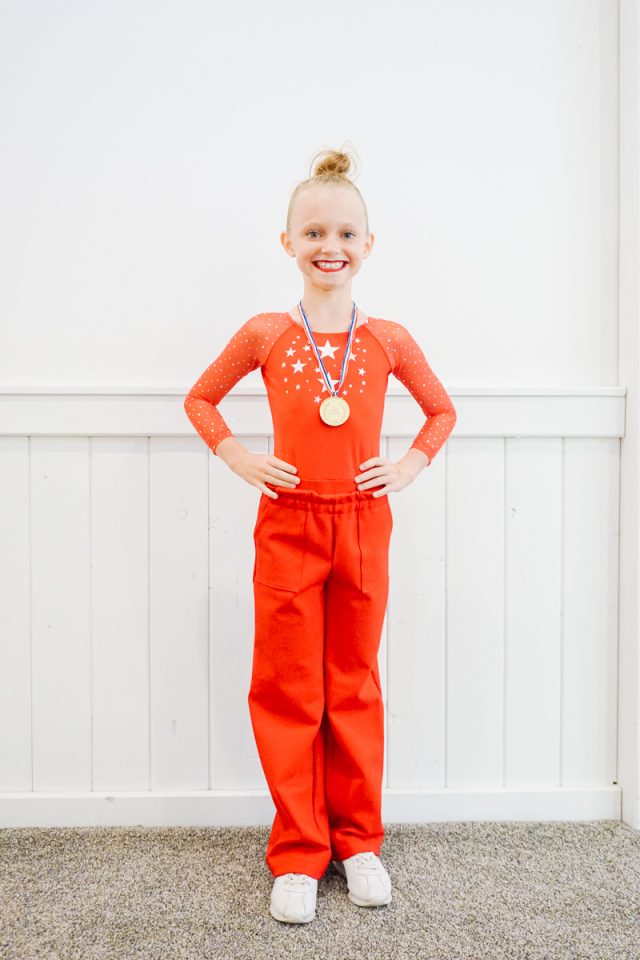 For the fabric I used the same red Ponte de Roma from Spandex World as the jacket. The pants look sporty, but they drape well too.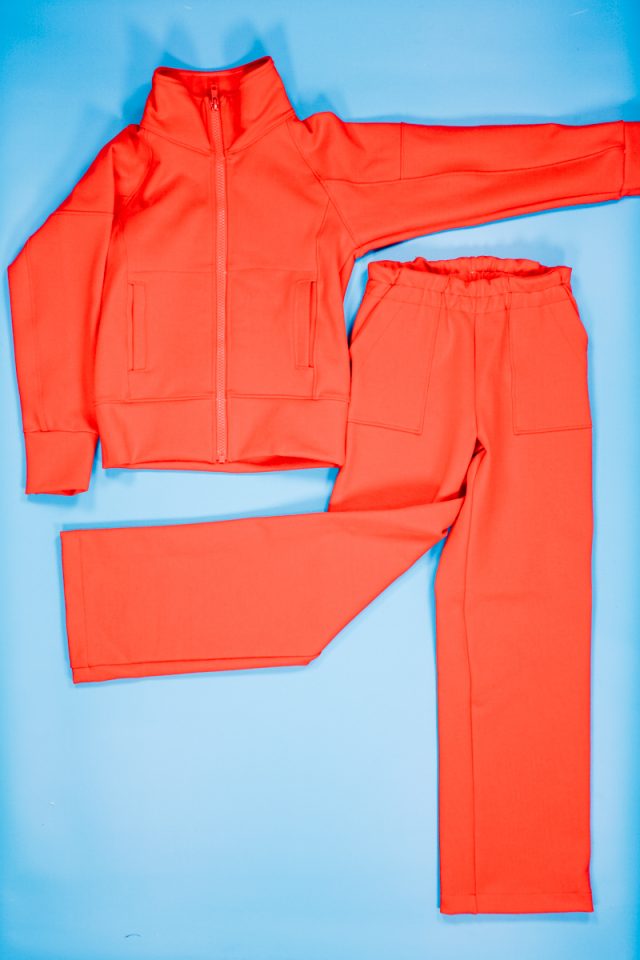 If you make costume inspired by this sewing project, I'd love to see! Please share it on social media with the hashtag #heatherhandmade and tag me!