FREE Baby Bunny Boots Sewing Pattern
This post may contain affiliate links
Learn how to make a fun baby sewing project with a free baby bunny boot sewing pattern. I love this whimsical handmade gift idea.
I was going through some of my pictures and found this pattern and tutorial I had prepared but never posted. Last winter I saw a little girl wearing these Robeez bunny boots at church and just fell in love. They are so cute! I luckily had a niece that was due in the Spring so I decided to try to make them.
I love making fun projects for Easter and Spring. Check out all these bunny sewing projects that you can make!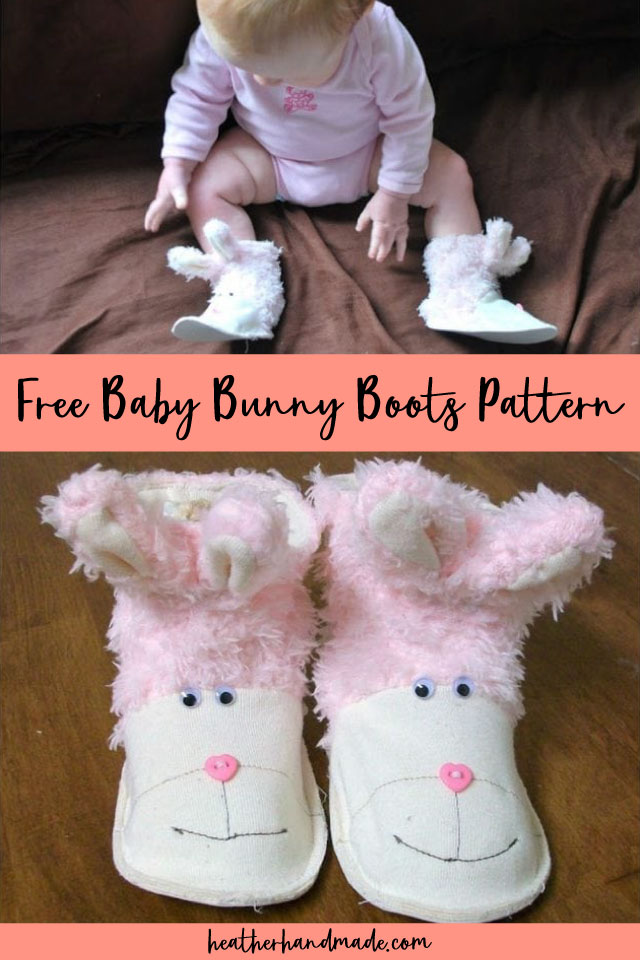 what is a pdf sewing pattern?
A PDF pattern is a sewing pattern designed on the computer and organized so that it can be printed on several letter or A4 size pieces of paper.
I love using PDF sewing patterns because if the pattern gets ruined or if my children or I changed sizes, I can always print it again. It'll never be destroyed since I have a digital version!
how do you use a PDF sewing pattern?
Open the PDF on a computer and click print. When printing make sure that the scaling is set to 100% or no scaling so that the pattern prints at the correct size.
Once the pattern is printed it can be taped together to get the full size. Then the pattern can be cut for each pattern piece size or individual sizes can be traced so that the pattern can be used again and again.
Do you love to sew? Try one of these fun sewing projects:
It took some figuring out and a couple different patterns. Here is one you can print off for yourself; just make sure the heighth of the back is 4.5 inches tall. I'm guessing it fits about a ten month old depending on how big your baby is. This pattern is great because you can make it into an animal or not. You could just make a basic boot.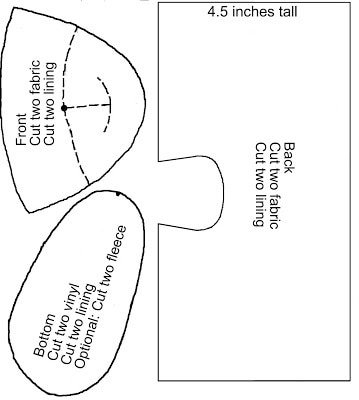 FREE PATTERN: Baby Bunny Boots
supplies
Pattern
1/8 yard vinyl
1/8 yard fabric- I used pink chenille fabric
1/8 yard lining- I used a tan knit
2 pieces of 6.5 inches of 1/2″ inch elastic*
Optional: 1/8 yard fleece, button noses, eyes, ears, tails
All seams are 1/4″ inch unless noted.
1. Take the back pieces and sew the 4.5 inch sides together right sides together at 1/4″.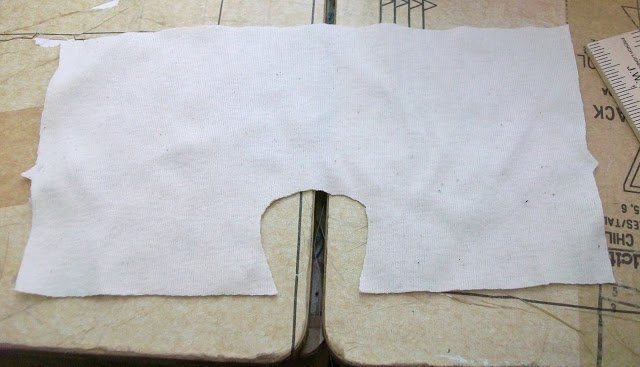 2. Take a front and pin the less curved side to the cut out curve on the back. Sew it together at 1/4″.
It should look like this. It will be tricky to pin it together. The back piece will have to be stretched/clipped to fit.
When sewn together it should look like this. This is a lining piece.
3. Before sewing in the front pieces to the fabric backs, you're going to sew in the elastic. With the piece inside out, lay the elastic down just above the cut out curve with the ends going into the seam allowance on the back.
4. Sew the elastic into the seam allowance like this.
5. Then sew in the front piece.
6. With right sides together place the lining inside the fabric piece.
7. Pin together the top and sew at 1/4″.
8. Turn the boot right side out and topstitch at 1/8″ around the top edge.
Optional: add a bunny tail and ears now. I made the tail using half of this technique and made some simple ears. I hand sewed on the tail and machine sewed on the ears.
Optional: machine sew or embroider the face lines on just the fabric piece. Add a button nose.
9. Line up the bottom lining piece and then the fleece, if using, and pin to the boot. I did not use fleece, but if I did, you would see it and not the lining. Sew all the way around at 1/8″ with seam allowances sticking out.
10. Then sew on the vinyl at 1/8″. Trim anything that goes outside of the vinyl.
This is what it should look like. (I sewed my ears on last, but it's easier to do it earlier.)
Repeat for the other boot and that's it! A fun shoe for fall/winter.
Wouldn't it be fun to do lots of different animals?
I kind of wish I would have used bigger eyes to be more proportional with the rest of the shoe but oh well.
If you make something using this sewing project, I'd love to see! Please share it on social media with the hashtag #heatherhandmade and tag me!