Free Funny Pie SVG Cut Files
This post may contain affiliate links
Make silly and funny t-shirts with these free pie SVG cut files. They can become lots of different types of pie and work for the whole family.
We love pie in our family. There was one year that there were so many pies made for Thanksgiving, there was one pie for each person. Pies are good fresh, but they also make the best leftovers. To celebrate all the yummy pies, I made some funny pie SVGs for t-shirts.
I just love unique designs paired with puns. I decided to design some simple pie SVGs to offer you for free for any pie gatherings you have this month!
Do you love SVGs and cuf files? Try some of these:
What is an SVG file?
An SVG file is a scalable vector graphics or an image format that can be scaled large or small without losing any details. It's a great way for sharing images that can be used in cutting machines since the image will stay perfect even if the size is changed.
Can these designs be used on Cricut, Silhouette, and Brother?
SVG files are great and can be used with any cutting machine as long as the machine's program can have files added to it.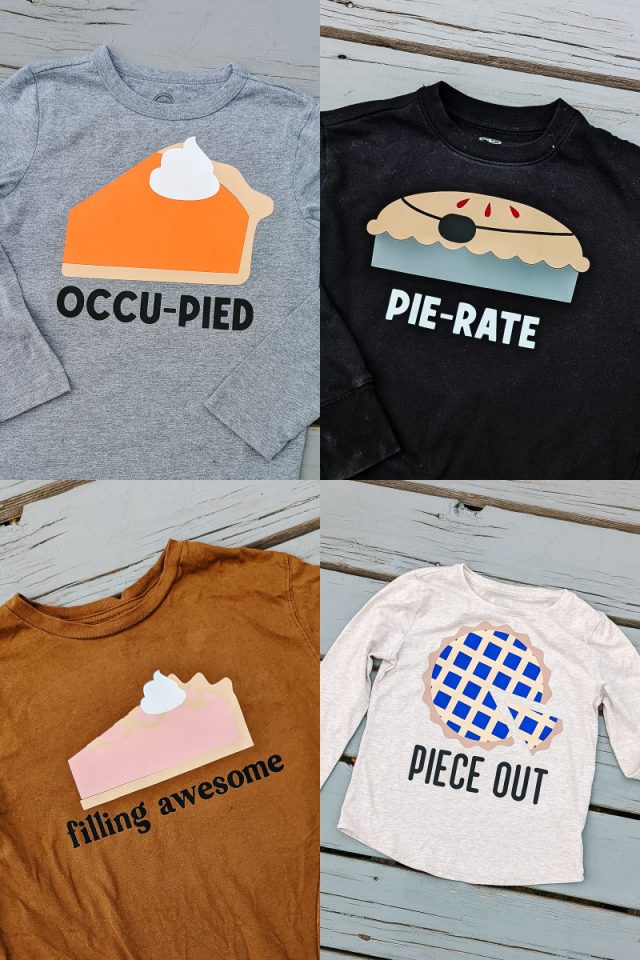 What is Iron-On Vinyl or HTV?
Iron-on vinyl or heat transfer vinyl is vinyl that has glue or adhesive on the back that is activated when heated. When the iron-on vinyl is heated the glue causes the iron-on vinyl to be fused to the t-shirt. The iron-on vinyl sits on top of the fabric.
The color of the iron-on vinyl is the color it will be after being heated. The color does not change.
What is Infusible Ink?
Infusible ink is ink that is transferred by heat. It's essentially sublimation, but it's now accessible to hobby crafters. When infusible ink is transferred the ink is infused into the item.
Infusible ink can be purchased as an infusible ink transfer sheet and as infusible ink pens. The colors of the infusible ink transfer sheet look pale before being heated, but they are very bright once heated and transferred.
I'm so excited to share these free Pie SVGs for Thanksgiving or Pie Day, and I can't wait to see what you make with these! All of these designs were cut out of Cricut Iron-on vinyl* with a Cricut Maker 3* and applied with an Easypress 3*.
Free Pie SVG Cut Files
Each pie SVG design has a pun phrase and a pie. Choose the parts of the design that you want to use in the color that you want. Choose the type of pie for the design by changing the colors. Get the free pie SVG cut files at the end of the post behind the locked content box.
Free Pirate Pie SVG Cut File
This "Pie-rate" version is a whole pie as a pirate. It's a covered pie with a eye patch, and the phrase is below the pie tin. I made this version for my son because it was his favorite of all the designs.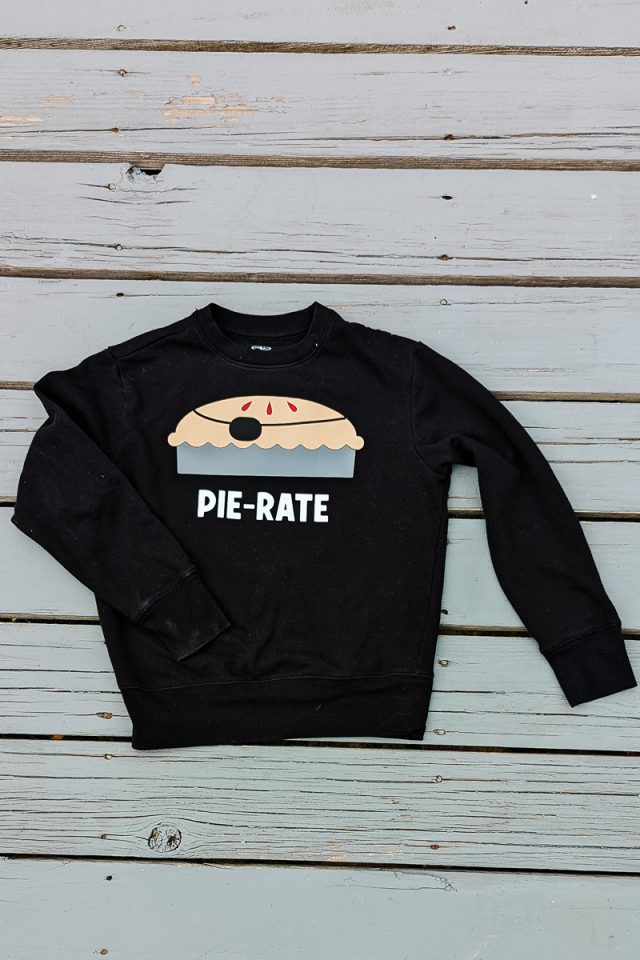 I used white for the word which I thought worked great against the black sweatshirt. I also used gray for the pie tin, tan for the pie crust, black for the eye patch, and red for the pie slits. We were thinking it was a cherry or berry pie.
Free Pumpkin Pie SVG
This "occu-pied" version is a slice of pumpkin pie. It's a simple piece of pie topped with whipped cream. The phrase is down below the design.
I used orange for the pumpking filling, but you could also do brown for chocolate pie, light green for key lime pie, or yellow for banana cream pie. I did tan for the crust, white for the whipped cream, and black for the phrase.
Free Fruit Pie SVG
The "piece out" version is a whole pie with a slice of pie being pulled out. The phrase is down below. I designed this one so that there is a lattice top, but that can easily be left off if you want a different kind of pie that doesn't usually have crust on top.
I used blue for the filling like blueberry pie, two different colors of tan for the two parts of the crust, and I used black for the phrase.
Free Fruit Pie Slice SVG
The "filling awesome" design is a slice of fruit pie with a lattice top and a dollop of whipped cream on top. I made this version for my hubsand because he is a great baker and always makes the best pies.
I used tan for the crust, white for the whipped cream, pink for the pie filling, and black for the phrase. I'm a little disappointed with the contrast between the pink and the tan. In the pictures they show up as the same color, but they look different in real life. I think I needed a darker filling to make it stand out better.
Get the Free SVG Cut File Below!
If you make something using this free SVG file, I'd love to see! Please share it on social media with the hashtag #heatherhandmade and tag me!