I was so excited for this month's theme "Once Upon a Time." I immediately thought of the BBC show Merlin that we finished watching last Fall. My husband and I really enjoyed it, and I especially loved the costumes. At first I was going to have my son dress up as Arthur, and my daughter dress up as Merlin. Unfortunately, Merlin wears the same costume throughout the whole show, and I wasn't very inspired. After looking around I was inspired by the scene where Arthur and Guinevere get engaged. And since my son is fascinated with heroes and knights I decided to make him a simple knight outfit also.
I made my daughter a simple purple dress similar to Guinevere's and a shirt and pants like King Arthur's for my son's knight outfit. They do make a cute couple even though it's pretty obvious that they are siblings.
I based my kids' outfits on the proposal scene with all the candles. I did light some candles for our pictures, but it only lasted a short time because my daughter kept trying to touch the fire. I really tried to recreate the candlelit scene, but it just wasn't safe with a one year old. My husband was even standing just outside of the pictures for safety.
For my daughter's dress I used a basic tee pattern and left off the sleeves and neckband. I also added buttons up the back. I cut it at the waist and added a full circle skirt. I used a pretty, soft lavender knit for the bodice and the skirt. I tried to match the style and color as closely as I could. I added a purple lace skirt overlay and pearl buttons as a foreshadowing of her being the future queen. It's not tight like the original dress because she is so young and needs room to play and room to grow. She wore a basic white onesie underneath.
For my son's knight outfit I used a women's hooded long-sleeve henley and cut it down to his size. I wanted the "open chest look" like Arthur without him actually having his shirt wide open. He's only three. He wore a belt that I made, and he uses often when dressing up. I made the pants specifically for this photoshoot during KCW week.
Then he got to put on his crocheted chain mail helmet (a Christmas gift), a breastplate, his red cape, and use his handmade sword and Avenger's shield. He loves being the hero and saving people. I'm posting about the easiest cape over at my blog today. You could make this cape in ten minutes!
"And he shall rise again in the hour of his people's greatest need."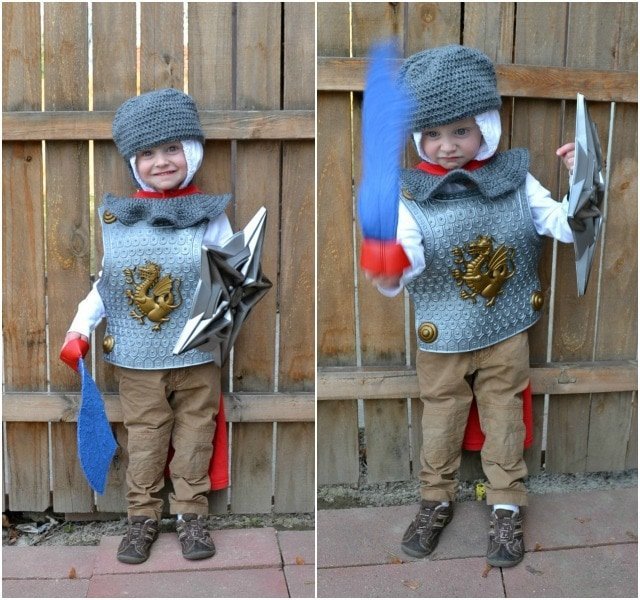 I love dressing my kids in my favorite shows. Merlin changed the legend of King Arthur a lot, but I love all the good characters. The good characters are ones that I want my children to look up to and learn from.
"For her you would risk your kingship, your kingdom? Without her they are worth nothing to me."