This post may contain affiliate links indicated with a *. Read the full disclosure here
I have a funny story about this upcycle. Last summer I was yardsaling and came across a chambray tunic that said XL on the tag. I didn't try it on but bought it and took it home.
Once I was home I realized it was a girl's XL and not a women's XL. It kind of fit since it was a boxy tunic, but the neckline was too high and weird.
So first I tried cutting along the sleeves through the neckline and adding some pink lace. It was a cute fix, but I still never wore it. It went in the upcycle pile. Even though it's not as basic as a tee upcycle or as cute as a cardigan upcycle, I still really love a good chambray peasant-style tunic.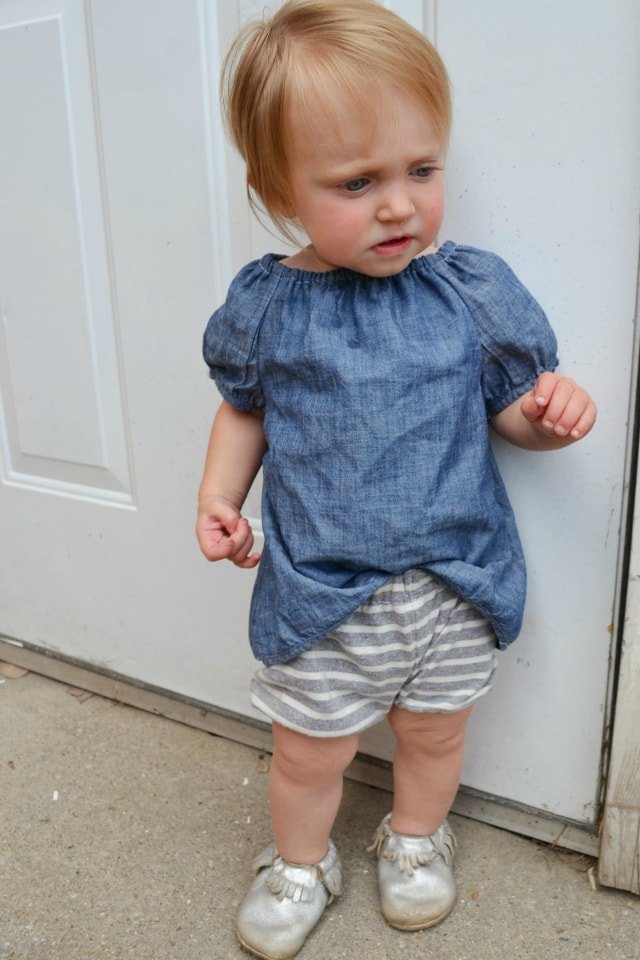 Supplies
Any woven top, I used a girl's XL chambray tunic.

Peasant Tunic Pattern – I used the free Peasant Dress Pattern by Once Upon a Sewing Machine
Instructions
1. Draw on the hem allowance lines. (You cannot see mine because I just folded the pattern on the line, so you could see what I was doing.)
2. Fold the shirt along the center front. Line up the center front of the pattern with the fold. Line up the hem with the hem allowance line.
3. Do the same on the back.
4. I wanted to use the least amount of pink lace as possible so I fold the sleeve along the pink lace. I also wanted to keep the button placket detail. I lined up the pattern fold with the fold opposite the lace. Line up the hem with the drawn hemline.
5. Assemble the pattern as directed by the pattern instructions.
You can see the pink lace just peeking out on the back. Even it it originally was a mistake, it does give it a nice feminine touch! I do love chambray and this adorable tunic. It'll also be one to grow into. Do you see that Henry's striped shirt and my daughter's bloomers match? I can't wait to share what I've been working on for so long!
Find the big list of all the upcycling tutorials I've created!
Share any upcycle inspired projects for your children with the hashtag #upcycledkid!