I'm excited to share a really fun upcycle with you today! I think men's button down shirts are one of my favorite things to upcycle because there's a lot of fabric and lots of fun details.
I love trying to reuse a bunch of the details! It's like a challenging puzzle that really gets me excited.
Anyway, I'm sharing a tutorial to make a 3 mos size romper from a button down, but also a skirt tutorial over at House of Estrela for Refashion Month 2016. Go see what all the other cool refashions are! It's always inspiring to see others' work! (And if you're crazy, you could also make baby pants from the leftover sleeves!)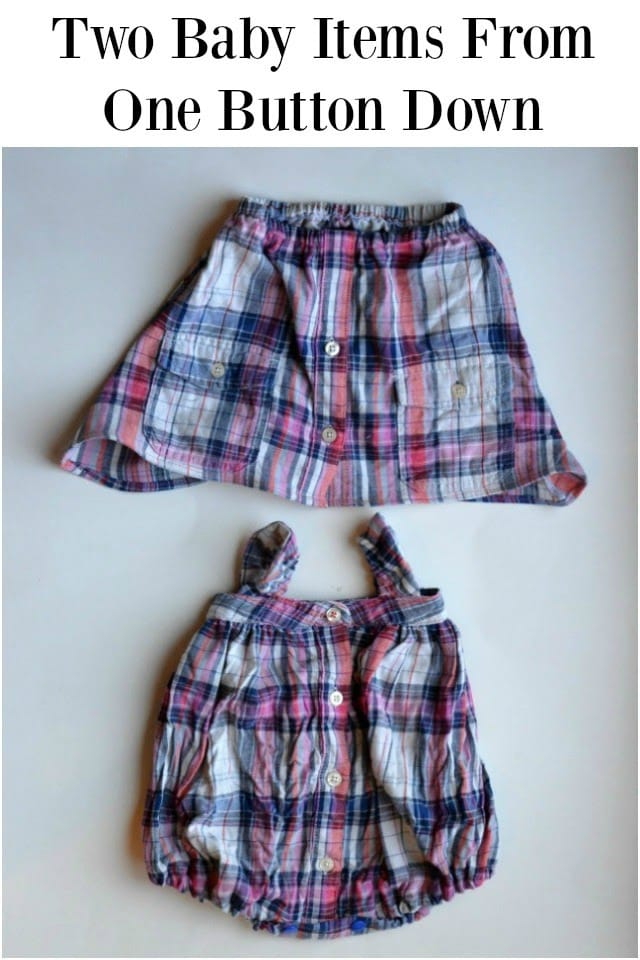 I love sewing clothes for babies!

Look at that cute, bubble romper! It's perfect for wiggly babies and summertime!
I kept the button placket on the front and reused the button and buttonhole on the collar stand. I also turned the collar into ruffled straps. AND the most amazing thing about this romper is that you don't need a pattern. The shirt actually works as the pattern!
Supplies
Directions
1. This is the pieces you'll need from the shirt. Cut the body 13″ from the hem.
3. Cut off the hem from the bottom of the shirt.
4. Cut the collar in half.
5. Cut off all the seams.
6. With right sides together sew 1/4″ along each long side of the collars. Turn right side out.
7. Sew 3/8″ from the edge along the inside curve creating a casing.
8. Insert 5″ of elastic into the casing and tack at each end.
9. Sew a basting stitch and gather the top edge of the shirt.
11. Sew the collar stand onto the gathered edge of the shirt.
12. Insert the straps into the collar stand 2″ from center front and center back and sew the top of the collar stand closed.
13. Create a 1/2″ casing along the bottom edge of the shirt.
14. Cut two pieces of elastic 10″ long and insert them into the casing while leaving 3″ of the center front and the center back elastic-free.
If you make something using this tutorial, I'd love to see! Please share it on social media with the hashtag
#heatherhandmade
and tag me!
And there you have it! An adorable and easy romper that you created with no pattern! Don't forget to check out the skirt tutorial over at House of Estrela!