The Best Women's Sewing Patterns for Mom
This post may contain affiliate links
These are my favorite sewing patterns for moms who are either in some sort of transition or chasing little kids all day! Comfort is key!
I've sewed a lot of sewing patterns and I've made a lot of mistakes in my sewing practice. I've made lots of clothes that didn't fit right or was made with the wrong fabric.
After figuring out my style I've decided on some sewing patterns that I sew over and over again. These women's PDF sewing patterns are my tried and true patterns for my perfect momiform. I've perfected the fit, and I'll keep using them in the future.
My style is casual, comfortable, and it leans a little towards preppy and bohemian. These are patterns I love because they fit my style, but you might have to find your own patterns to fit you style.
I will add to this list as other patterns become a favorite.
Do you love working with free patterns? Try some of these:
Best Versatile Women's Sewing Patterns
Union St Tee
The Union St Tee sewing pattern* is a basic tee shirt pattern that is fitted around the bust and semi-fitted around the waist and hips. It has multiple sleeve lengths and multiple necklines. I love wearing basic t-shirts and I love having a perfected tee in my patterns.
To make it work for me I've dropped the waist one inch, I've raised the v-neck up 1/2 inch, and brought in the hem 1/2 inch on each side. I lengthened the long sleeves by one inch.
I've made it too many times to count but here are a couple times I've made it and the pattern hacks you can do:
I also made five Union St tees one summer and compared how the fabric affects the fit. Sometimes I think a lot of my mistakes in sewing comes from choosing the wrong fabric!
Cheyenne Tunic
I've made the Cheyenne tunic* six times and have loved every single one. I love wearing button ups; they are a major staple for me.
The Cheyenne tunic can be shirt length or tunic length, 3/4 sleeves and long sleeve, half-button placket and full button placket. I almost always make the full button placket with long sleeves in shirt length.
I moved the waist down one inch, I lengthened the sleeves one inch, and I brought in the hem 1/2 inch on each side.
I've made:
Pleated Pencil Skirt
I love pencil skirts, and I'm a believer that it works on several body types if you are willing to fit it to your shape. My body shape is a rectangle, and I always have to let the waist out.
I love the Pleated Pencil Skirt pattern because the vent in the back is actually a pleat instead of a vent. A vent looks nice, but it's more work. I love the pleat because it makes this a really fast skirt to sew! I even skip the lining to save even more time.
Best Women's Sewing Patterns For Summer
Tania Culottes
I've struggled and struggled to find warm weather clothing that is flattering, cooling, and goes to the top of my knees. I finally found a solution when the Tania culottes came out. These culottes literally look like a skirt. I love having the ease of shorts and the look of a skirt.
I've changed my pattern to have no zipper and an elastic waist back. It's just a little more comfortable and can shift sizes with me. I love using the knee length version which hits right above my knee. I can even comfortably ride a bike in these culottes!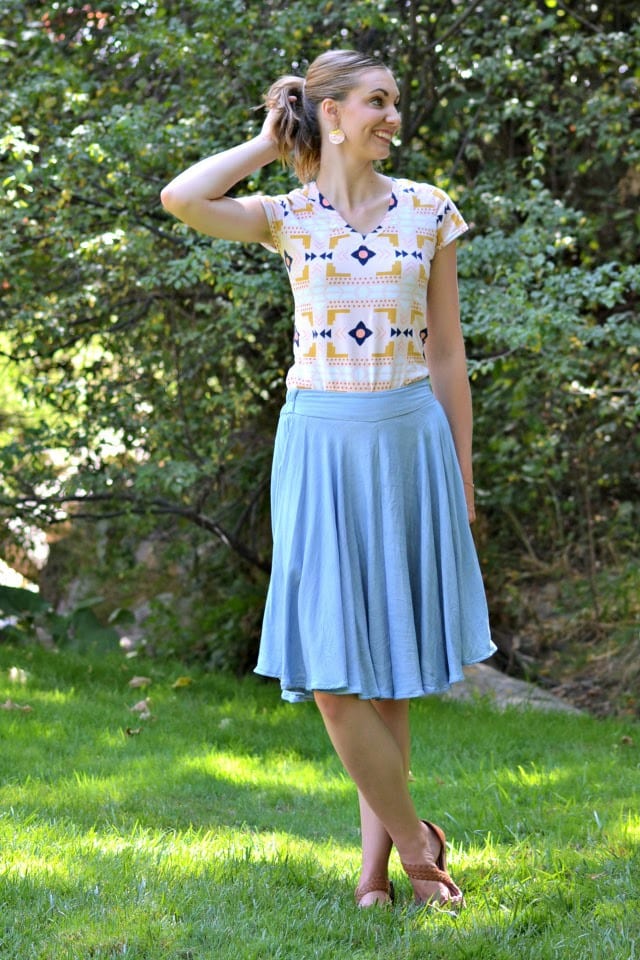 Tierras Woven Joggers
I love the woven jogger look. When I make them out of a lightweight fabric like rayon they are so breezy and perfect to wear in the summer. It's not too hot, but I get a little extra sun coverage. I love using the Tierras Woven Joggers pattern* because its easy and fits me well.
The pattern comes with an elastic hem and non-elastic hem. I've done the elastic hem and added ties on the side. I've also done the non-elastic hem and added a curve and piping. Learn how to sew piping.
Best Women's Sewing Patterns for Winter
Halifax Hoodie
I get so cold in the winter and I need cozy hoodies to keep me warm. My favorite hoodie pattern is the Halifax Hoodie*. At first I thought I wouldn't like it because it doesn't have a raglan sleeve, but I was wrong.
Its a great hoodie pattern because it comes with so many views. There's a high-low version, a zipper front straight hem with a hood version, a straight hem with either a neckband or a cowl. I have made every single version, and I love them all. Learn how to fix a zipper if the pull came off.
I've used sweatshirting, French terry, sweater fleece, and polar fleece. It's a really versatile pattern and was definitely worth it for me. Here are the hoodies I've made:
Hudson Pants Pattern
The Hudson Pants Pattern was the first PDF sewing pattern I bought and I've used it almost twenty times. I haven't even blogged about every pair I've made because it got a little redundant.
The Hudson Pants Pattern is lounge pants made from stretch fabric. It is loose around the hips and fitted around the calves.
I've made it in my size, I've sized up for a looser fit, and I've sized up to use with woven fabrics. There are lots of lounge pants patterns on the market, but these were the first to come out.
When I make them I lengthen the legs and remove some shaping from the hips. 
Blackwood cardigan
As I've mentioned before I get cold easily. My favorite layer to wear in the winter is a long cardigan with deep pockets. The Blackwood cardigan pattern is exactly what I want and I've never had problems getting the neckline to look nice.
It's also created to hang open to show off any handmade clothing you are wearing underneath.
I tried multiple long cardigans to get this look with no luck. I kept making long cardigans and giving them away because there was always something wrong with them.
Finally, I bought the Blackwood Cardigan and I've never looked back.