DIY Halloween Costumes: Batman and Catwoman
This post may contain affiliate links
These easy DIY Halloween costumes are great for kids! Use what you already have and add a few details!
I was excited to make my kids' Halloween costumes this year. My son has known for awhile that he would be Batman. He was set on it and there was no changing. I based everyone's costume around Batman.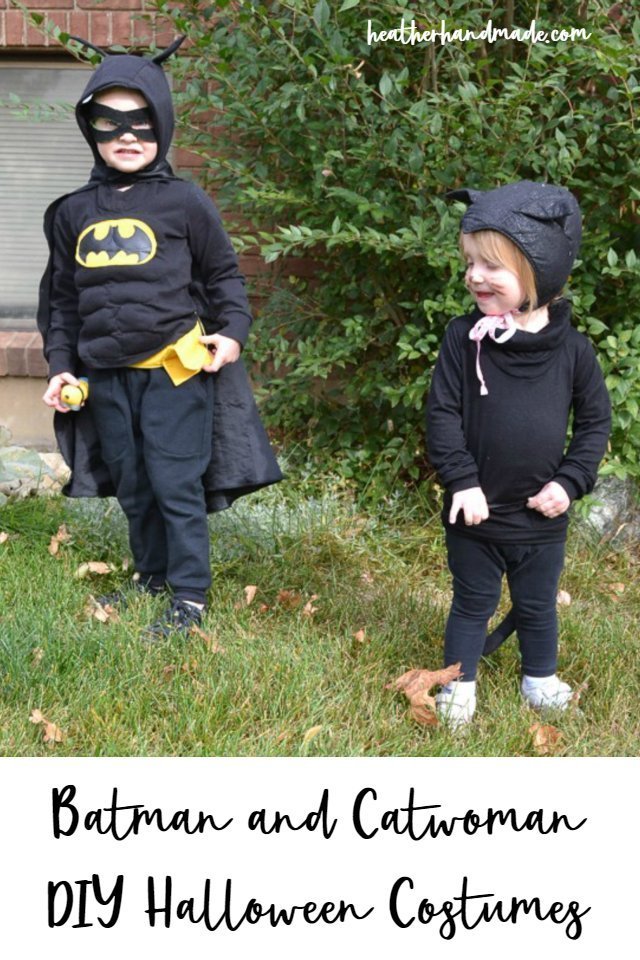 This is our last year that we can make it a family costume because next year my daughter will be old enough to have an opinion. Daddy is Robin (a red shirt with yellow dashes and an "R"), my son is Batman, my daughter is a Catwoman, and I am Mr. Penguin. I went with really easy costumes this year!
They are both so happy with their costumes and that makes me happy. I just want them to be happy. Look at all these handmade costumes you can make! My son and daughter do great character costumes like Jesse and Buzz Lightyear.
DIY Batman Costume
For Batman I made a bunch of different pieces. I used the Bimaa sweater sewing pattern for the top and used the hood. I made a size 4 with size 5 width. I didn't want it to be too tight since the fabric didn't have a lot of stretch and the muscles would take away stretch also.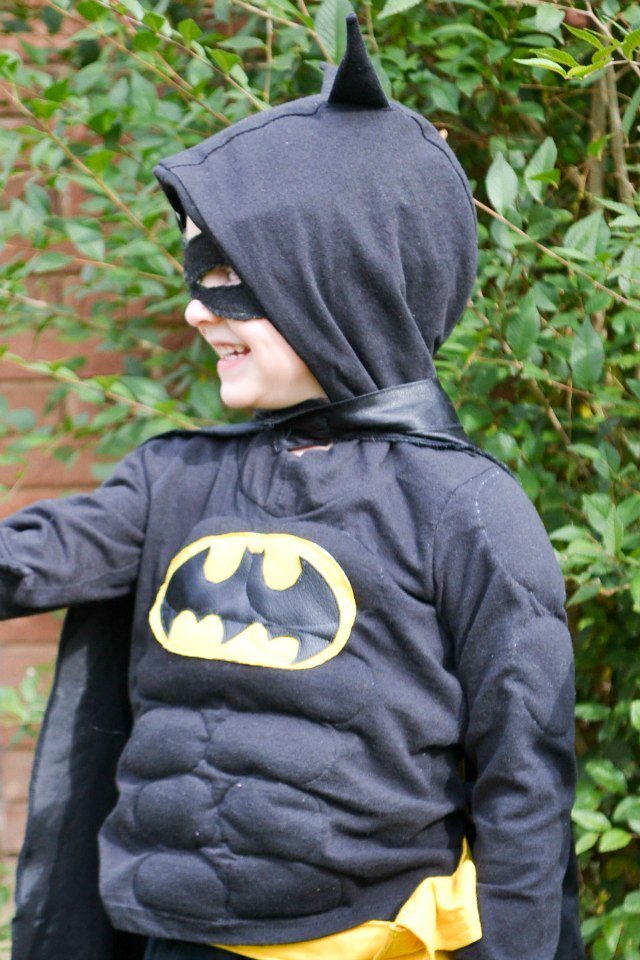 I added muscles to the chest and upper arms (using the muscle suit tutorial from Sew a Straight Line), a vinyl batman symbol to the chest, arm gauntlets, and batman ears to the hood. I upcycled a black long sleeve tee that I thrifted. (These are the best tips for sewing and saving money!)
I made a simple yellow belt with a pocket. I had a bunch of yellow jersey from my stash that I interfaced before using. Then I made some black sweatshirt fleece Hudson Pants which my son can wear as regular pants after Halloween. I made a size 2 width with a size 4 length. I only altered them by sewing the pockets to the front of the pants.
The black mask is a felt mask I made for a Christmas gift last year. He only wears it sometimes which I knew would happen. The cape is a thrifted gift from our neighbors. (I'm really glad I didn't have to make a cape for him!)
DIY Catwoman Costume
My daughter's was a very easy costume. She wore her black leggings which I made last spring.
I made a black jersey Bimaa sweater with the cowl neck. This jersey had tons of stretch so I made a 12-18 mos size. The tail is just black fabric sewn and stuffed and then sewn onto black elastic. Here are some ideas for finding elastic to reuse.
The cat hat is one I made last spring. I'm glad it fits her so well, so I didn't have to make something else. The tie really keeps it on her head; she takes hoods off immediately. I love how her hair peeks out the back.
I did a makeup nose and whiskers which is probably her favorite part. (She is always trying to get into my makeup.)
If you make something using this sewing project, I'd love to see! Please share it on social media with the hashtag #heatherhandmade and tag me!