This post may contain affiliate links indicated with a *. Read the full disclosure here
Yay, for Christmas time and Christmas pajamas. I get so excited for Christmas themed matching pajamas for my kids.
Last year my SIL gave me an evergreen tree printed long sleeve tee which I saved for this year's pajamas. I used as much of the fabric that I could; there was only scraps left. The green fabric is a cotton spandex that's stretchy and really soft.
I used the Bimaa sweater pattern for the tops mostly because it was printed out and sitting on my sewing desk. I raised the neckline a little on both so it's a little more unisex and like a regular tee.
I should've just used a different pattern, but sometimes easier is better. I made my son a size 4 and my daughter a size 12 mos. I used the green jersey for the torso and the tree fabric for the sleeves. 
For the pants I used Fancy Pants leggings, so I could put some tree fabric on the bum panel. My son has tree fabric for his cuffs and bum panel and green jersey legs. I made him a size 2T width and extra long.
My daughter has tree fabric on one leg, one cuff, and the bum panel. The other leg is green jersey. I made her a size 12 mos, but I should have lengthened them because they are just long enough.
The kids tried the pajamas on for the pictures, but they'll officially wear them on Christmas Eve. I guess it's not much of a surprise for blogger kids. They seemed to like them though and they feel very comfortable.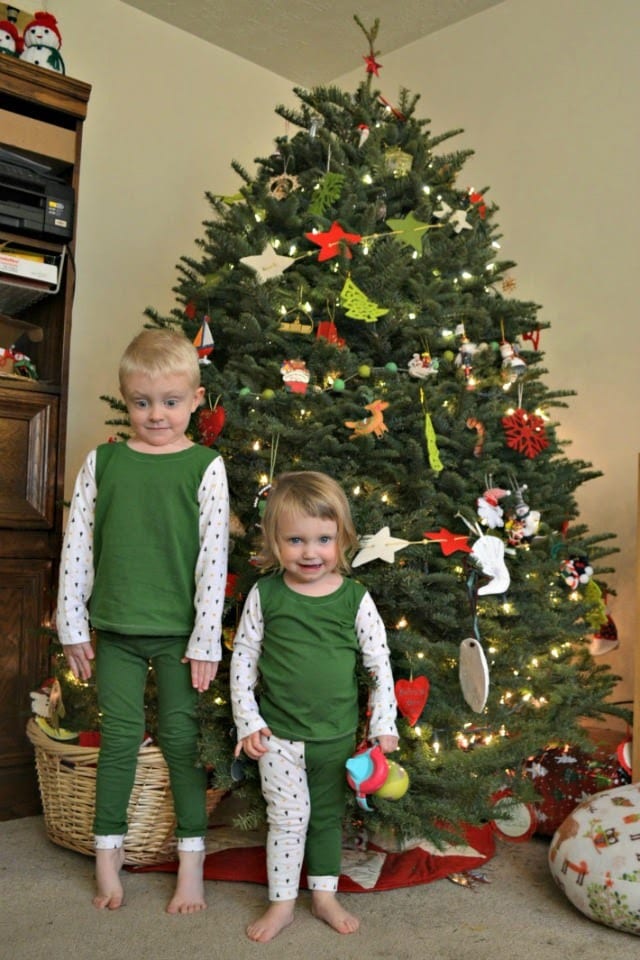 I love making Christmas Pajamas! Look at these over the years: