A couple of months ago I signed up for a pattern test for Call Ajaire. It is a really fantastic pattern: the Paneled Sunsuit. I sewed the 12 mos pattern to make a strawberry romper and now it almost fits my daughter. This isn't an issue of the pattern, my daughter is just petite for her age. This is a great pattern with cute details and has almost a billion options. Ajaire put so much time and work into this pattern and had extensive testing done to get it perfect. She had a busy summer, but she still put all the time and effort into the pattern that it deserves.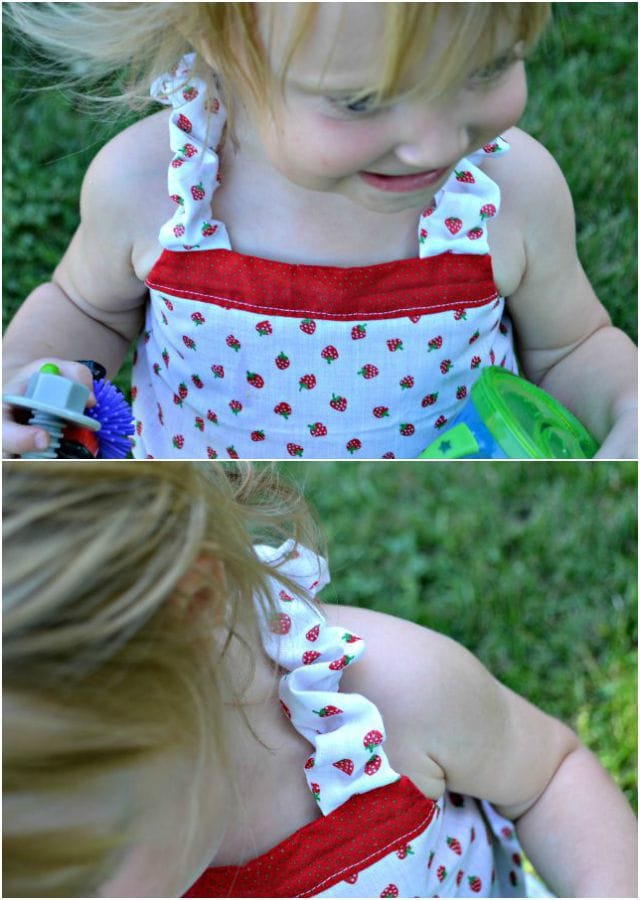 This romper has an option for shorts or pants, short or long skirt, and long or short sleeves. It also can be made separately so that's a tank, shirt, long or short skirt, shorts, and pants. Can you get any more options in one pattern? It's pretty amazing. I love the romper I made for her. It's so perfect for summer, and she loves it. If you remember this DIY cat romper from earlier this summer, this would be the perfect pattern to recreate it.
She really loves pointing out her strawberries on her romper. The pattern is a little bit of work, but makes a very satisfying garment. It looks good on the inside and the outside. I hope she can wear it through the fall with a little cardigan or sweater.