I love making something my own by adding special details. I added a piped scallop hem to this dress and I'm sharing a scallop hem tutorial with piping!
I had a really special Mother's Day this year. I was spoiled by my husband, I got to snuggle my two beautiful children, and I got to spend time with both my mom and my mother-in-law because my daughter was blessed in our church. I also got to wear a new and beautiful dress from eShakti.
I chose the Cranes in Reeds Embellished Dress. I chose it because it has a button down front for nursing access. The black and ivory also look very sophisticated for nice occasions.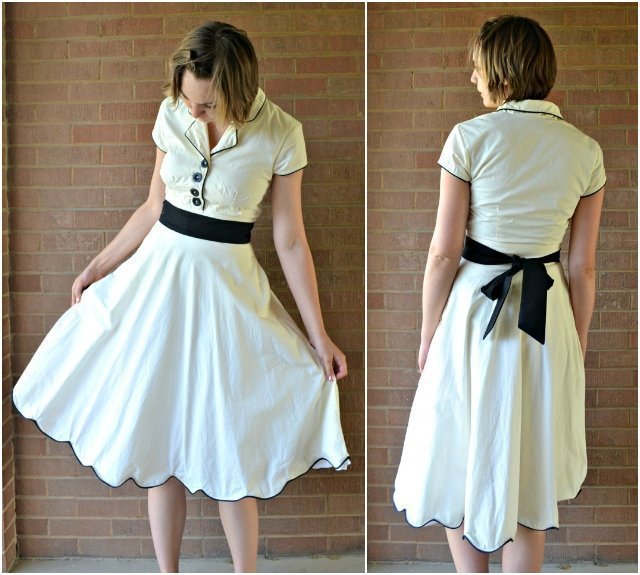 Besides Mother's Day I also wore this dress to an end of the year law school dinner at La Caille which is fancy-fancy and one of the most expensive restaurants in Utah. It was an extremely discounted price, but I totally felt dressed up enough wearing this dress. I really tried to get pictures, but it was pouring rain when we went! These are my honest thoughts on eShakti:
Pros
It's made with your custom measurements. I chose to not do my measurements because I'm still adjusting after having my baby. I chose to go with the size I will most closely return to.
Besides custom measurements, you can also customize the dress. I decided to omit the embroidery (red isn't my color), lengthen the hem, and add pockets. How cool is that?!
The dress was made and shipped surprisingly fast.
It's high quality fabric and construction. I'm very impressed with the overall quality of this dress. I can tell that this dress will last me a long time.
Cons
The dresses are expensive, but a fair price for customization and the quality. (I would actually purchase a dress from them in the future if I needed a nice cocktail dress.)
The fabric wrinkles easily. (I hate ironing.)
The zipper is hard for me to zip up because of all the fabric and seams, but my husband is always able to zip it.
Because I always have to make something my own, I changed the hemline. It was boring without the embroidery so I added a scallop hem with blacking piping. It gives it the perfect finished look.
Supplies:
Piping (purchased or homemade) – Learn how to sew piping
Sewing Supplies
Bowl
Dress or Skirt
Strip of fabric
Scallop Hem Tutorial
1. Gather supplies. Choose a bowl that has the right size curve.
2. Use the bowl and a marking tool to draw scallops all the way around the hem.
3. Pin and sew the piping onto the hem with seam allowance pointing down.
4. Sew a strip of fabric over the piping sewing on the same stitching line.
5. Trim, clip, and notch the seam allowance. These are the best tips to sew a curve.
6. Turn right side out and press. Topstitch just above the piping to hold the hem allowance inside.
It was great to wear this dress on Mother's Day and for my baby's blessing. And my daughter got to wear the dress that I was blessed in! It's an absolutely gorgeous dress. If you can't tell, it was freezing on Sunday, so we did quick outdoor pictures.
I found some pictures of me wearing the dress when I was just one month old. My mom was in the hospital a lot with me so my aunts hung the dress up above her hospital bed. How cute are my parents and two older brothers?
Here's my daughter in the vintage dress. It fit her perfectly and is just so special. She actually had hair to clip back (unlike me!).
If you ever break a zipper here's how to fix a zipper if the pull came off. This sewing trick works for invisible zippers, separating zippers, and regular zippers. You can also learn how to sew a zipper.