Lucerne Blouse to Dress with Style Maker Fabrics
This post may contain affiliate links
I lengthened the Lucerne Blouse sewing pattern into a dress. I used beautiful indigo dyed crinkly rayon from Style Maker Fabrics Fall 2019 line.
I am so excited to share my latest sewing project with you. I am excited to be part of the Style Maker Fabrics fall tour to showcase all of the new fabrics. Sewing for cold weather has always been one of my favorite things.
Today I'm sharing a dress that I made by lengthening a shirt pattern, the Lucerne Blouse*, and how it's perfect for warm and cold weather.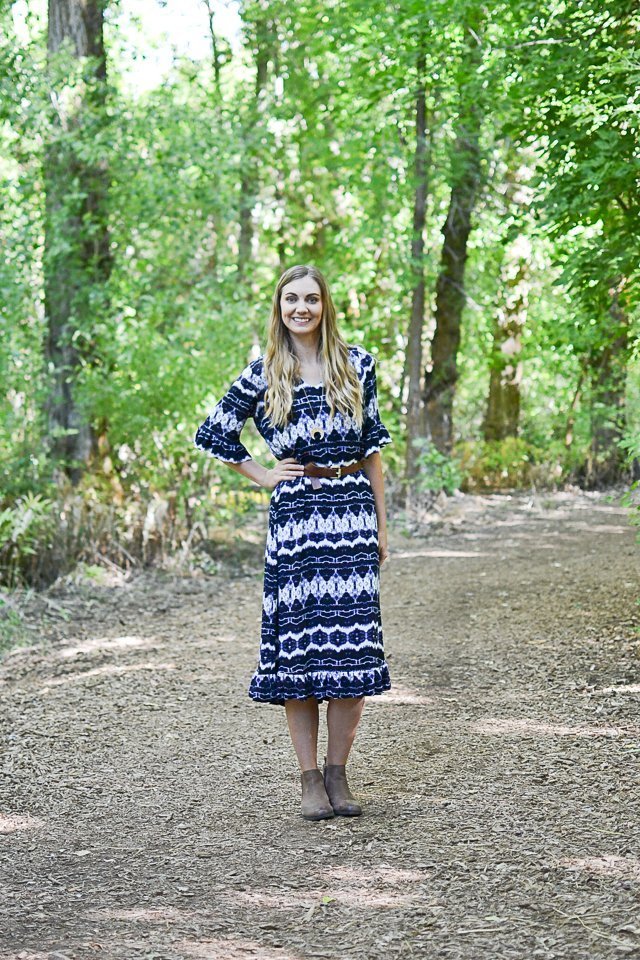 Indigo Rayon Crepe
When I was looking at the new beautiful fall fabrics, I had a hard time deciding because there were so many that I wanted. I've learned that if I don't already have a project planned when I'm choosing fabric, I need to choose something I know I'll love instead of trying something new and bold.
I've always loved Indigo dyed fabrics and their organic look. I chose the Shibori Striped Rayon Crepe knowing that it would work for warm and cold weather, and I knew I would love the print and color.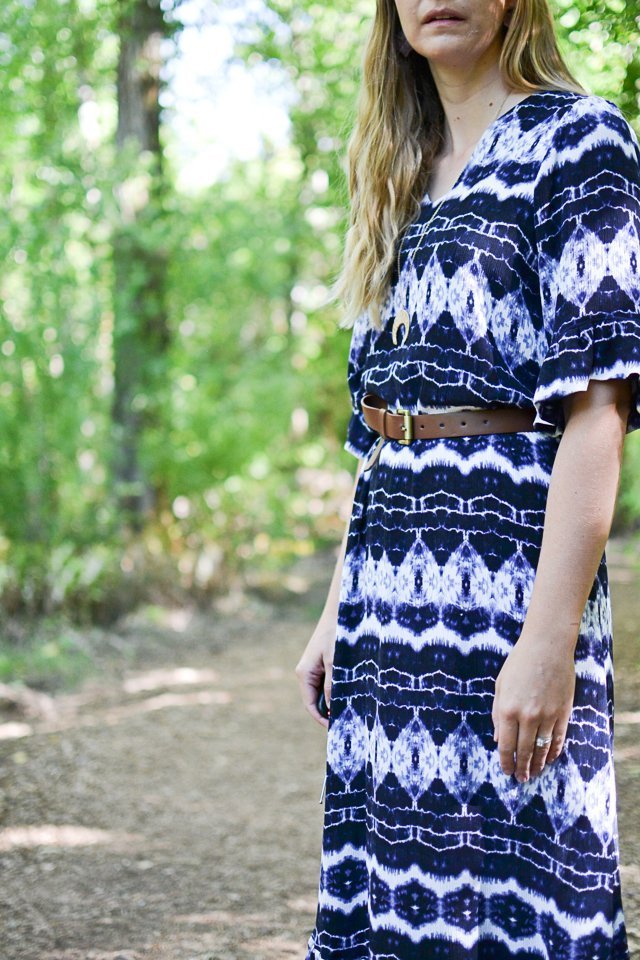 When the fabric came in the mail I wanted to curl up in it. It's soft with beautiful drape and movement. There's a crinkle in the fabric, but not too much. It's luxurious without being shiny, and it's just the right weight.
The fabric was really nice to work with. It wasn't slippery like other rayons, and the crinkle wasn't to much to get in the way. I didn't have any problems sewing this fabric.
Lucerne Blouse to Dress
Since I was using a fabric with such a bold print, I decided to choose something with simple, clean lines. I wanted to do a dress because that's what my wardrobe needs, and it would work the best with the 22 inch repeat.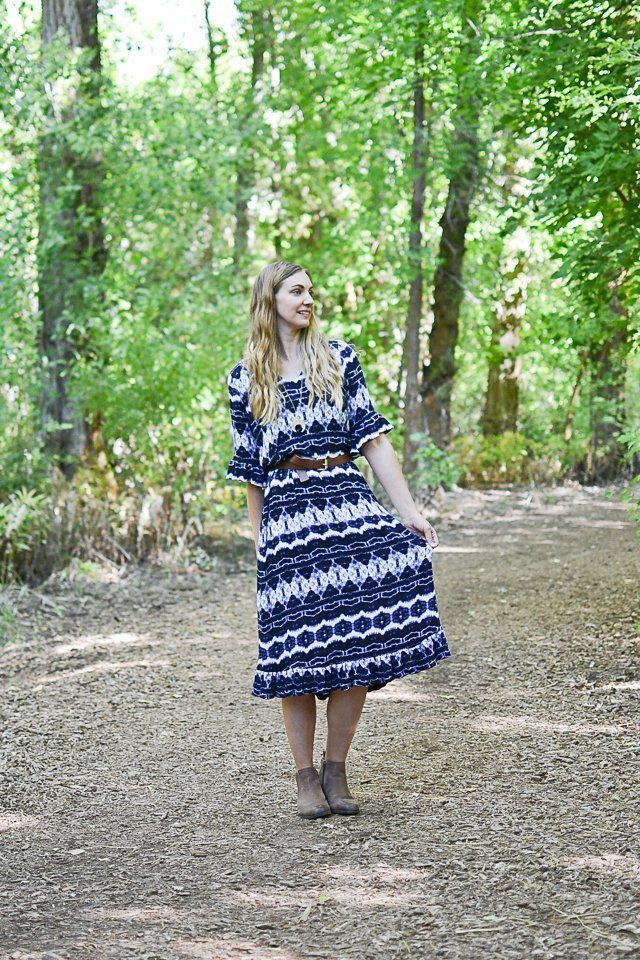 I decided on a simple a-line dress shape and the new Lucerne Blouse sewing pattern by Hey June Patterns was a great starting place. I liked the v-neck and the simple shape.
I lenghtened the top by 27 inches to make it a midi dress length. I also moved the waist down 1 inch which is a alteration I do every time I make a Hey June Pattern. I raised the v-neck 1 inch and redrew the neckline and the front facing.
I lengthened the sleeve 4 inches and widened it slightly. I often have problems with a large bicep. Then I added a 4 inch ruffle to the sleeves and a 4 inch ruffle to the hem. I wanted just a touch of detail that wouldn't break up the overall print on the dress.
I've done a tutorial for how to sew sleeves to get perfect sleeves every time.
In the summertime I plan on wearing the dress with sandals and a long neckline. In the wintertime I plan on wearing the dress with a cardigan, tights, and booties. I love how versatile midi dresses are!
Get inspired by visiting everyone's beautiful sewing projects! Tomorrow is Into Stiches which you can see on her instagram or the Style Maker Fabrics blog!
9/23 | 9/24 | 9/25 | 9/26 | 9/27 | 9/28 | 9/29 | 9/30 | 10/1 | 10/2 | 10/3 | 10/4
All orders placed now thru Monday, October 7th, will enjoy $5 US shipping. Any order, any size ships for just $5. Plus, international orders will also receive a special discounted rate.