Inspiration for the Upcycled Men's Shirt Romper, Dress and Shirt Pattern
This post may contain affiliate links
Learn how to use a men's shirt to make a romper or dress for babies and toddlers. Get some inspiration for the Upcycled Men's Shirt Romper and Dress Sewing Pattern!
The Upcycled Men's Shirt Romper and Dress pattern just released, and I'd like to share some sewing inspiration for this pattern to give you motivation. There are so many details and pattern hacks you can do to make this pattern work for you!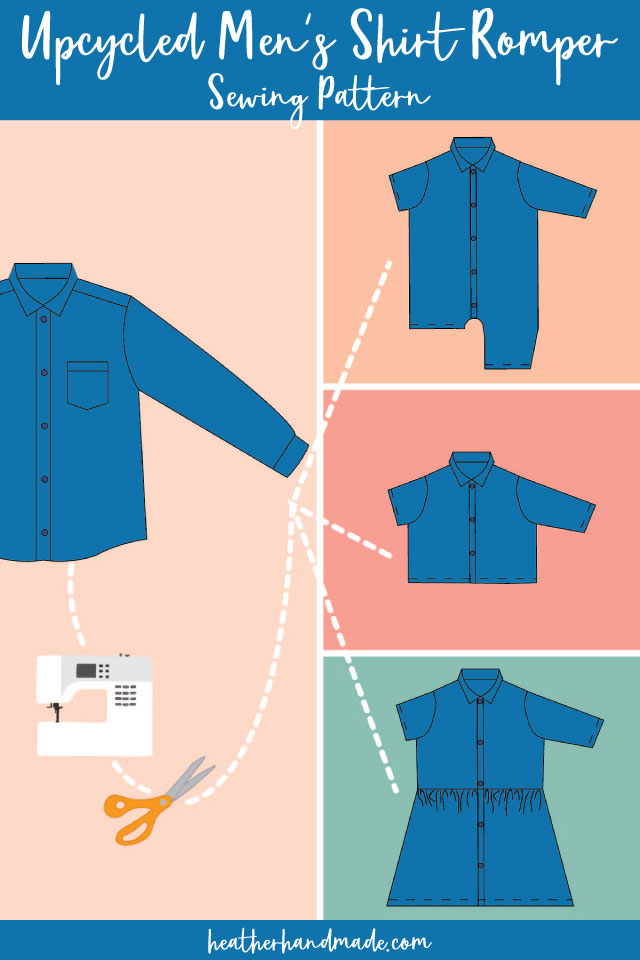 Pattern Hack Ideas for the Romper Version
Add a faux drawstring waist
Use a really fun graphic tee
Add kneepads
Switch up the sleeve and pants length
Add a ruffle bum to the romper
Add width to the hems and gather it with elastic
Leave the sleeves off for a sleeveless version
Add ruffles
Add a bow, pompoms, lace, etc
Add sleeve tabs
Make a bubble romper
Add cuffs to the sleeves and legs
Pattern Hack Ideas for the Dress Version
Add front pockets
Add lace to the hem
Add polka dots or pompoms
Add ruffles at the sleeves
Add a ruffle at the hem
Add a drawstring waist
Add side pockets with ruffles
Shorten the dress bodice and lengthen the skirt for an empire waist dress
Add a ruffle collar
Add a peter pan collar
Add gathered sleeves
Add a belt
Add a tiered skirt
Use different fabric for the skirt
Pattern Hack Ideas for the Shirt Version
Add ruffles to the waist
Add a short skirt for a peplum top
Add a skirt from a different t-shirt
Add pockets
Add sleeve ruffles
Add a ruffle neckline
Add a peter pan collar
Use two different shirts
If you make something using this pattern, I'd love to see! Please share it on social media with the hashtag #heatherhandmade and tag me!