Inspiration for the Upcycled T-Shirt Leggings and Shorts
This post may contain affiliate links
Learn how to use adult clothing to make shorts or leggings for kids. Get some inspiration for the Upcycled T-Shirt Leggings and Shorts Sewing Pattern!
The best part about a sewing pattern is seeing it as a base to create something more. The Upcycled T-Shirt Leggings and Shorts sewing pattern is perfect for all the basic slim fit bottoms your kids will need all year round.
But it's also the perfect simple pattern to hack and make into something fun and unique. Use this inspiration for the Upcycled T-Shirt Leggings to see all the possibilities! I've pulled some ideas together to hack this pattern, but these ideas are just a starting point. I'm sure you can think of more than these!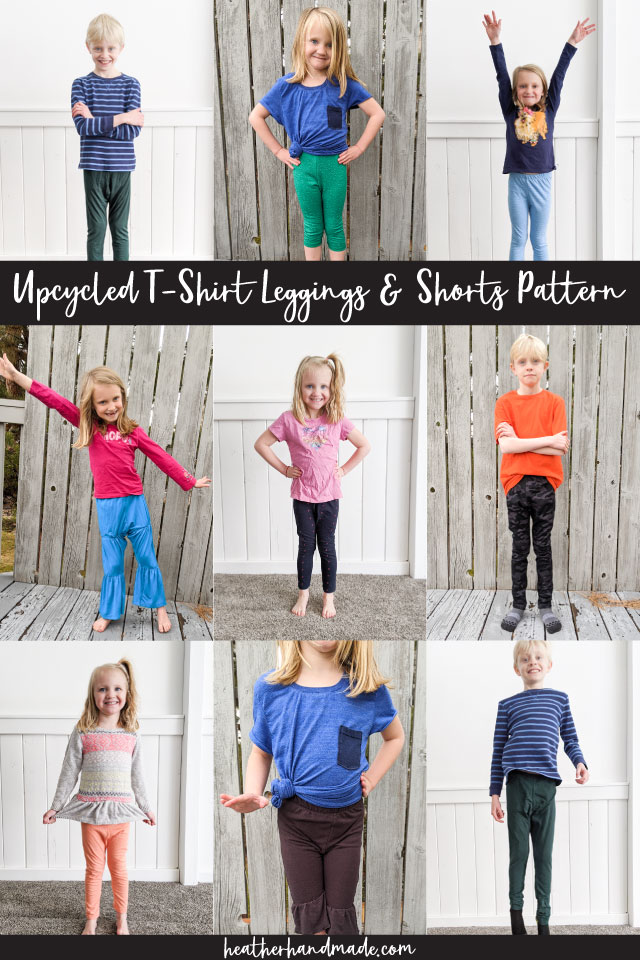 What is a PDF sewing pattern?
A PDF pattern is a sewing pattern designed on the computer and organized so that it can be printed on several letter or A4 size pieces of paper.
I love using PDF sewing patterns because if the pattern gets ruined or if my children or I changed sizes, I can always print it again. It'll never be destroyed since I have a digital version!
How do you use a PDF sewing pattern?
Open the PDF on a computer and click print. When printing make sure that the scaling is set to 100% or no scaling so that the pattern prints at the correct size.
Once the pattern is printed it can be taped together to get the full size. Then the pattern can be cut for each pattern piece size or individual sizes can be traced so that the pattern can be used again and again.
Inspiration to add to the leggings or shorts
Add ruffles to the hem
Add a bow, pompoms, lace, etc.
Add knee pads
INSPIRATION for fabric to use for THE LEGGINGS OR SHORTS
Colorblock the pattern for two different colored legs
Reuse a unique shaped hem
A really fun thing to do with the t-shirt leggings is to start with a t-shirt that has a graphic across the chest. When you cut out the leggings the graphic will become a design on the top side of one of the legs.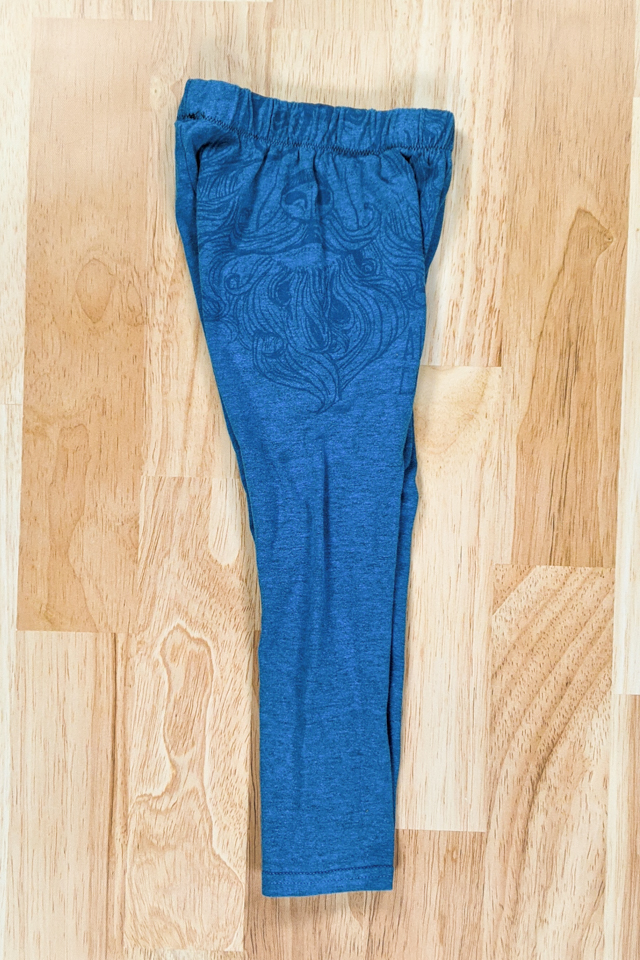 When you are using something with a unique hem like ruffles, you'll need to cut the hem out extra careful. First, I situated the dress so that the diagonal ruffle was on the side and wouldn't get in the way.
Straighten out the ruffle and cut out each leg carefully. I ended up placing the dress side seams on top of each other and reused those in the final shorts.
Sew up the leggings or shorts as the pattern instructs and don't forget to tack the seam allowance!
If you make the Upcycled T-Shirt leggings or shorts, I'd love to see! Please share it on social media with the hashtag #heatherhandmade and tag me!