How to Mend Clothes with Cricut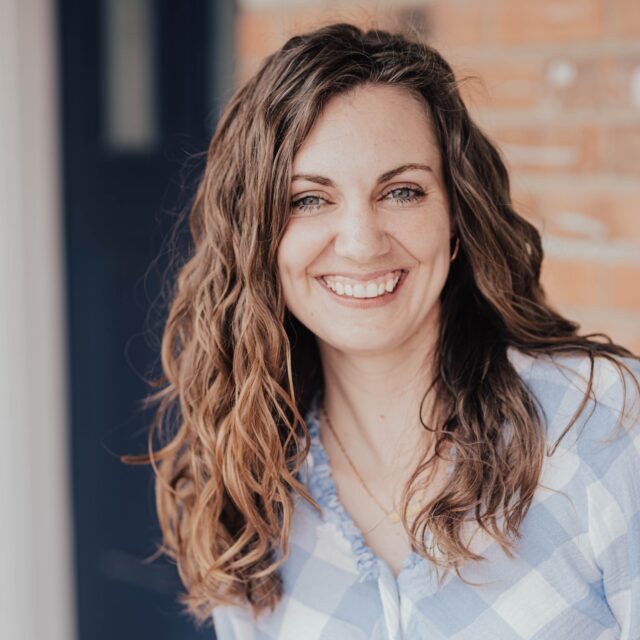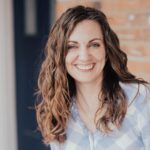 This post may contain affiliate links.
Learn how to quickly and easily mend holes in clothes with a Cricut Maker and iron-on vinyl. This is so much faster than traditional mending.
I was invited to participate in the Cricut Party Blogger Program Kickoff.
This experience is based strictly on my opinion. Others may have a different opinion or experience with the product listed above. I was provided the sample free of charge by the company or PR agency and I have given my honest opinion.
This is a sponsored conversation written by me on behalf of Cricut. The opinions and text are all mine.
I love sewing, I love being a mother, and I love that I can sew clothing for my children. I can't keep up with three kids' wardrobe and my wardrobe, so I often buy clothes for my kids. But kids are SO HARD on their clothing.
Which they should be because I love that they play hard and enjoy life and grow, but I struggle to keep up with the mending and stains that they create constantly. I don't want to spend my precious sewing time mending or removing stains.
Today I'm sharing an easy tutorial using the new Cricut Explore Air 2 for a no-sew method for mending clothing and covering up stains. It's my first time using a cutting machine, and I love it.
New programs and new machines don't always come easily to me, but Cricut makes it easy! This kind of mending is extra special when you involve your kids artwork because they want to wear what they made!
These cute striped leggings were my older daughters and my youngest daughter is about to grow into this size. I realized that the backside is a little stained and dirty and the bunnies on the knees are really worn out.
I cut two circles out of gold foil for the knees. I should have made them slightly bigger to cover the bunnies, but it still works.
For the back I cut a giant gold bunny using the bunny* in this cartridge*. I removed all the extra layers, pieces, and cuts and just used the basic bunny silhouette. The gold looks so cute against the stripes, and I can't wait for my baby girl to wear it.
My daughter loves to wear leggings everyday (even in the summer) so prevent future holes from happening in her leggings I added iron-on vinyl kneepads. I chose kitties because my daughter loves them!
I uploaded my own drawing of a cat head, but there are lots of cats you can use from the Cricut Access. And how fun is this pink glitter iron-on vinyl? She couldn't be happier!
How to Mend Clothes with Cricut
Supplies
Instructions
Pick an item with holes or stains. I picked my son's green shirt. It has four holes next to the button placket and near the neckband.
My son and I drew two monsters. I made sure one was the right shape to cover the four holes. Then we drew another monster to put in the pocket. Don't worry about the size of the image since you can change that later.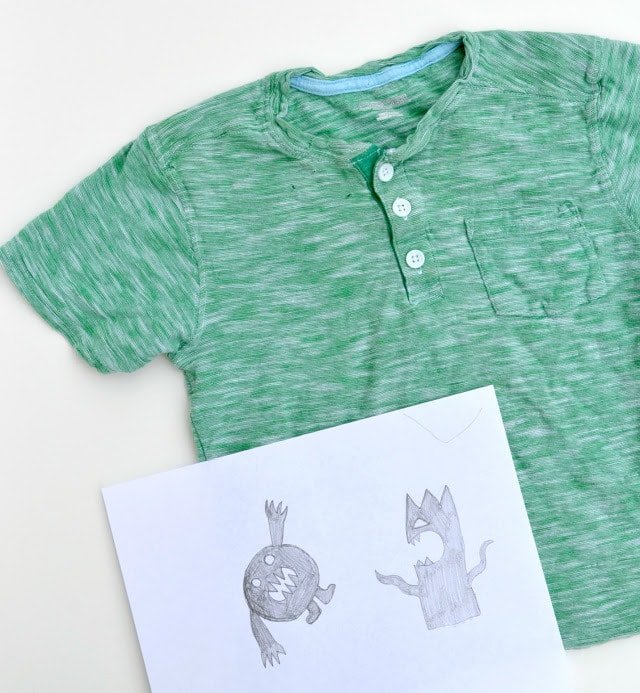 Scan the image and digitize it. I do the by upping the contrast, adding a layer, and then tracing the outside of the image. Then I fill it in.
Erase the background and make it transparent. Save the file as a PNG.
Open up Cricut Design Space and start a new project. Upload your PNG image and select the image type. Mine is simple because there's only one layer.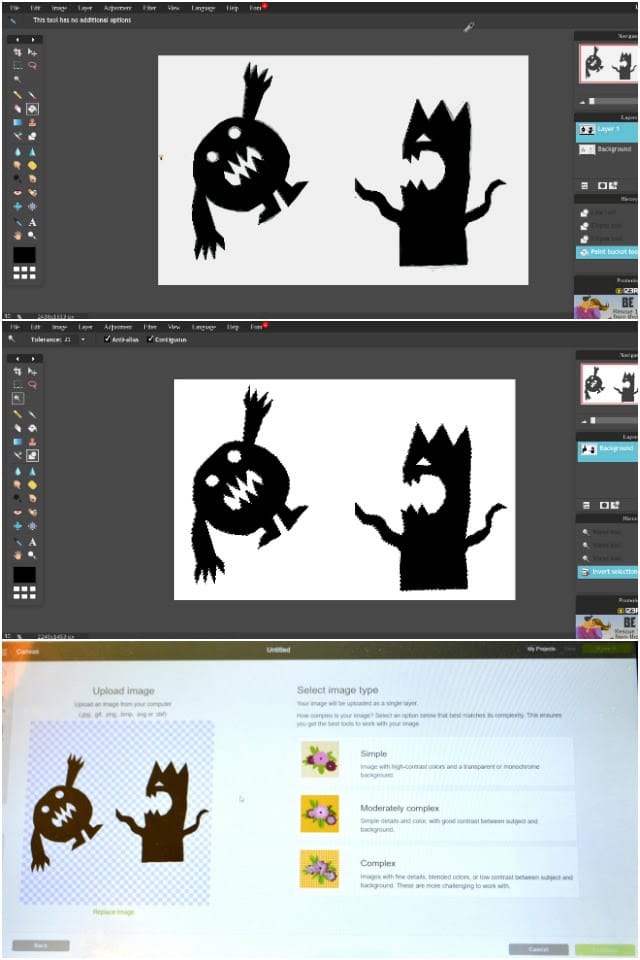 Your image will come up on the canvas and you can choose your size. I measure the distance between the holes to make sure the monster covering the holes would be the right size. I love that the canvas shows the exact size in inches so there's no guesswork.
Click "make it" when you're ready. Make sure you click "flip the image" since iron-on vinyl is cut from the back and you don't want your image mirrored! You'll be prompted to connect your machine and load the mat. (Also, make sure you put your iron-on vinyl face down on the mat. I did it wrong the first time!)
Load the mat with the iron-on and watch the machine cut your images. This is my kids favorite part. They love watching the machine. My baby even laughs at it.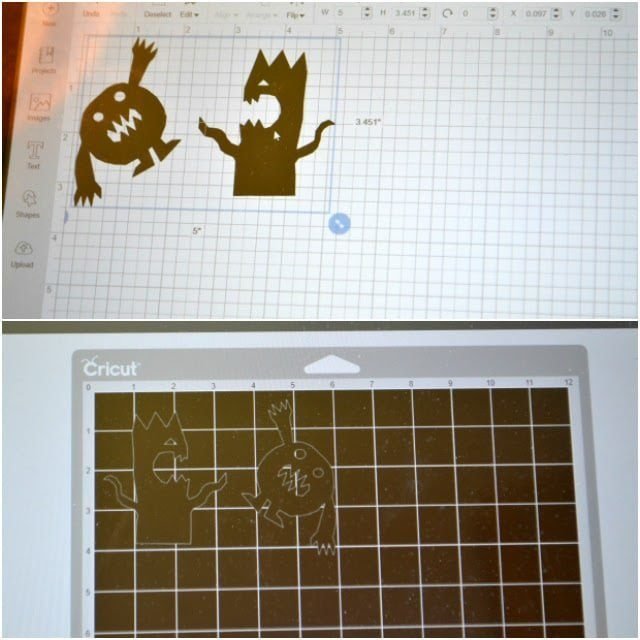 I like to conserve my iron-on vinyl so I put the whole thing on and then carefully cut out the part I used. (I'm sure there's any easier way, but I haven't quite figured it out yet.)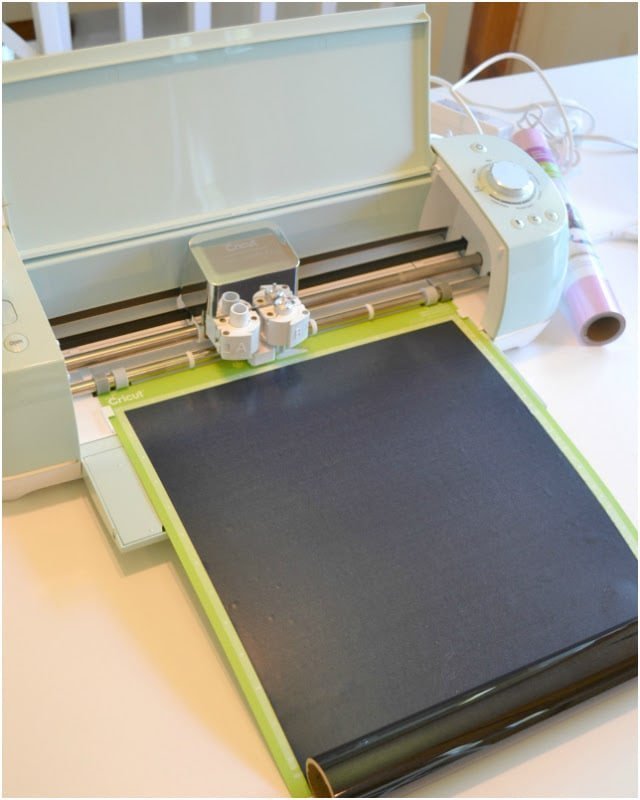 Weed out the extra iron-on vinyl from around the cut image. I love that the backing is sticky enough to stick onto fabric to hold it in place.
Place the iron-on over the holes or stain and iron it in place. Make sure you use a a piece of fabric between the iron-on and the iron. I had to work on it a couple of times since there was bumps and buttons next to where I was ironing.
Peel off the backing and you're done!
If you make something using this sewing project, I'd love to see! Please share it on social media with the hashtag #heatherhandmade and tag me!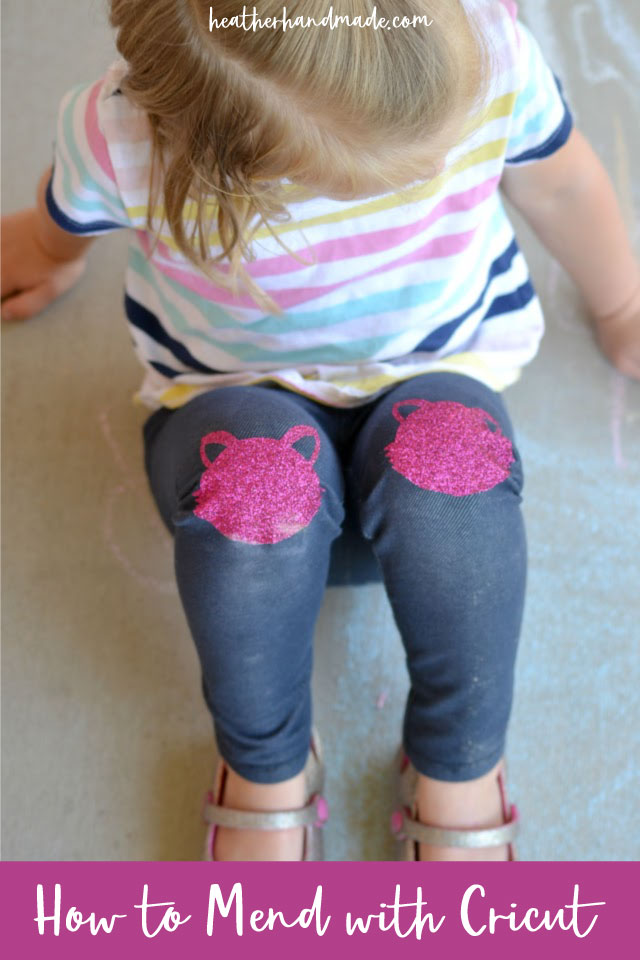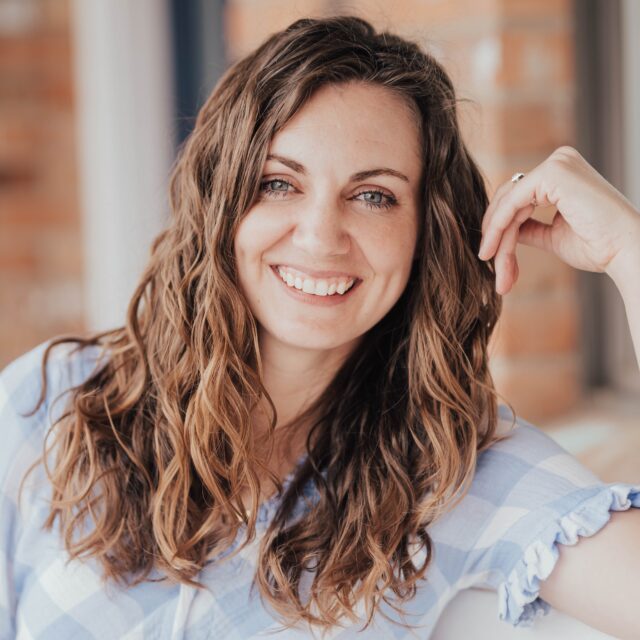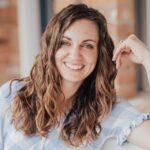 I believe small sewing moments can create great joy. Find your own "right" way to sew. -Heather