DIY Honeycomb Pleated Pillow
Learn how to make a DIY honeycomb pleated pillow with this honeycomb pleat tutorial. It's a stunning throw pillow look with lots of texture!
I saw a picture of a pleated pillow on pinterest and fell in love with it. I knew I wanted to do something with it, and luckily, it had a tutorial. So it sat on my pin board for awhile until I was trying to come up with some new couch pillows.
After reading through the tutorial a couple of times, it seemed hard and confusing so I did it my own way. Here's how to make honeycomb pleats for the most beautiful throw pillow!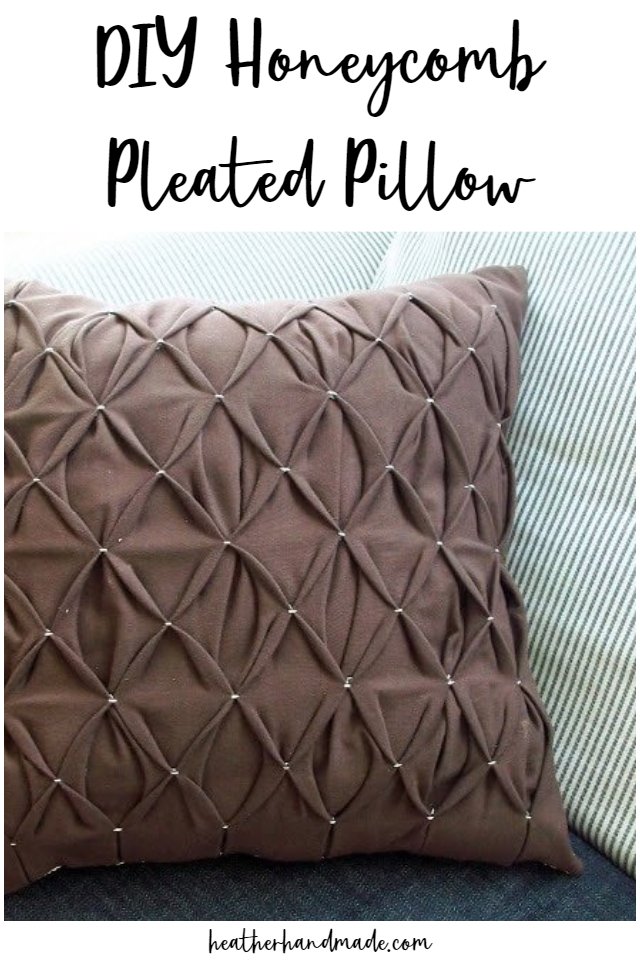 I'm really happy with how it turned out! It looks luxurious to me.
When I stuffed the pillow, it made the pleats flat instead of 3-D like the original picture, but I'm okay with that. It's got to be on a skirt or something to not get flattened.
Do you love to sew pillows? Try one of these sewing projects:
I finished the pillow with hand stitching which is a hard way to close a pillow. I prefer using this envelope pillow cover tutorial because it's quick and easy!
This is my back which is fabric I adore. It's leftover from some fabric I used for jacket lining.
DIY Honeycomb Pleated Pillow
First decide how big you want you pillow to be. Mine is 16″x16″. For the pleated side, triple the measurement. I cut one back 16″x16″ and one front 16″x48″.
Then on the pleated side, I drew a line every 2″ for the pleats.
Then pin the pleats into inverted box pleats.
Sew the back to the front with right sides together and leaving a hole on one side to turn inside out. Then turn inside out. (Or do an envelope back pillow cover.)
Then I drew lines every 1 1/2″ horizontally. I didn't take a picture of this part but I hand tacked where the lines crossed the pleats. One row I left the box pleat closed, the next row I alternated and tacked the box pleat open.
The tacking took FOREVER. It was worth it though!
If you make something using this sewing project, I'd love to see! Please share it on social media with the hashtag #heatherhandmade and tag me!
If you make something using this pattern, I'd love to see! Please share it on social media with the hashtag #heatherhandmade and tag me!