DIY Father's Day Personalized Socks
This post may contain affiliate links
Make personalized socks: the perfect gift for someone with everything. Get custom printed fabric with kids, grandkis, or pets faces on them.
I love the fun brightly patterned socks that men are wearing these days, but I have always loved colors and patterns. I thought I'd use the fun sock idea to make some "Dad rocks" socks for Father's Day.
I decided to print our kids faces on some custom print fabric to make some personalized socks for my husband for Father's Day.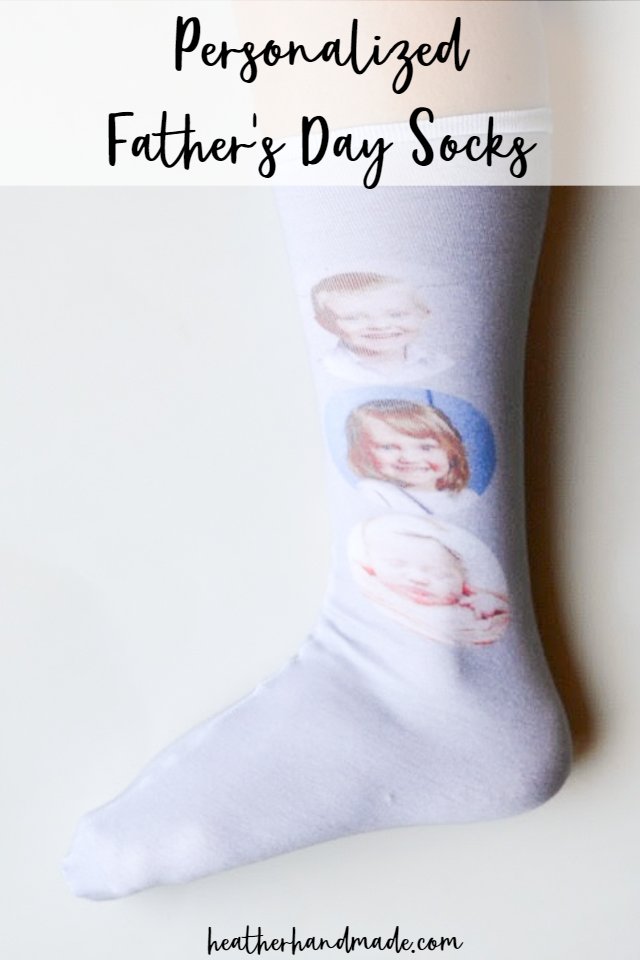 What cute and proud father wouldn't want to wear their kids faces on their socks? And my kids LOVE seeing themselves on a sock. I'm sharing a way to print the face fabric using My Fabric Designs, but there are many different ways you could put your kids faces on knit fabric.
Sew some other easy fat quarter projects for clothing!
Father's Day Personalized Socks
Supplies
Using a photo editing program, make a picture that combines all your kids faces. I made a collage using three face pictures. I rounded the corners until it was circles.
Then I added the faces. I fiddled with the sizes of the faces until they all looked about the same size.
I made the background a light gray and remembered the color number to use later.
Save the picture to your computer.
Open the fabric pattern creator on My Fabric Designs.
Click on Pattern icon on the top left. Change the size to 28″ wide by 18″ tall; the size of a fat quarter.
Then click on add and upload your picture.
Position the picture where you want it. You can see on the right what multiple yards will look like. I placed my picture 2″ from the top and 2″ from the left.
Click edit and copy. Then click edit and paste until you have a bunch of pictures placed across the fat quarter. (If I were to doing it again I would have placed the pictures right next to each other all the way across.)
Click order fabric.
Select interlock blend and fat quarter, and order one (or two).
When you get your fat quarter, get a sock, a rotary cutter, and a cutting mat.
Place the sock on the fat quarter watching where the faces are.
Cut 1/2″ around the sock, but fold it over to get an identical side.
You should barely be able to fit two socks onto a fat quarter.
Use the extra fabric from the top of the fat quarter to make a band for the top of the sock.
Sew around the socks with a stretch stitch at a 1/2″ inseam. Finish the edges. Add the band to the top and your finished!
Enjoy seeing your kids on these personalized socks! It would be really cute to do your pets faces, grandkids faces, maybe pictures of your favorite vacation spot. You could even add patterns like argyle or stripes along with faces. You could make up a whole drawer full of fun personalized socks!
If you make something using this sewing project, I'd love to see! Please share it on social media with the hashtag #heatherhandmade and tag me!