I never thought I'd be someone who would choose family names when I named my kids, but each child has at least one name that comes from a family member. It makes their names really special, and I LOVE telling my kids about who they are named after. It's so fun to talk about the funny stories, but also meaningful to talk about the life-changing stories.
Sometimes when I talk about who they're named after, I can see some confusion in their eyes as I explain the generations. So I decided to do a simple little craft with them that will visually show them the generations and who they're named after.
SUPPLIES
Paper

Masking tape or washi tape

Kid-friendly paint
Sponges or fingers
Marker
INSTRUCTIONS
1. Place seven (or more) pieces of tape on a paper in an ascending triangle pattern. I decided to only go up to my kids grandparents, but you can go as far as you'd like.
2. Draw some simple "family tree" lines to guide your tree.
3. Draw the branches of your tree. You can see that I am not much of an artist, so your tree doesn't have to be amazing. The branches will get covered by all the painted leaves anyway.
2. Get out the paint and either sponges or fingers. I have an extra messy toddler, so I decided to used sponges instead of paint fingerprints. I told them to put leaves on the trees. They had so much fun painting their trees!
3. Let the paint dry (I hung them up to dry).
4. Remove the pieces of tape from the paper. There are now seven (or more) spots to write the names of the child and their predecessors.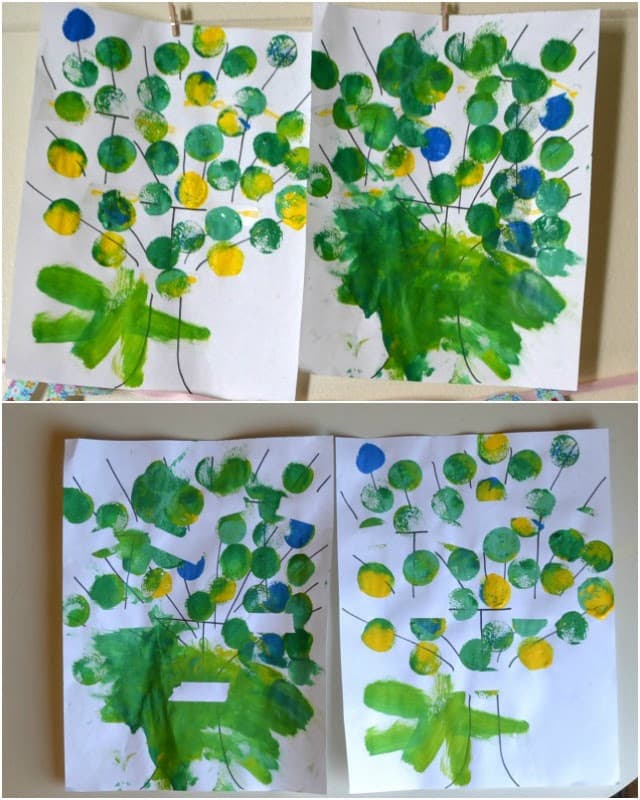 5. Write in the names of the child and their parents and grandparents. (I took a picture before writing other family names for privacy.) I ended up even writing in the great-grandparents names. We talked about each person on their tree, and I circled the family member that they shared a name with. My toddler got bored pretty quickly, but my preschooler and I chatted about family members for a long time. I could see that it was easier to understand because he could see the generations. I hope my kids can remember who they're named after and maybe be inspired by their good qualities.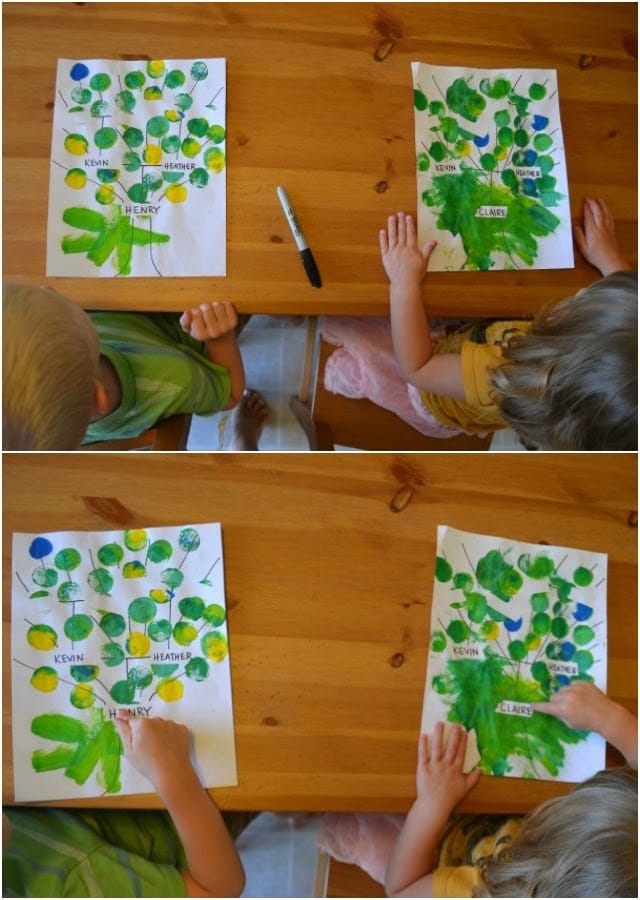 If you make something using this tutorial, I'd love to see! Please share it on social media with the hashtag
#heatherhandmade
and tag me!