Comparing The Cheyenne Tunic in Three Fabrics
As I've been learning about what I like to wear for the past couple of years, I've realized that I love button downs or collared shirts. I've made some, I've thrifted a bunch and literally wore them to holes, and now I made some more that fit me well. I don't make button down shirts very often because they are a big time commitment. I don't think making a button down is that hard, there's just a whole lot of steps involved. I love the Cheyenne Tunic because of the professional finishes, and I love both views. 
There are affiliate links in this post.
I have made the Cheyenne tunic two times. I made a floral lawn view B and a white stretch linen and combined both views. For all of these shirts I opened buttonholes, stitched in the ditch, edgestitched and topstitched, and graded seams. I also did how to sew a collar and how to make a collar lie flat.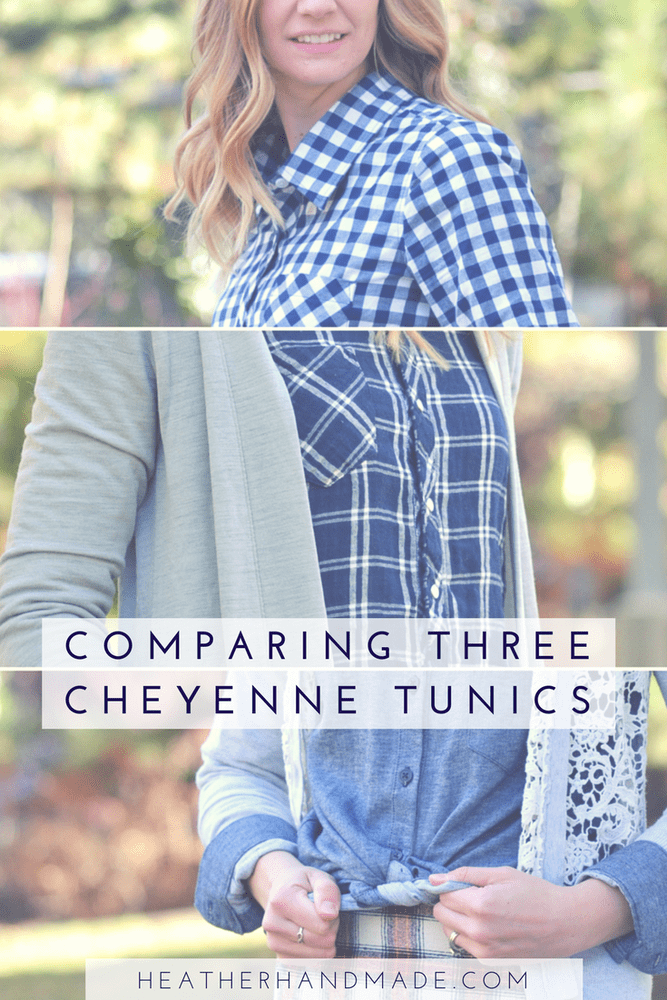 I made view A of the Cheyenne Tunic* in three different fabrics. I made a size small with a view alterations. I usually add 1 inch of length at the waist, but I've found with Hey June Patterns it makes the overall length too long. So I moved the waist shaping down 1 inch, and it's perfect. I also took the sides in at the hips a total of 2″ because the hem was sticking out after I sewed it. I don't know if I always need this or if my fabric just stretched out while I sewing. I also added two inches to the sleeves because I love extra long sleeves. They are a little long, but I love them. Everything else I kept the same.
I've done a tutorial for how to sew sleeves to get perfect sleeves every time.
The best thing about making the Cheyenne Tunic three at a time is that I was able to batch sew, and I used navy thread for all of them. I wouldn't have batch sewed if I had to change thread. I did all the same steps in a row so that I got better each time and it made it feel faster. It was a little tedious once I got to the sleeves because I was doing everything 6 times in a row. The best tip I can give for batch sewing is to not stop during a step. Don't sew three sleeve plackets and then leave the next three sleeve plackets for another day. It's too hard to come back in the middle of a step!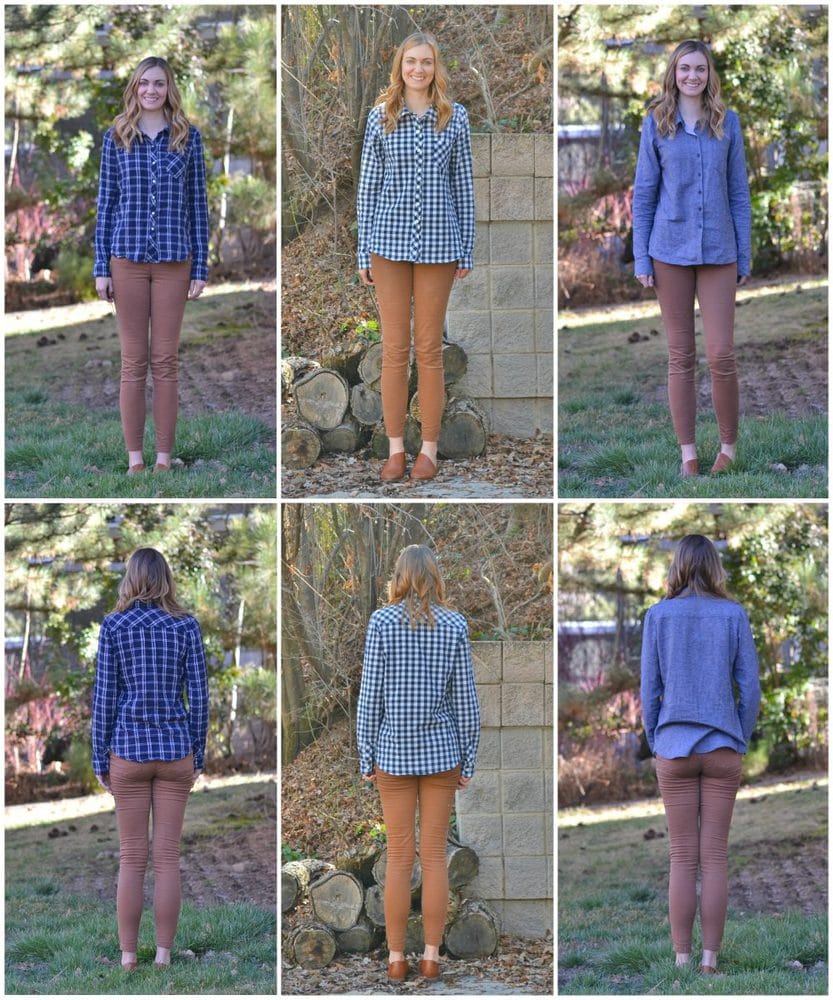 The first Cheyenne tunic I'll talk about is this navy plaid double cloth version. I got the double cloth from Indiesew on their Black Friday sale. I had never sewn with double cloth before, and I was intrigued. Double cloth feels just like double gauze, but it's not so cushy. I'll say that this one is my favorite because of the way it feels against my skin. It's so soft, and I love wearing it. I reach for it first every time. It's definitely the most casual of the three, but I think it'll get the most wear.  Double cloth was the trickiest of the three to sew with because there's a little bit of give, and because the fabric stretches as you touch it. It's not as bad as rayon, but it's not as easy as a woven cotton. My favorite way to wear any of my Cheyenne tunics is to wear it with skinny jeans and a Blackwood cardigan. I could wear this silhouette everyday all winter long.
I used pearl snaps for the front which also makes it more casual, but I think it is the perfect look. Learn how to install snaps. You can see that my stripes don't match up across the front even though I carefully cut out every piece. I think the fabric just got stretched when I sewed the front plackets on. If you are sewing stripes this is how to match stripes.
The next Cheyenne Tunic I'll talk about is this gorgeous and simple linen cotton that I got from The Fabric Store in November. I got it knowing it would make the perfect, basic button down shirt. I love having a solid button down shirt to go with anything printed (like skirts, pants, or scarves) I have. This color is right between a navy and a medium blue, so I can wear it with virtually anything in my wardrobe. I thrifted a shirt like this last year and wore holes into it because I wore it so often. It was probably my most worn item, and now I made a much better quality and better fitting shirt.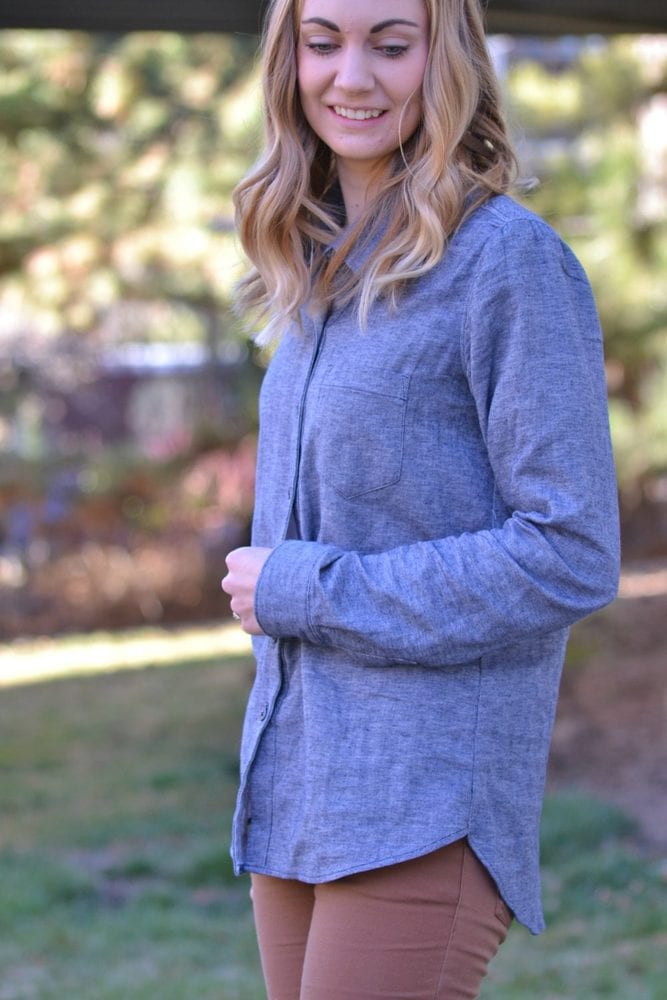 The fabric feels like a rough cotton or a soft linen. It has the stiffest hand of all three fabrics. It's also the thickest which I'm hoping will make it last the longest. I chose to add navy blue buttons, to keep it the most simple and most basic. I think any other button or snap would've made it hard to wear with certain items.
The linen cotton blend was the easiest to cut out since it was a solid, and it was pretty easy to work with. The only problem I had was on certain places where I needed it to have a little give, and it didn't have any give.
One of my favorite ways to wear button down shirts is with high waisted bottoms and to tie the hem. It's a little reminiscent of the 90's, but I love that it defines my waist which I usually can't get. I also just tuck it into pencil skirts which is another way I often wear it.
The last Cheyenne tunic I made was a yarn dyed gingham by Riley Blake Designs. (I couldn't find it available online anywhere, but this Cotton + Steel Gingham* is very similar.) I love the classic, preppy look of gingham, and now I want all the gingham things! I used white buttons for a classic look. This fabric is the thinnest of them all, but it was the easiest to work with. I think this one looks the dressiest or it would be the easiest to dress up. I still wear it casually which a cardigan and skinny jeans.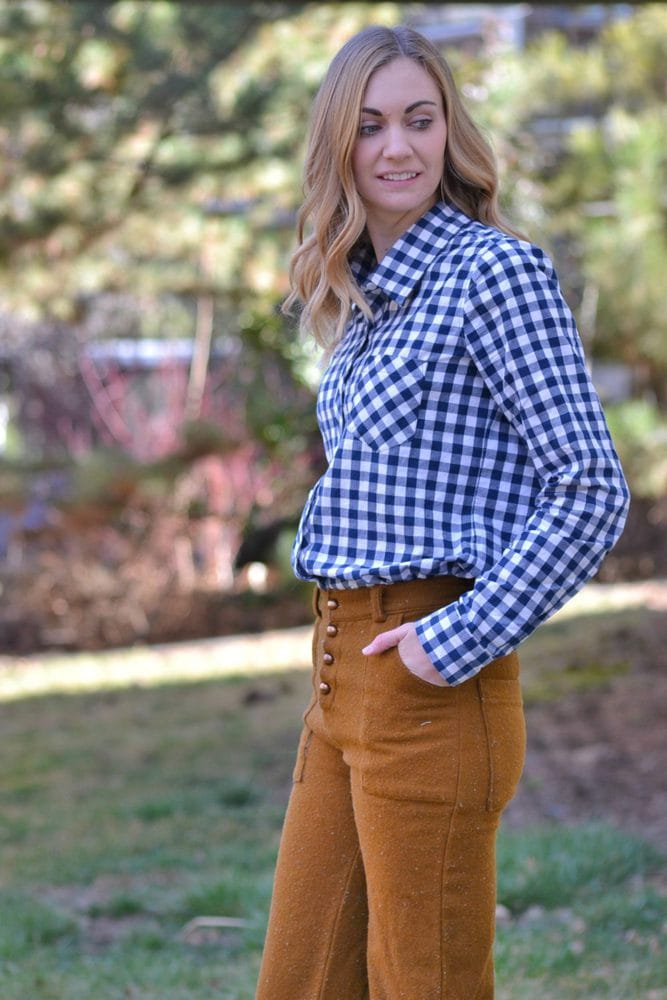 When I first made the wool Lander Pants I dreamed of wearing it with a gingham button down shirt. Something about the silhouette and the color of pants spoke to me in gingham. I'm so glad I listened because this is just a fun outfit. I love the look and the silhouette and the colors. It's almost too warm for my Lander Pants so I'll probably have to wait until next year to wear it together!
Learn how to sew on a button by hand or how to sew on a button with a sewing machine.