Balloon Sleeve Top Tutorial
This post may contain affiliate links
With this easy pattern hack you can make yourself a stunning balloon sleeve top. You'll learn how to alter any sleeve pattern and how to sew the balloon sleeve. The balloon sleeve tutorial is a satisfying and simple sewing project.
Stunning statement sleeves are a really fun style right now. It's a great way to dress up your basic tops. You can either buy a new pattern, or you can simply alter a pattern you have to get this look.
If you love sweatshirts, you can make one of these sweatshirt hacks and refashions!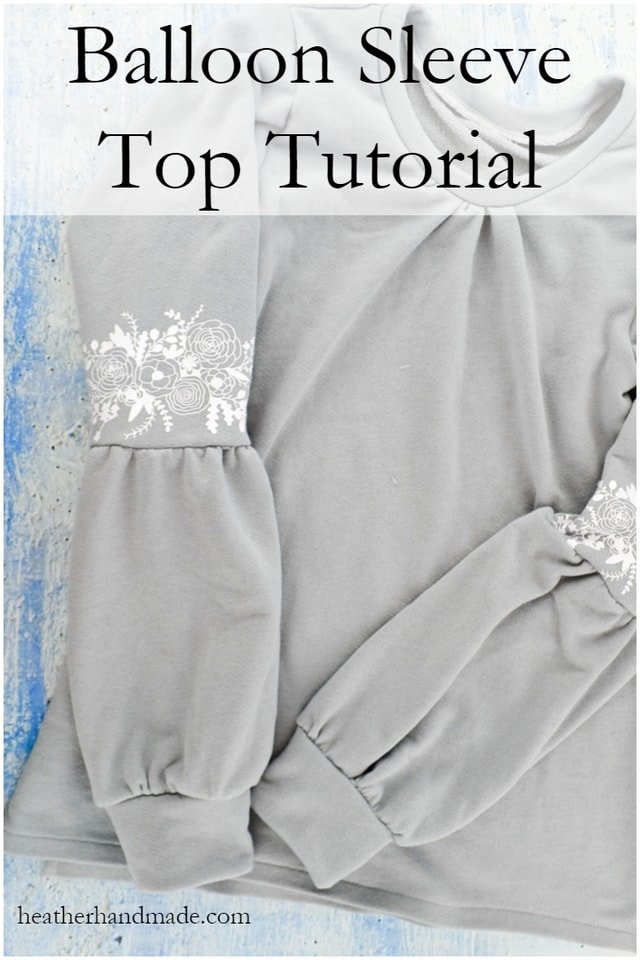 Balloon Sleeve Top Tutorial
Supplies
1- Gather your supplies. Trace the sleeve pattern of your sweatshirt to medical exam paper or other paper you like using.
2- Mark a line just below your elbow on the pattern.
3- Mark the grainline. Mark the elbow line perpendicular to the grainline. Mark a diamond at the center of the elbow.
4- Cut along the elbow line and add seam allowance.
5- Divide the lower sleeve piece into four equal sections.
6- Cut them apart.
7- Draw a line on extra paper. Line up one side of the lower sleeve with one side of the line.
8- Draw a line two inches away and tape the next piece of the lower sleeve. Keep doing this until all the pieces are taped on.
9- Draw a new diamond mark in the middle and cut out the new pattern piece.
10- Cut out your fabric.
11- Add iron-on vinyl detail to the upper sleeve if you want with an Easypress.
12- Sew a basting stitch along the top and bottom of the lower sleeve.
13- Gather the top of the lower sleeve and pin it to the upper sleeve. Evenly distribute the gathers.
14- Sew the side seams of the sweatshirt and sew the cuffs.
15- Gather the bottom of the lower sleeve and pin the cuffs to the lower sleeve. Evenly distribute the gathers. Sew the cuffs on.
16- Stretch the basting stitches to pop them or remove the basting stitches.
If you make something using this sewing project, I'd love to see! Please share it on social media with the hashtag #heatherhandmade and tag me!